As a fan of the Seiko Bell-Matic, I came across this at a watch fair and really fell for it. I've never had a Citizen watch before – they're another major Japanese brand that firmly established their own way of doing things and were notable in various firsts in the watchmaking world.
I discovered the premium site for knowledge of Citizen on the web – VCW. Have a look if you're interested…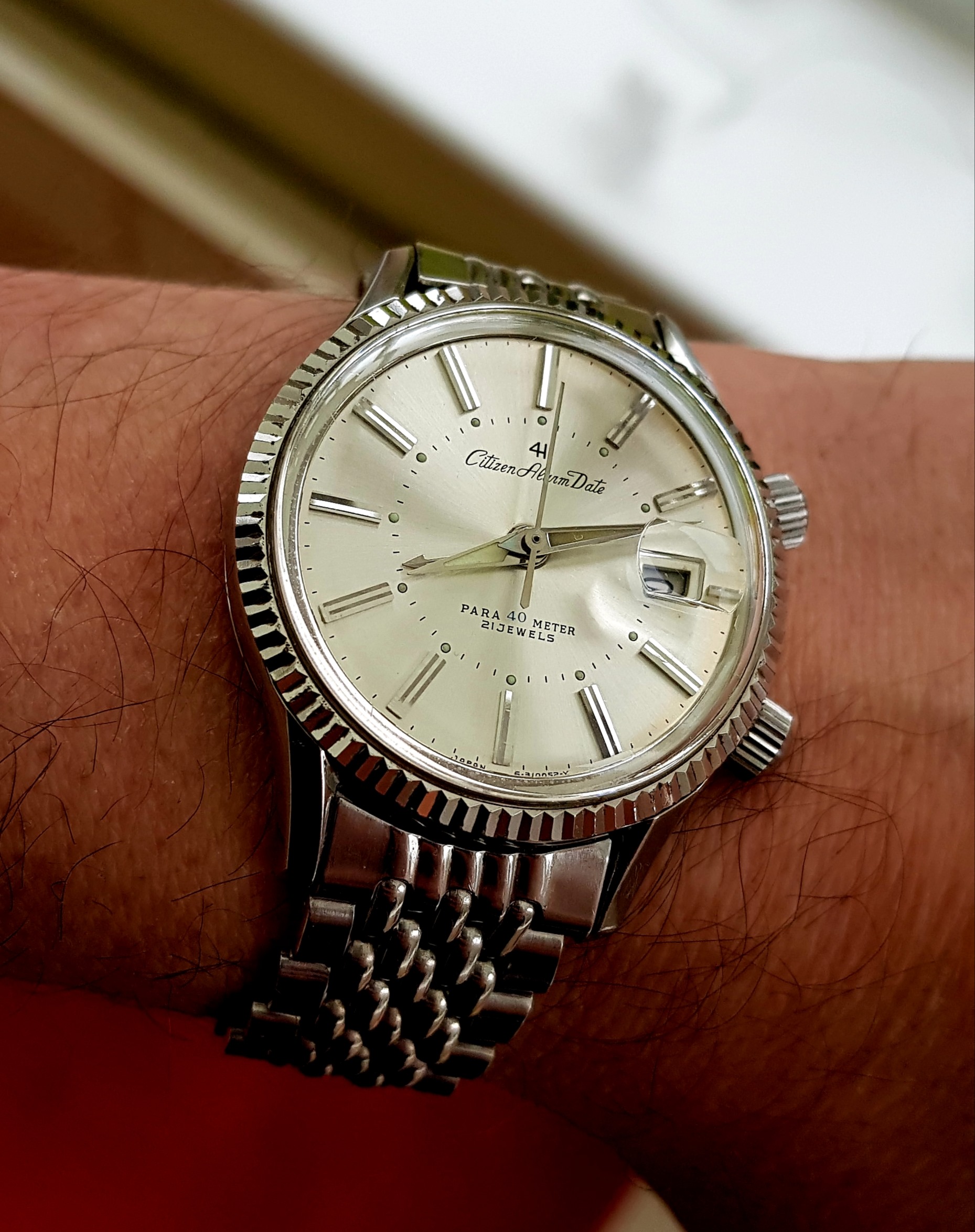 Anyway, this particular watch is from March 1969 and has a definite Rolex DateJust vibe going on, with the "cyclops" date magnifier on the crystal and the fluted bezel. For its era, it's quite a big watch – 41mm case size when many others were in the mid-30s – and since it isn't an automatic, it's relatively thin too.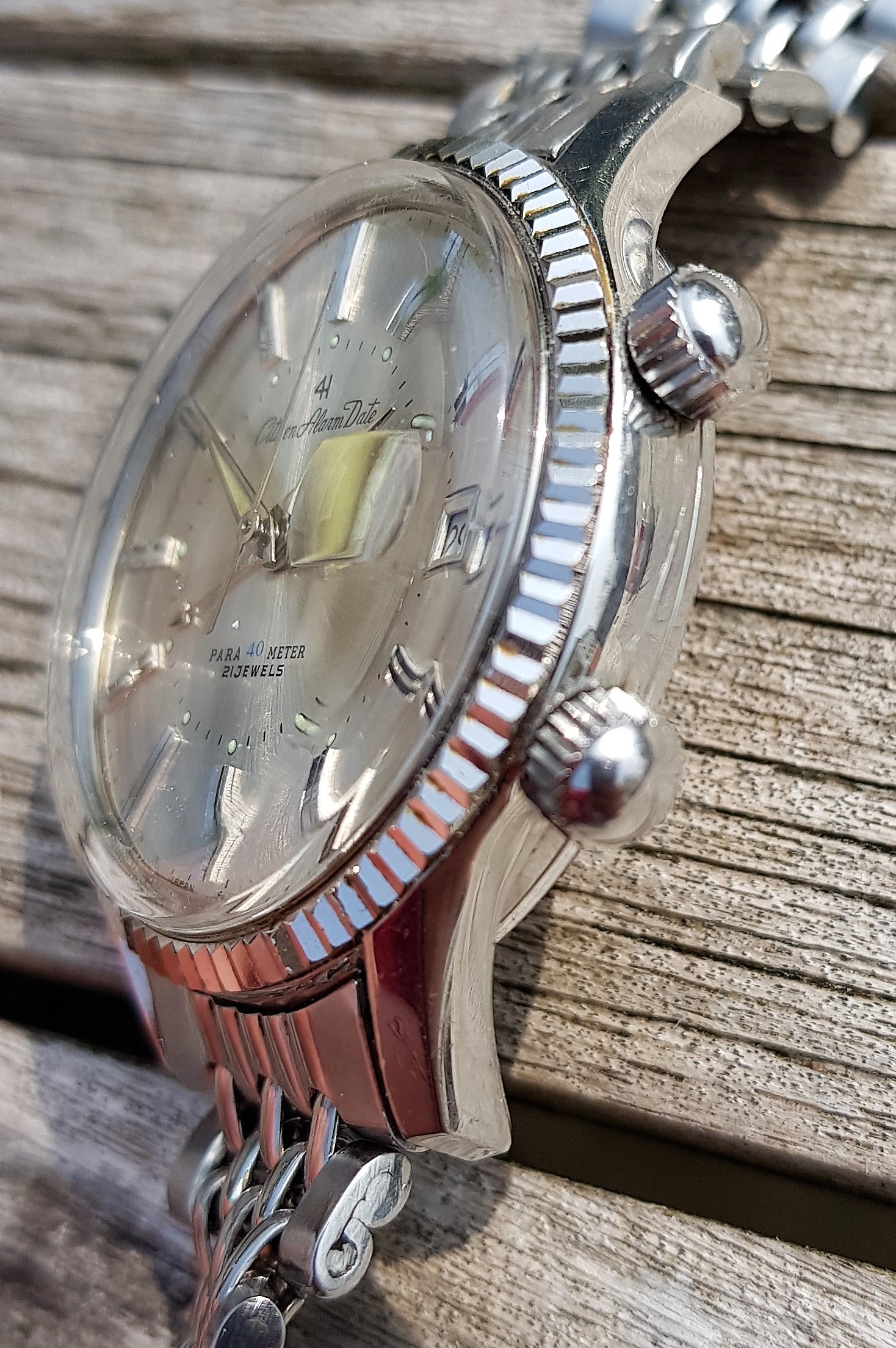 The defining characteristic is the dual crowns – the lower of which operates like a normal hand-wound watch; you wind it up (and it has about a 2-day power reserve) and pull the crown out to set the time. Changing date is a matter of winding the hands past midnight, but if you go back to before 10pm and forward again, it jumps another day so not as tedious as some, if the watch has been left still for a while.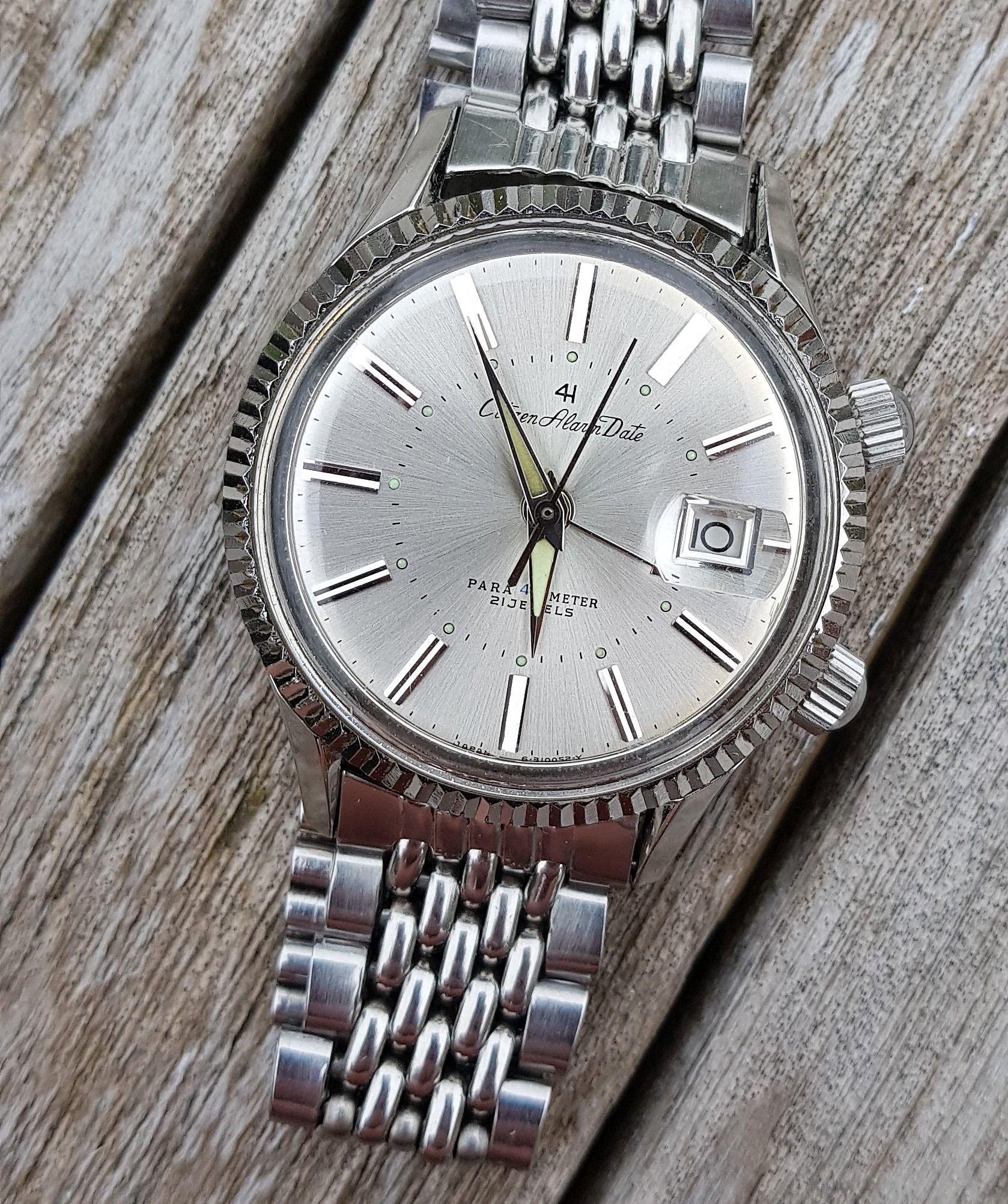 The upper crown is wound to add power to the alarm spring, and pulled out to set the time that the little black arrow points to – this is the time the alarm goes off. Leave the crown pulled out and the alarm is then active, so when the watch reaches that time, either on its own or by advancing the hands, it will ring the alarm.
The movement is a Citizen calibre 3102, itself based on a well-used AS (A Schild) 1475 Swiss watch movement that found itself in all sorts of Russian Poljots and other watches of the late 1960s. It is quite probably the most-used alarm watch calibre, with about 750,000 watches sold using it – though Citizen's variant would be less common, even though it was in production for around 10 years from 1964.
Unencumbered by the swinging rotor of an automatic watch, here it is in all its, er, glory?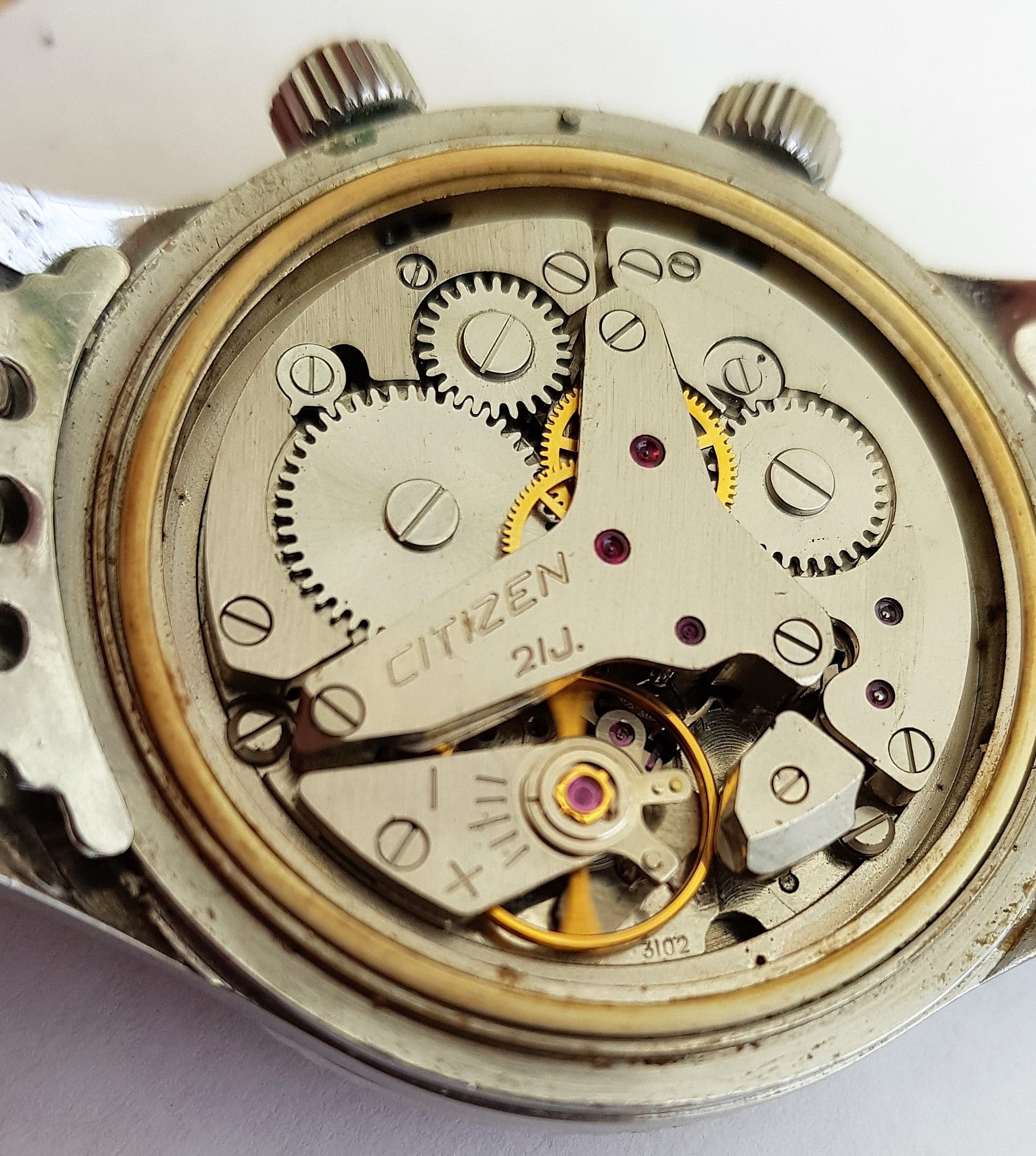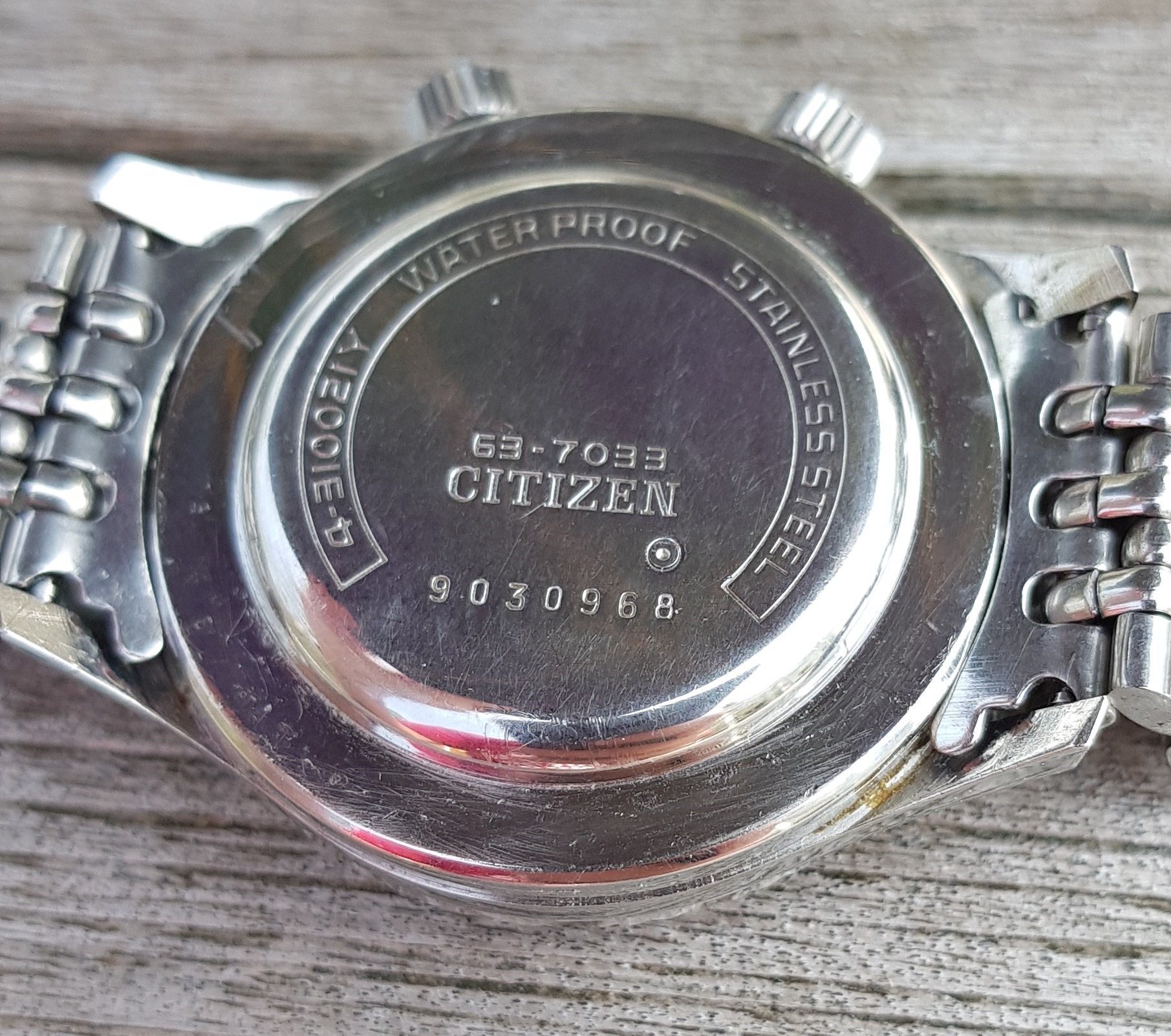 The case back is quite interesting – it's a press-on job and can only fit one way, helpfully guided by a little stud on the case. This is because there's a pin on the back of the case back which the alarm hammer strikes, meaning the alarm is actually quite loud and the back of the watch vibrates – only those with the sleep of the dead would not wake up. The back side of the pin is visible to the lower right of the Citizen logo above.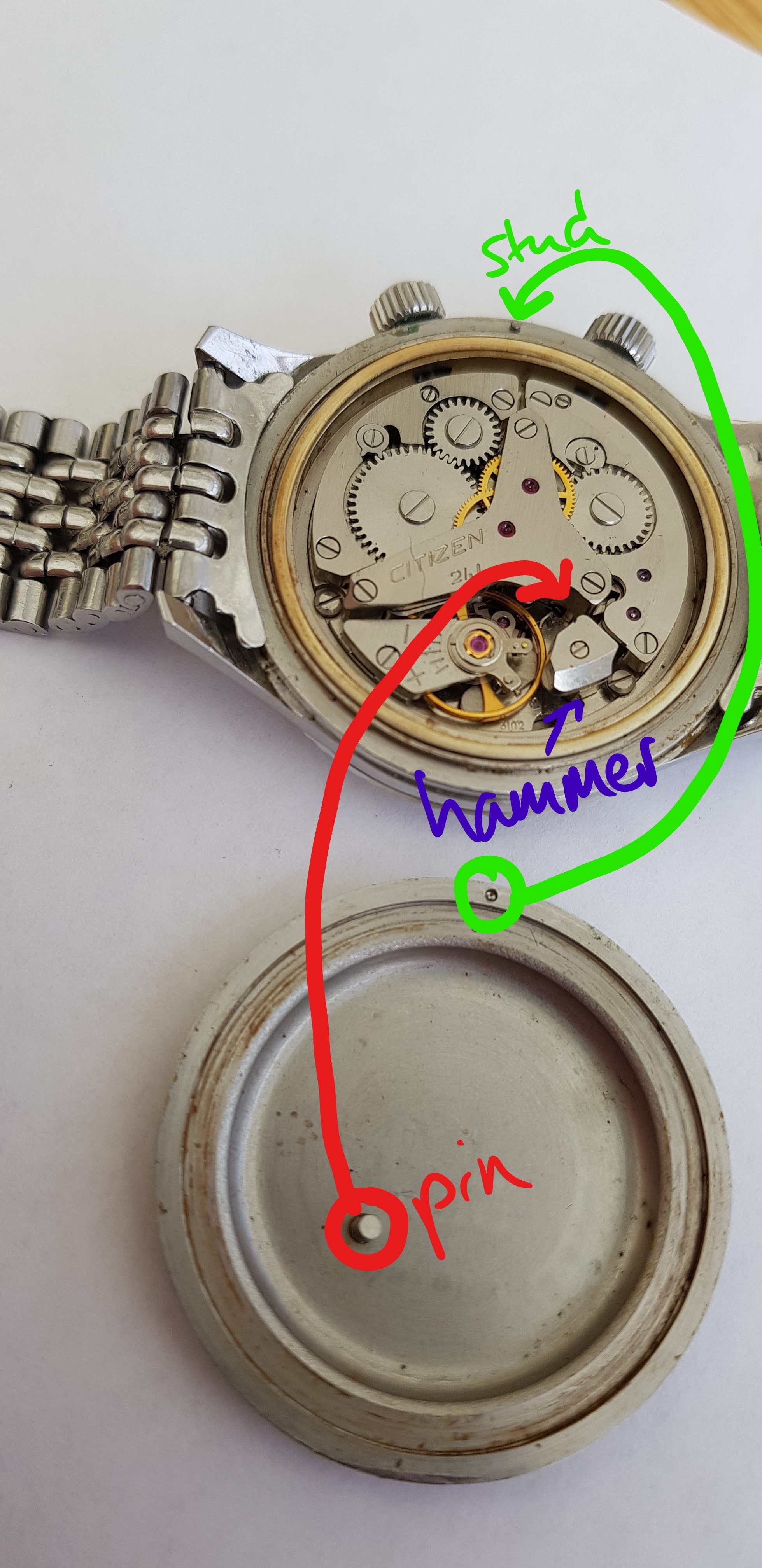 Here's a video of the alarm in action…
…. and what happens if you take the case off – see the hammer flying!