I've been talking with Nick for a couple of years about watches and in particular about his desire to get a watch from the year of his birth – a common pursuit, satisfied by a variety of online emporia looking to sell you a watch purportedly from "your" year – example, and another.
The problem with this search is that it's often quite difficult to know when a watch really was made – one approach would be to find the serial number (sometimes visible on the outside of the case, though often stamped onto the inside of the case back or the movement itself), then consult one of the serial number tables published online, that try to slot production serial numbers into years. See an early Omega table first surfaced 15 years ago; a more specific model / serial number cross reference was produced for Omega Speedmasters, here.
Some brands allow owners to request an "extract of the archives", producing a certificate which likely tells them a load of stuff they already know, but adding a couple of crucial details – like when the watch was produced and where in the world it was sold.
Recent years has seen Omega Speedmaster fans sharing their extract info, cross referencing serial numbers with dates of production, so one enterprising developer has produced iLoveMySpeedmaster, a site that will predict the month and year of a given serial number based on known production dates from perhaps nearby numbers.
As mentioned in the earlier missive discussing Dave's birth year watch, the production date might be a bit later than the model number of the watch, and it costs £100-odd to find out.
Seiko to the rescue
Fortunately, Seiko is a bit more predictable – from the early 1960s onwards, they adopted a fairly straightforward way of knowing when a watch was made: the first digit of the serial number is the year of production, and the second is the month (1-9 being Jan-Sept, 0=Oct, and you'll see the odd watch with N or D).
So all you need to know is a bit of history of that particular watch family, when did it enter production and when did it stop, so you can narrow down the range of possible years. The "9" at the start of some Seikos might be 1969, and by 1979 most of their mechanical watches were out of production in favour of quartz, so it's perhaps easier than you might think.
After looking at various pieces, Nick determined that he'd like a yellow faced "Pogue" 6139-600x. So the hunt was on to find a suitable specimen from the year, ideally even the month of birth.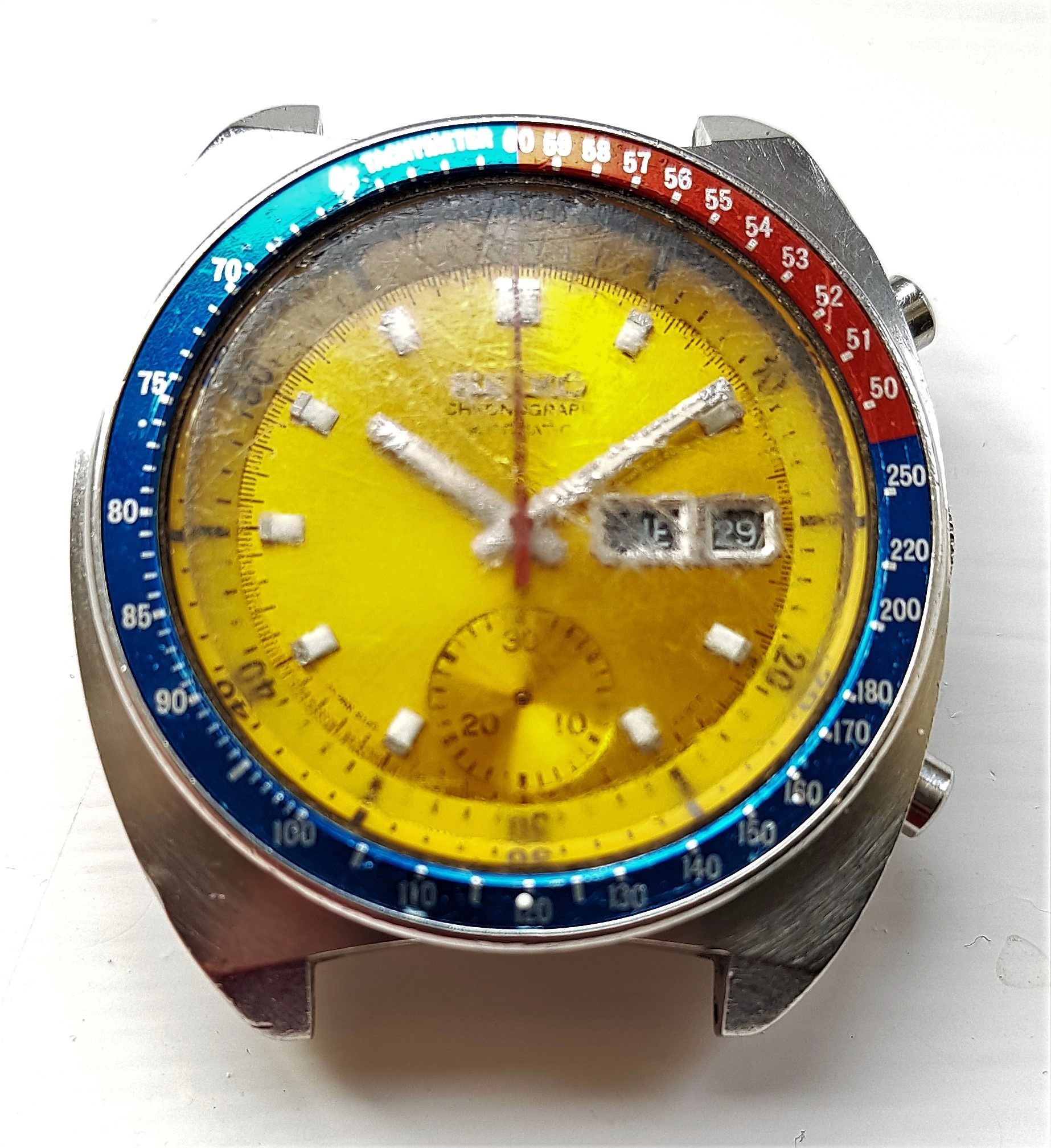 This was found on eBay; the crystal is so knackered, the dial text is barely readable, the minute hand from the chronograph subdial has gone missing, and the watch doesn't really run for more than a few seconds. The chronograph function didn't work either. The owner bought the watch years ago, put it on an ill-fitting aftermarket bracelet and wore it every day until it stopped working, at which point he threw it in a drawer before eventually dusting it down and putting it on eBay.
This kind of thing is always a gamble – clearly there are mechanical issues that will need fixing, but a skilled and Seiko-experienced watchmaker will be able to remove all the caked-on goo and 40+ year-old dried-up oil that comes from probably never having been serviced, and replace any parts that are defective.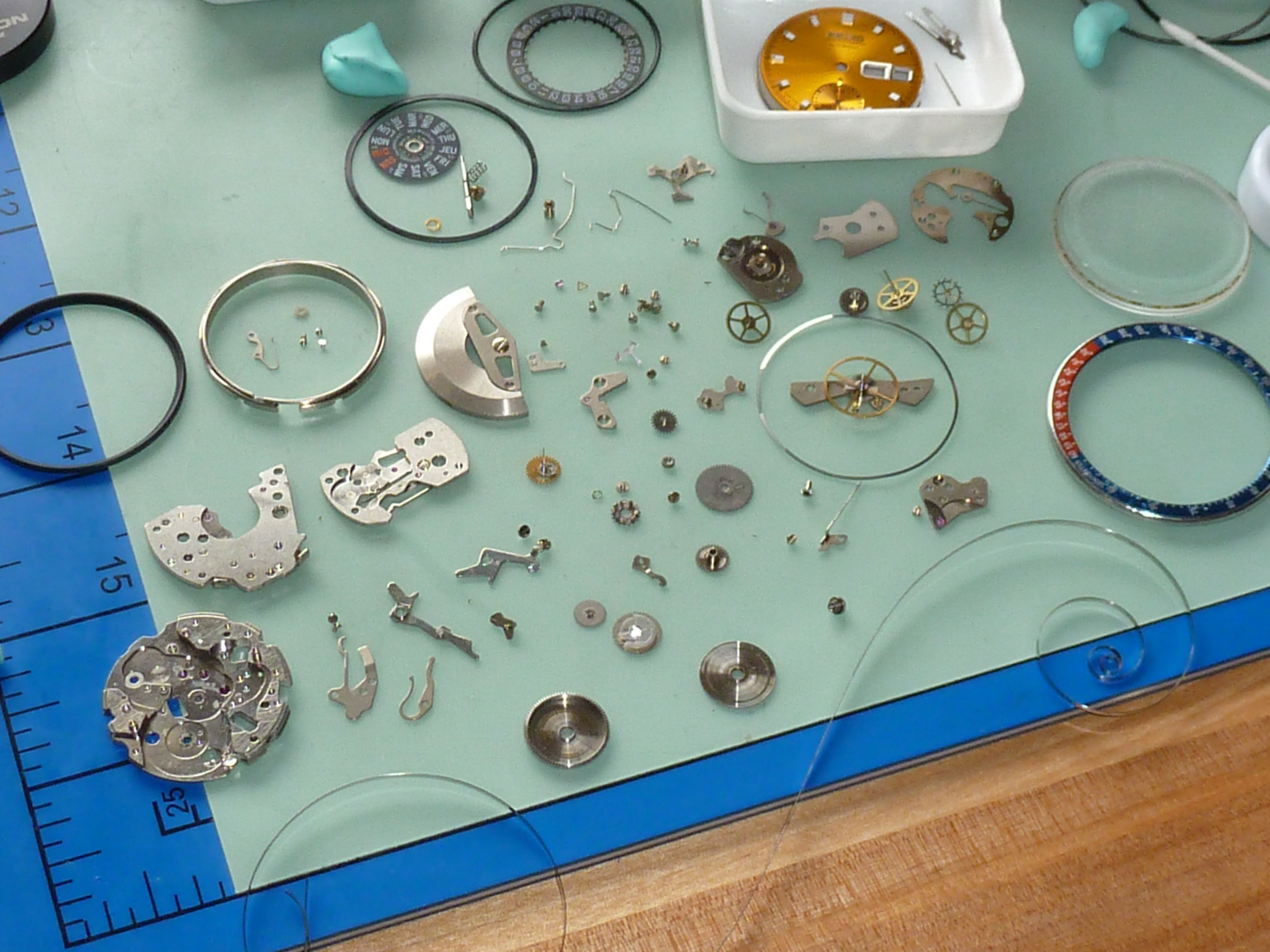 But mechanical gremlins aside, in this instance, the watch is an absolute cracker. The first thing I did when it arrived was to drop the movement out of the case to see what was hiding behind that beaten-up crystal.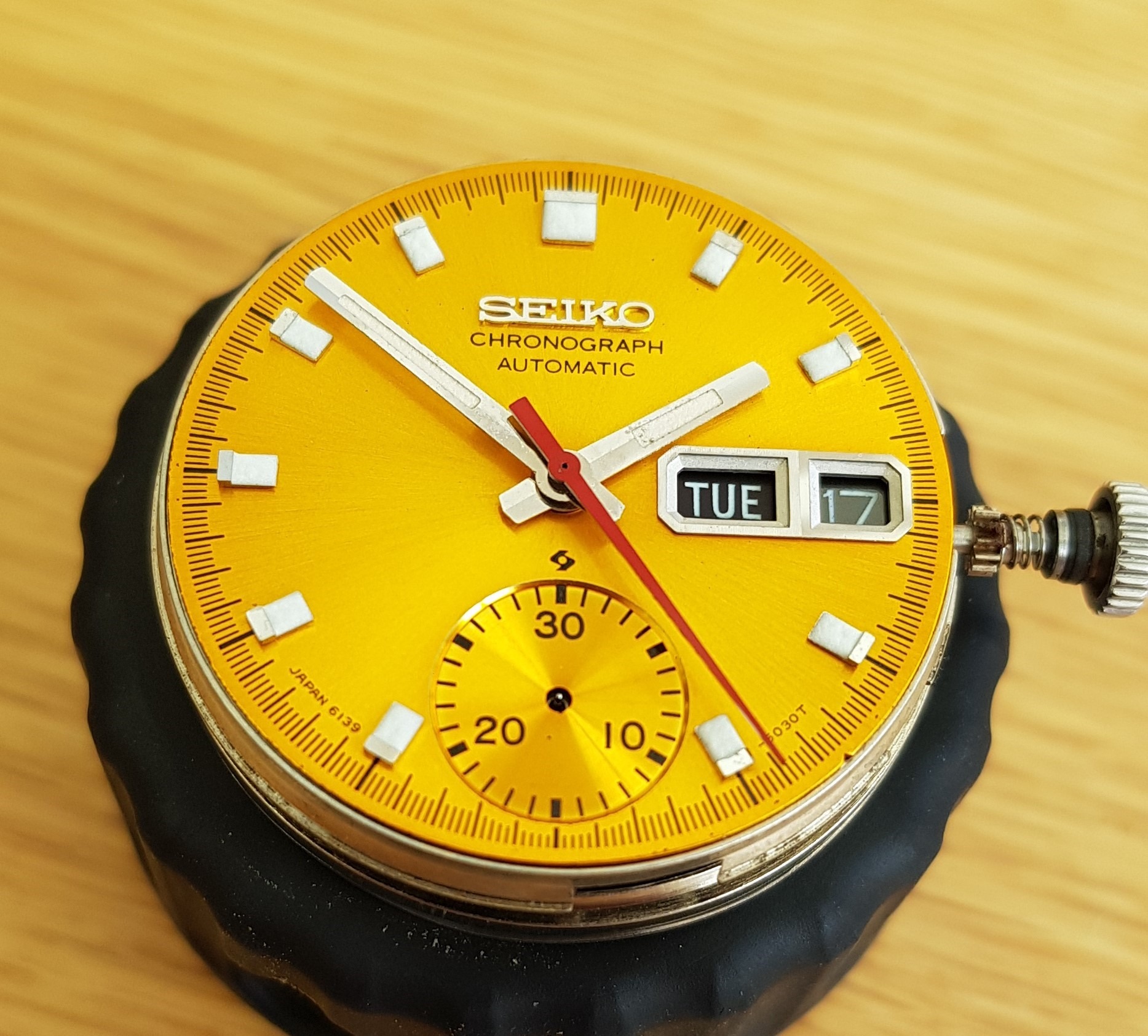 And the dial and hands are practically flawless. It's amazing how different the dial looks in direct sunlight, too.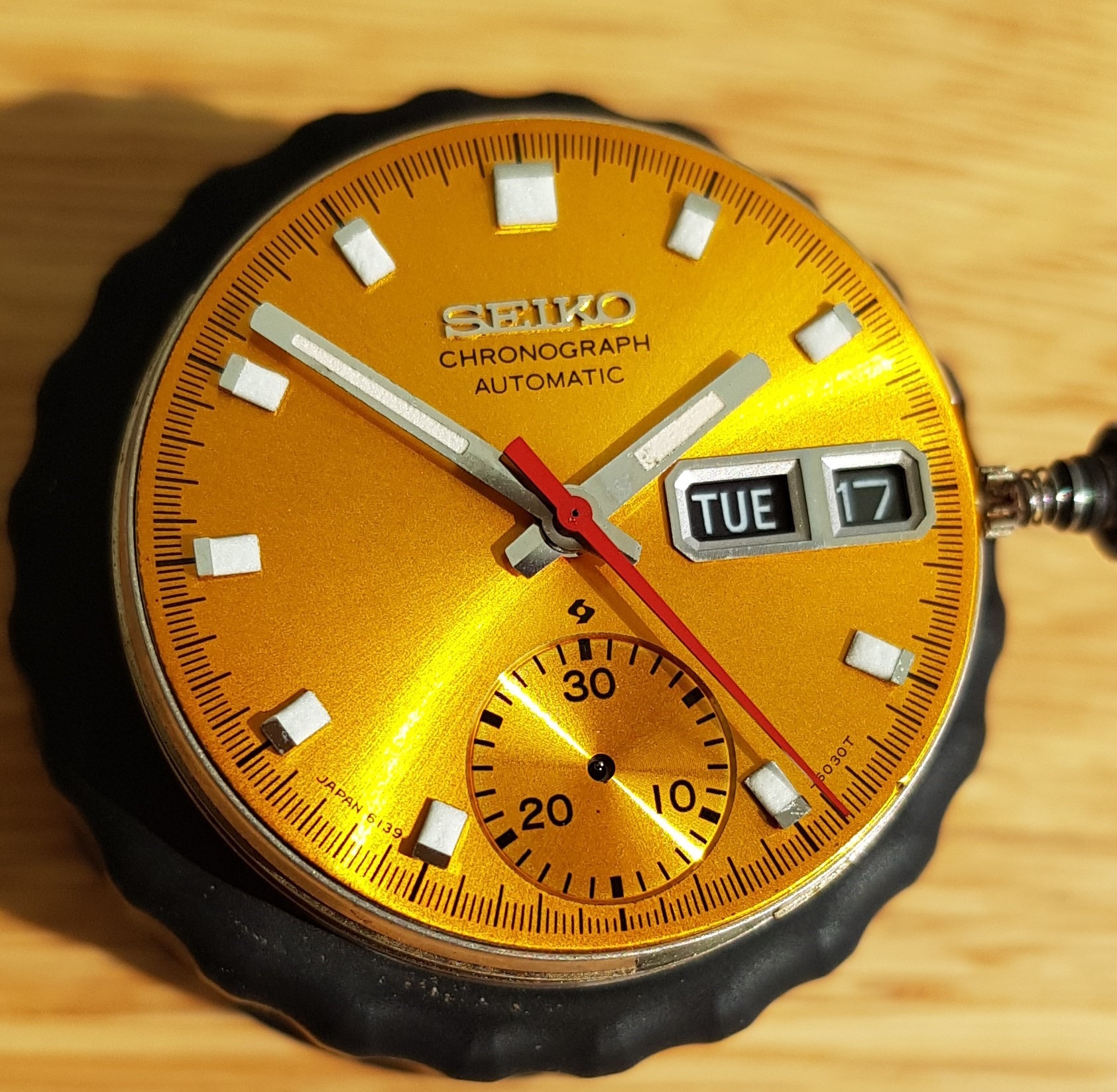 So, after having a few components of the movement replaced and everything cleaned, reassembled and re-oiled, a new minute hand and crystal on the case… Nick's watch was ready for his birthday. The watchmaker who did all the work has 24 yellow-face Pogues of his own (!) and said he has only 2 or 3 as good as this – "It looks and runs superb. It's in the 9.5/10 category."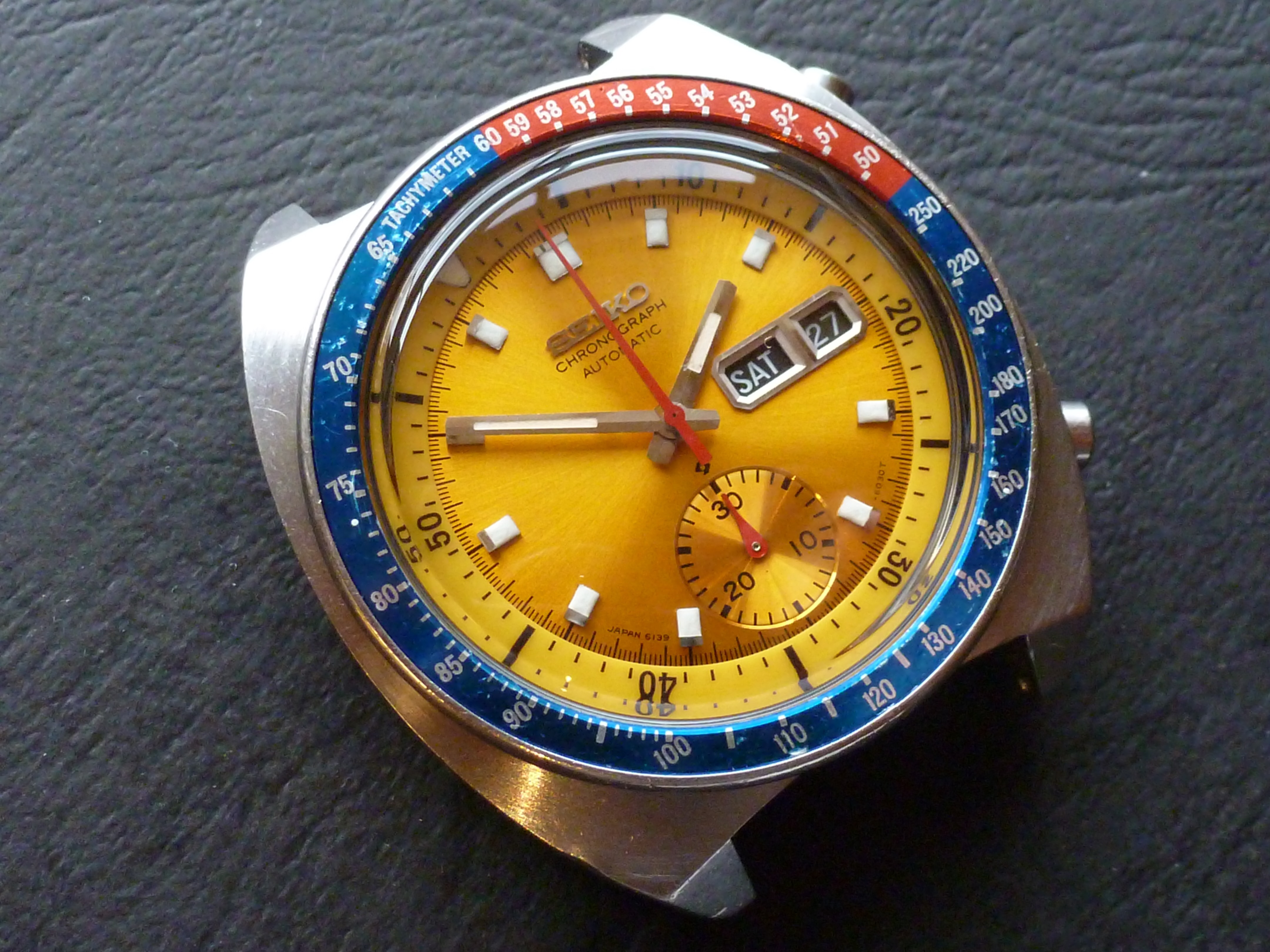 All it needs now is a decent bracelet, and it'll be ready to wear for another 40 years – in the meantime, it's on an eBay-sourced aftermarket one which will do for now.