When most people (who care about such things) think of relatively high-end, mechanical watches, they think of Switzerland. The clock and watch industry revolved around Geneva and various surrounding towns, and Switzerland did a good job of marketing the fact that if a watch was "Swiss Made" that meant it was of high quality and accuracy.
Other countries produced great watchmakers too – Englishman George Daniels, reckoned by some to be the greatest watchmaker since the 18th century, invented a whole new mechanism in the mid 1970s that is used by Omega today, their "Co-Axial escapement". At a similar time of innovation, Seiko's Yoshikazu Akahane spent 20 years perfecting the "Spring Drive" mechanism, unique to Seiko and one of the most accurate mechanical watch movements available.
But Germany has a rich history of watchmaking, too – centred around Glashütte, where several well-known brands still base themselves. Read more about the history of German horology, here.
One relatively modern German watchmaker of note was Helmut Sinn; he founded his eponymous company in Frankfurt in 1961, making clocks and watches aimed at pilots. Various moves in and out of Switzerland saw the Helmut Sinn Spezialuhren company assemble watches with off-the-shelf Swiss movements inside custom made cases.
For a while, it was thought that German astronaut Reinhard Furrer was the first to wear an automatic chronograph in space, aboard the Space Shuttle Challenger for the Spacelab D1 mission. The Sinn 140 and 142 watches were also worn on Mir and in other NASA-operated missions. 20+ years later, however, the story of Bill Pogue came to light and burst the "Sinn: first in space" balloon.
Sinn was known for collaborating with then-new brand Bell & Ross, and for continuing to produce "tool" watches that would appeal to pilots and divers, while developing various technologies to make their watches more hard-wearing, and modifying the standard Swiss movements to add other features and finishes.
The hunt for this particular watch came about partly because of a post on OmegaForums when one user asked if Sinn were any good; a very respected watchmaker gave his opinion (yes, he had owned one and would happily have another), but the photo in that thread was what sold it to me.
The 356 line from Sinn is a classic military-inspired watch, easy to read and hard-wearing. It's well-finished and looks good on a strap or a couple of bracelet options. But the Sa Pilot II has a mesmerising copper "guilloché" finish dial. Some people say it's salmon pink in colour, but the dial is copper-plated, so I say it's copper coloured…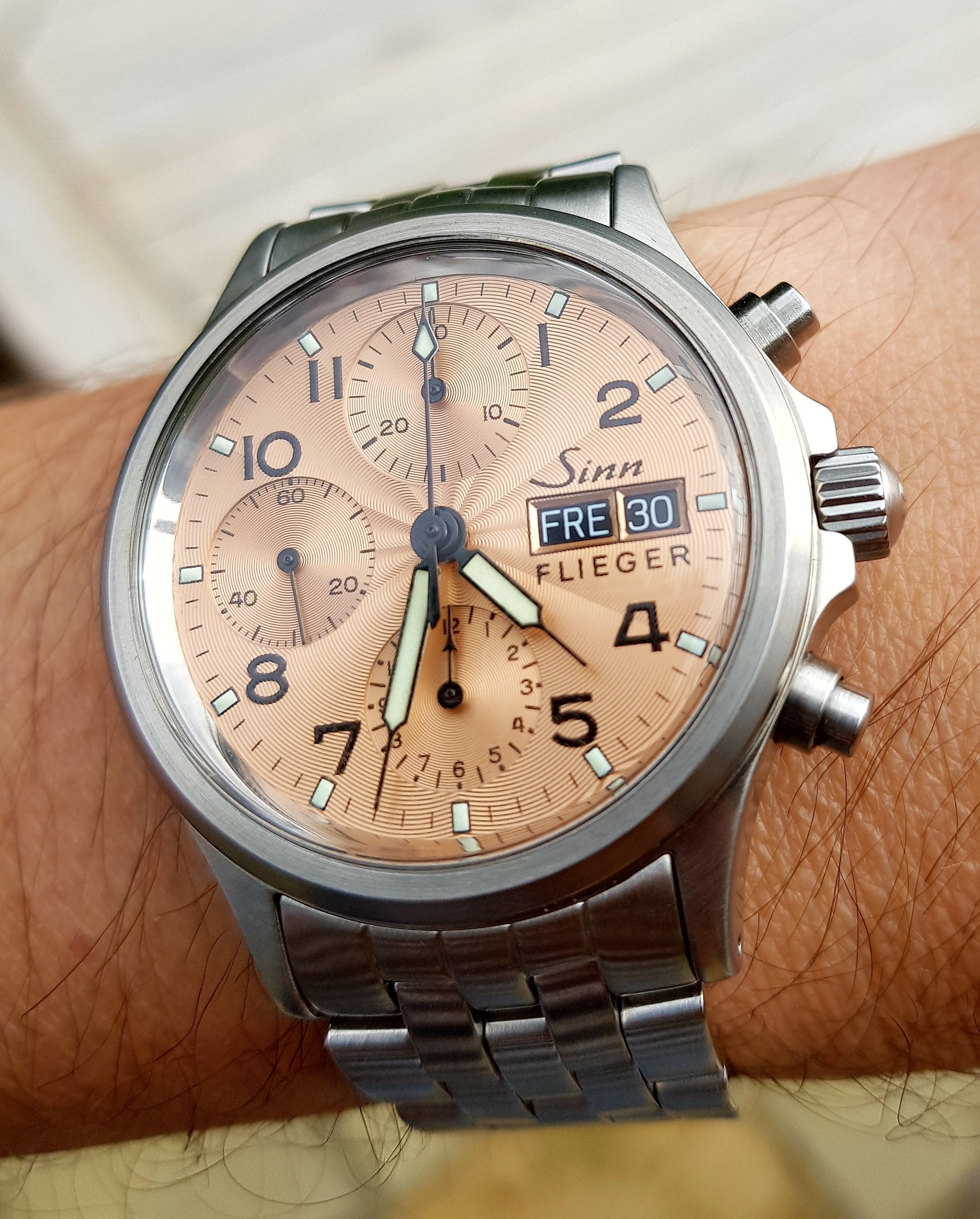 This particular watch is from 2007, so it has an ETA 7750 movement and an acrylic crystal; watches were offered with a sapphire crystal as an option (in general, sapphire is harder wearing though if you do scratch or chip it, there's no alternative but to replace… whereas you can polish away scratches on acrylic crystals).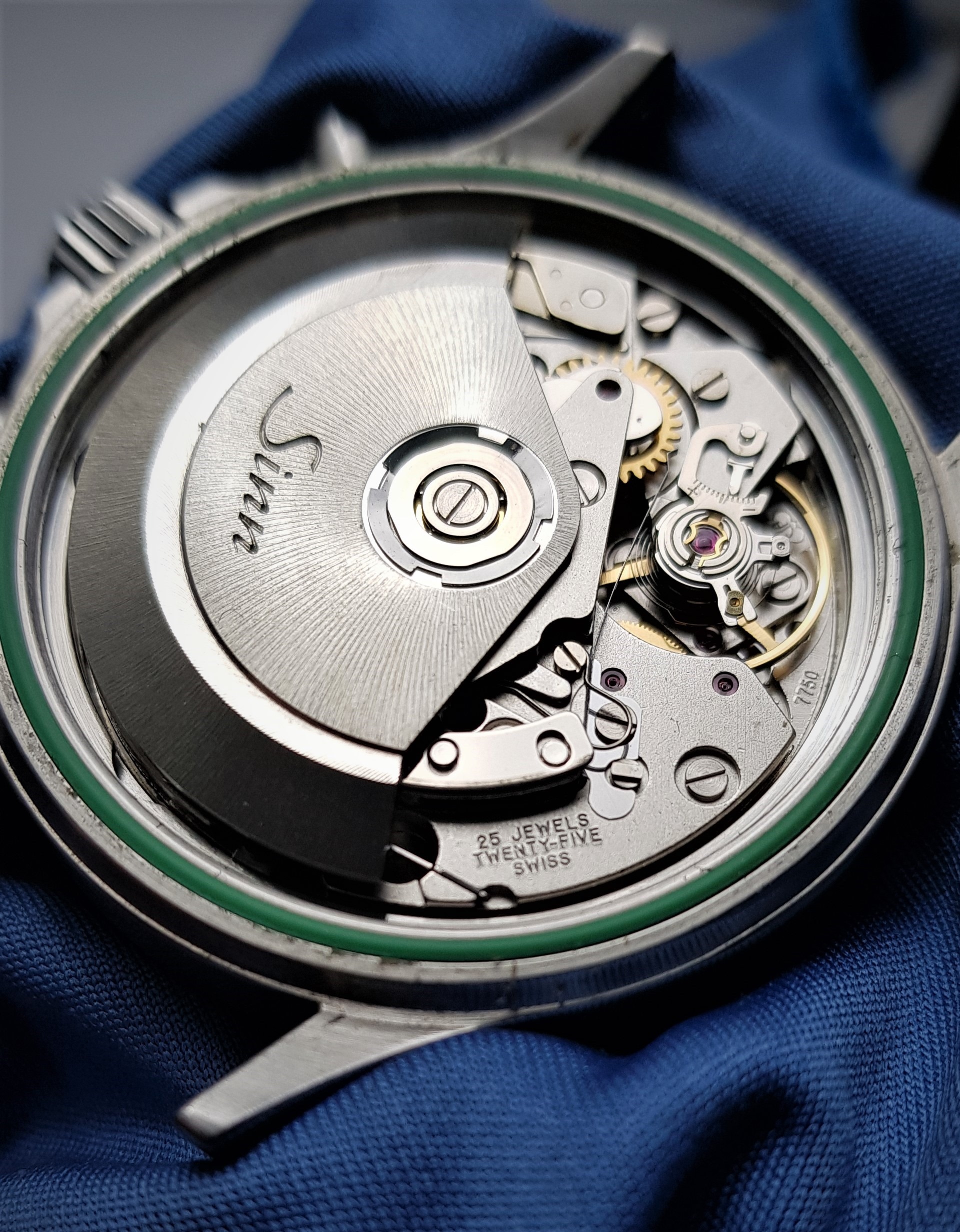 Later, Sinn was forced to switch to using an equivalent Sellita SW500 movement since ETA – part of the Swatch group that owns Omega and many other brands – decided to restrict supply of its movements to any of its competition. Sellita makes movements that are basically copies of the ETA offerings that have been around for decades; they're more-or-less parts compatible so we've seen major watch manufacturers that previously relied on ETA movements – including the likes of TAG Heuer – switch to Sellita.
If you bought a new copper-dial 356, it would be the 356 Sa Pilot II – with Sapphire crystal. Or there's the Sa Pilot III with silver plated guilloché dial. For me, the classic black-dial 356 with acrylic crystal is just about ideal, but I can't help but be struck by that copper dial…