50 years ago, Seiko was quietly producing what could arguably be the world's first automatic chronograph. Other manufacturers were trying to do the same – Zenith produced their goadingly-named "El Primero" (a fabulous watch movement that was comparatively small but also beat at a higher rate than its competition – it went into other manufacturers' products including the Rolex Daytona), while a consortium of others, loosely known as the Chronomatic Group was formed by Heuer, Breitling, and Hamilton, together with movement maker Buren and the company who could make the bolt-on chronograph module, Dubois-Depraz.
There are many articles online [here's a good one, and a later one by the same author focusing on the Chronomatics] detailing just how one of the three contenders was actually the first but in truth, it doesn't really matter. We could split hairs about what is important – being the first to announce, the earliest prototype, the first to sell in-market? Certainly, at the launch in New York of the Heuer Caliber 11 watches, March 3rd 1969, one lucky winner of a new watch found that it was less reliable than expected so maybe Heuer were jumping the gun a little.
Anyway, back to Seiko. It seems that it had quietly been selling watches in Japan with the 6139A movement dated from February 1969. Typical of Seiko, they produced a whole variety of case and dial styles with the 6139A from 1969-71, and then the 6139B until 1977-78.
I'm going to look at a couple of early bearing the 6139A, and belong to the 6000-family made famous by the association with NASA Astronaut Col. William Pogue, more of which later, when I'll cover a couple of 6139Bs.
OK, enough preamble – let's talk about a watch.
Blue 6139-6000 from June 1970, aka "Cevert"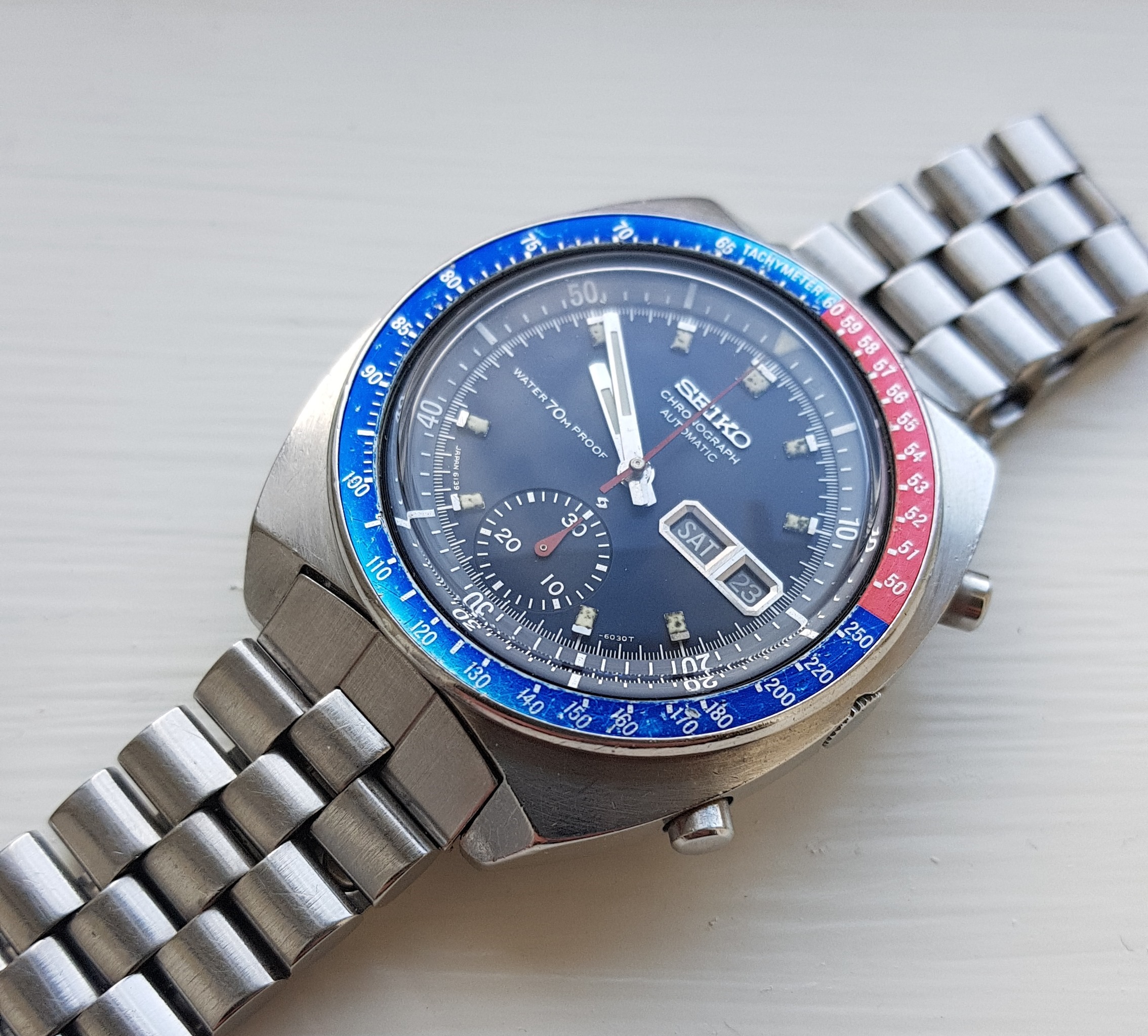 This was bought from its first owner, who got it as an 18th-birthday present from his brother, who himself was serving in the Royal Navy in Singapore, in December 1970. On arrival with me, the watch was pretty tired-looking – and the bracelet had lost one of the correct end-links, so the previous owner had installed a different one that didn't quite fit.
It has since been serviced and a replacement end-link from the bracelet was sourced from a collector in Australia. The chronograph hand has a crack, and the watchmaker who serviced it was worried that it might break when he was trying to re-install… and the correct, 2-piece chronograph hands for these are like hen's teeth. After well over a year of looking, I've found another – but fortunately, this one went back together just about OK. Other than the Aussie end-link and a replacement crystal, it's as original as they come.
An eagle-eyed enthusiast spotted photos of F1 legend Francois Cevert (whose untimely death was the catalyst for his mentor, Jackie Stewart, to launch his crusade on driver safety in motorsport) wearing a Blue 6139 in 1971… so this particular variant is being nicknamed "Cevert" (pr. seh-verr).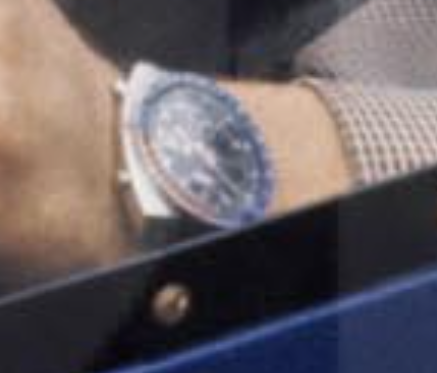 Pink Floyd's Nick Mason had one too:
And eagle-eyed space fans might spot a blue 6139-600x on the wrist of actor Ed Harris, playing Gene Kranz in Apollo 13 (a detail that the props team on the film got a bit wrong, as Gene famously wore a Seiko 6119-8460… other actors in the film were seen with Omega Speedmasters, many with 1171 bracelets that didn't appear until 1970 and only on the later Speedmasters that were not issued to NASA… still, let's not get bogged down…)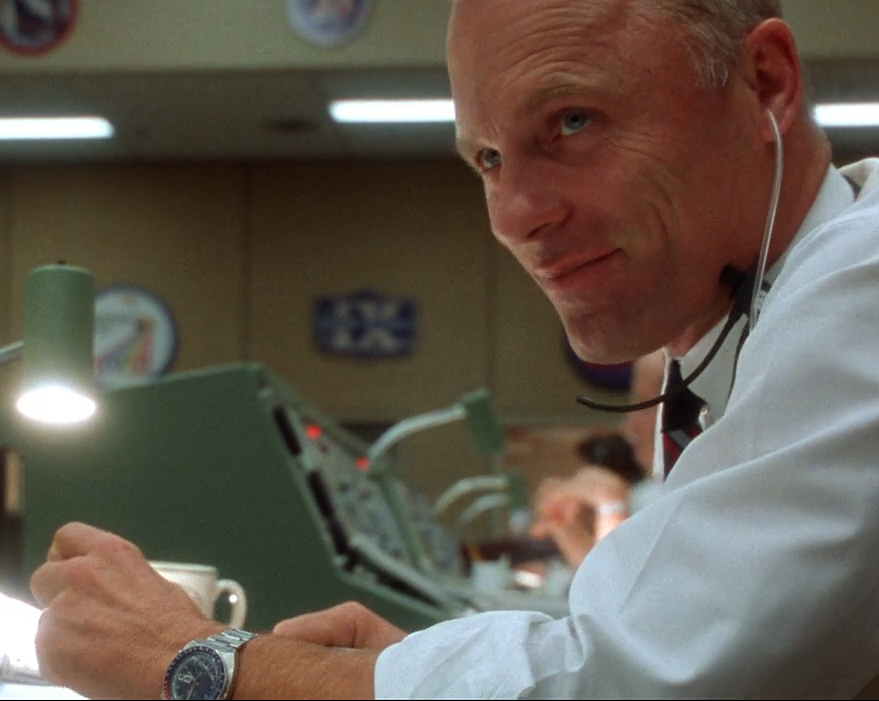 The Ed Harris watch in question looks to have minimal text under the SEIKO logo, so it's probably a –6005, which would only say AUTOMATIC beneath the larger logo, rather than CHRONOGRAPH | AUTOMATIC. It also didn't appear to have WATER 70m RESIST at 9 o'clock, which would date the watch to 1972 or later.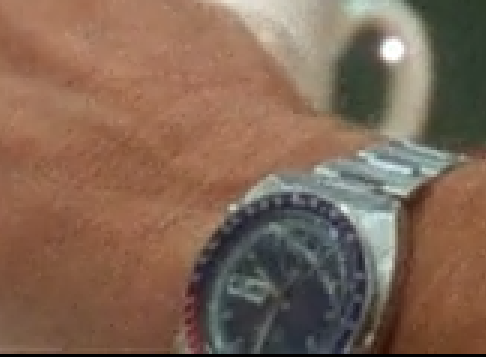 You can identify the early 6139–6000s as they have a notch above the recessed crown, and were marked on the dial as being water proof to 70M. Later in 1970, Seiko changed to saying "WATER 70m RESIST" and after 1972, dropped that text altogether. There's a very good Collectors Guide to the 6139-600x series which goes into more detail.
This particular 6139-6000 is in well-worn condition; the lume plots on the dial are starting to go a bit degraded, which on some watches lends them a pleasing yellow tinge but on these vintage Seikos, just goes mouldy-looking. It's not too far gone to be ugly, though.