This was a very lucky find at an auction – I'd never even heard of the World Time until I saw this watch online and liked it enough to take a punt. I started reading up about them and decided I really wanted it, and stuck in there well after the auctioneer blew past my absolute, no-holds-barred, top price. Discipline in such situations is hard to muster, but I'm glad I held out – this is a beauty.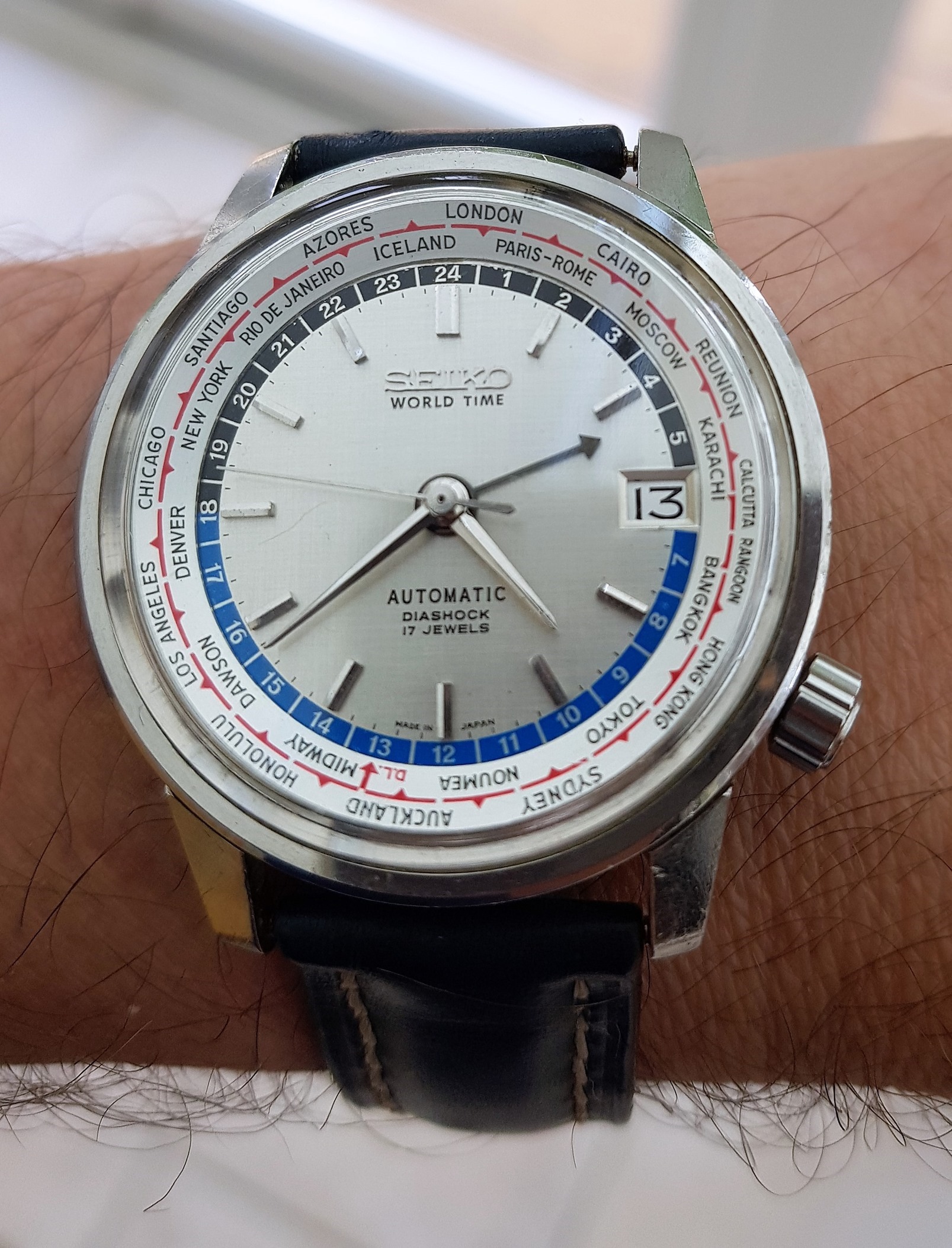 It's an automatic watch and the inner bezel (with all the city names) rotates around by turning the crown; the idea is that you set the time so the little black arrow hand points to the time on the 24h scale (which I didn't realise when I took the picture above, hence why it's pointing at 4:40ish and yet it's clearly daylight, so 16:40).
If you then rotate the bezel so black arrow points to the place you are in the world at the time, you can then see what time it is everywhere else in the world… so…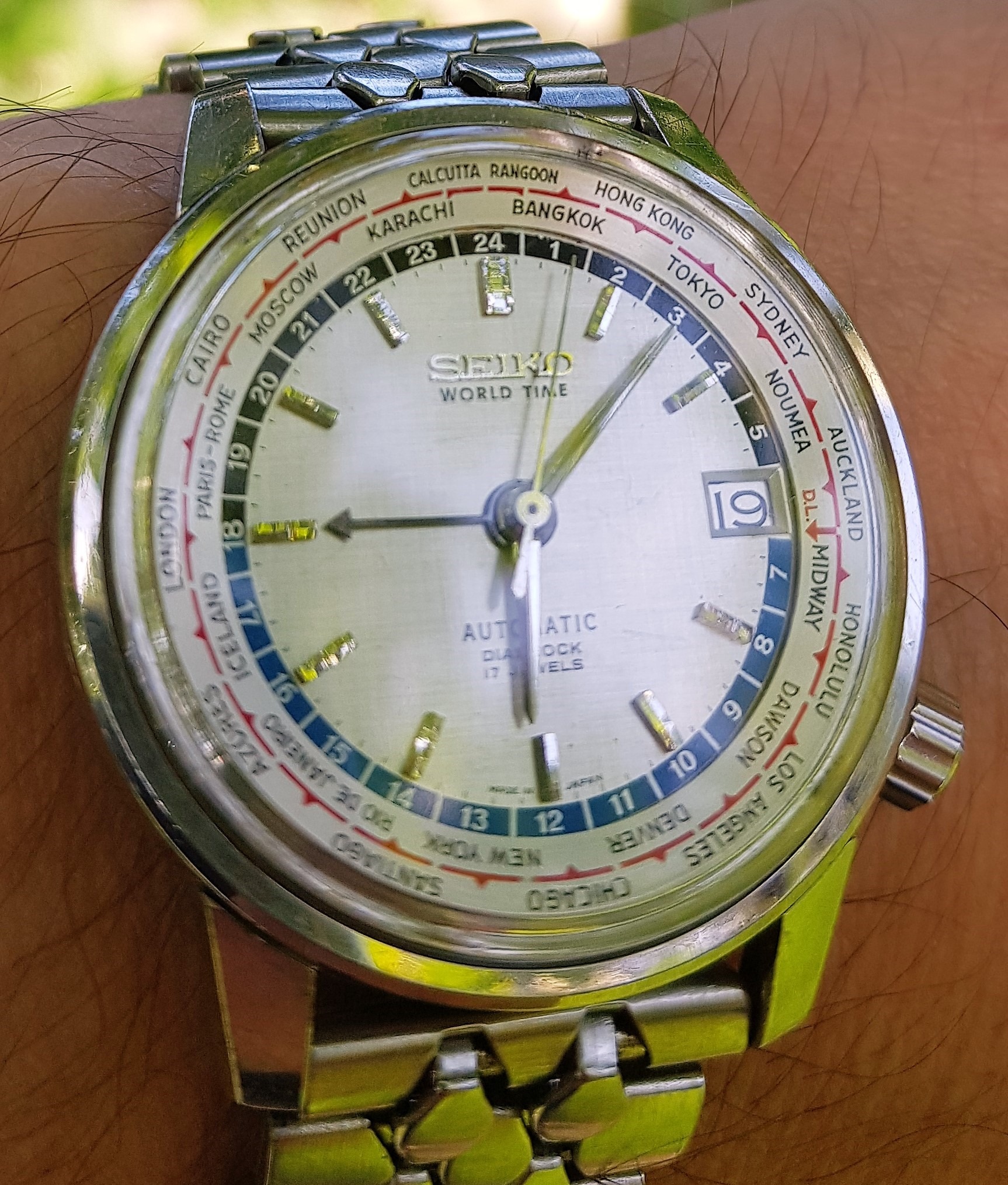 … If I'm near London and it's just after 6pm, that means it's 13:00 in New York and 21:00 in Moscow.
The World Time was released in 1964 to celebrate the Tokyo Olympics, and the case back has a flaming torch etched or stamped on it in reference. There's a bit more detail on World Times (or World Timers as they're sometimes known) here, here and here.
This particular watch (reference 6217-7000) was produced in June 1967, evidenced by the first 2 digits of its serial number (the year, and the month within that year). Seikos are good like that – unlike just about every other watch manufacturer, you can date them easily – see here.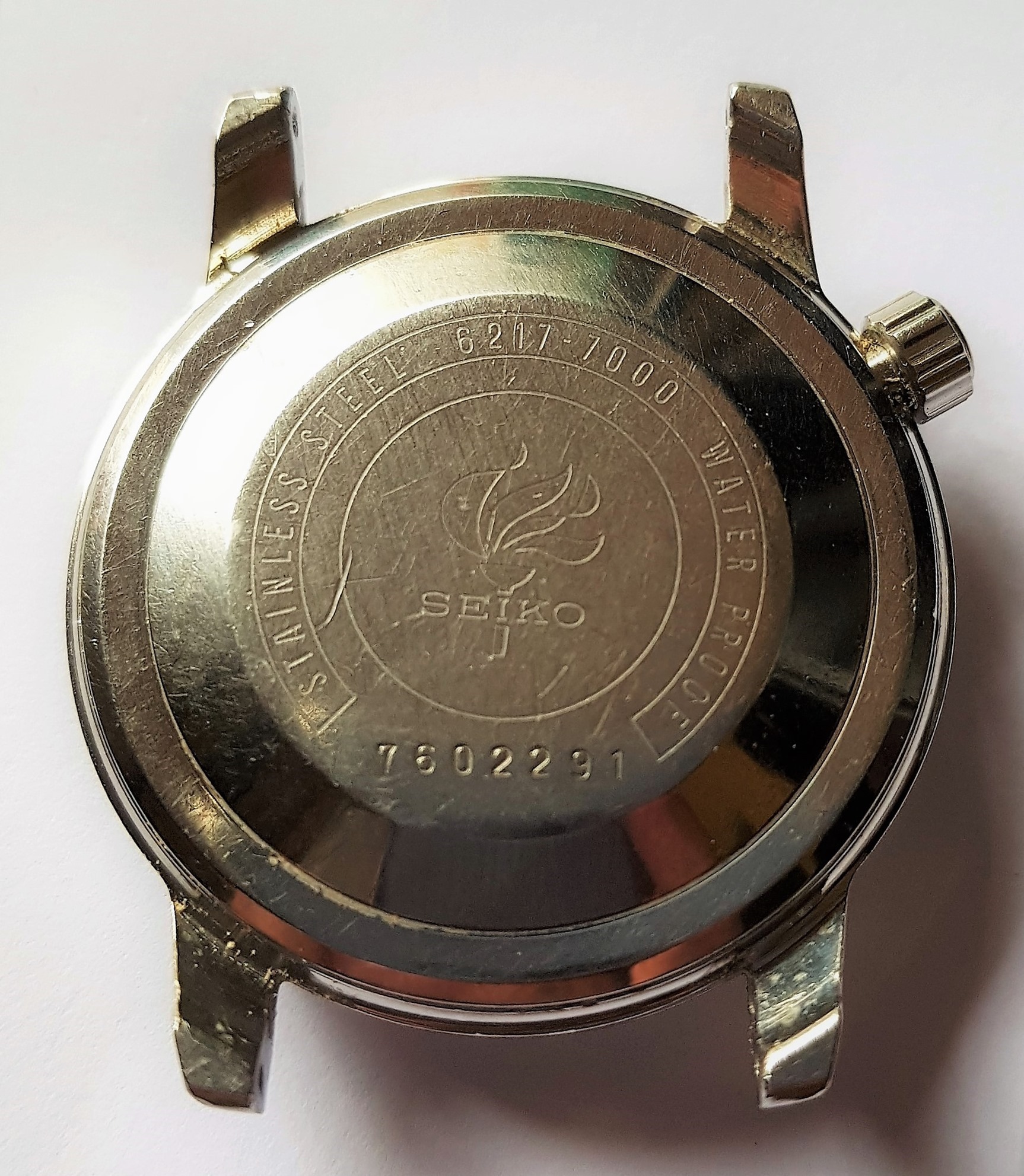 There are a few variants on a theme, of a similar age – a black faced World Time, or the 6117- series (some of which had a red GMT hand, which would, frankly, make it easier to see the time as the black one is easy to confuse for the other hands).
The 6217-7010 followed as a later update, and it appears that the 6217-7000 was only produced in 1964 to celebrate the Olympics, however they may have had some leftover stock from '64, and started turning out Olympic torch-bearing watches 6217-7000s again in mid 1967, to be ready for the '68 Olympics. So this particular watch is something of an anomaly – it has all the hallmarks of the earliest, 1964 World Times, but a case back that (legitimately) dates it from 1967…
Original World Time bracelets are hard to come by, for some reason – so I managed to salvage a period late 1960s "Diamondback" or "mini-coffin link" bracelet which I had kicking around, and it rather suits the watch.
While on the subject of coffin links, the true coffin bracelet was fitted to other Seikos of the late 1960s / early 1970s – here's an example of a Bell Matic with coffin link and the World Time with Diamondback.