In one of my impulsive buying-at-auction moments, I picked up this little watch for what I thought was an OK price (not a bargain, but not bad – all of about £240 incl commission). It wasn't running properly, so after a while I sent it off for a service and also replaced the crystal; so all in, it owes me about £400 – maybe a 10th what a nice, mid-70s Omega Speedmaster would cost.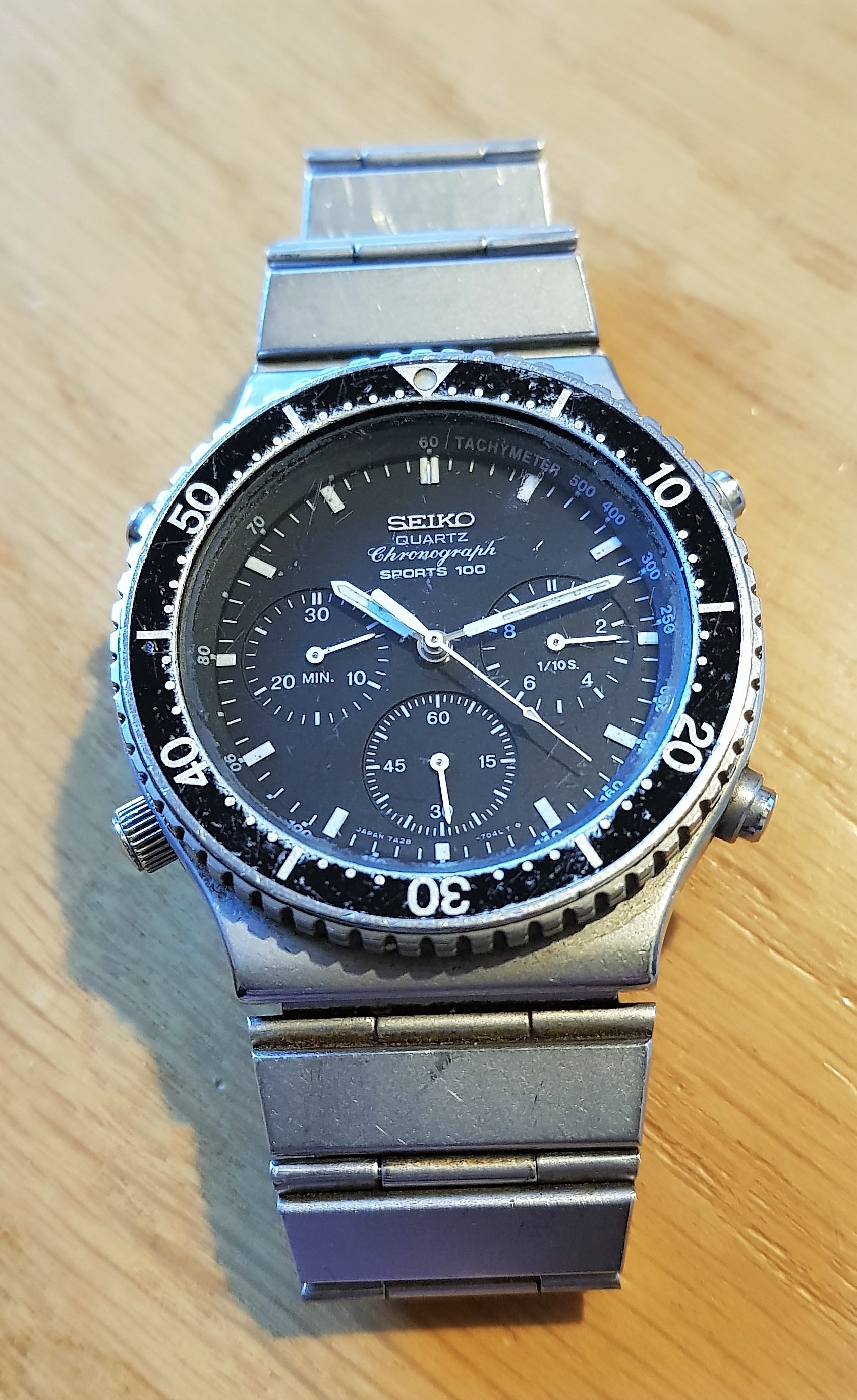 This 7a28-7040 watch is sometimes described (normally by eBayers) as a "Seiko Speedmaster"…
A brief history lesson

The 7a28 movement within was the world's first analogue quartz chronograph, released in 1980; this particular watch hails from December 1982. Production of the 7a28 watch family carried on until 1991 or 1992, with perhaps the pinnacle being the RAF Gen 1 chronographs from 1989 on: they periodically pop up for sale online, at the going rate of about £1,000, which is small change in Omega Speedmasterland but big money for a quartz Seiko …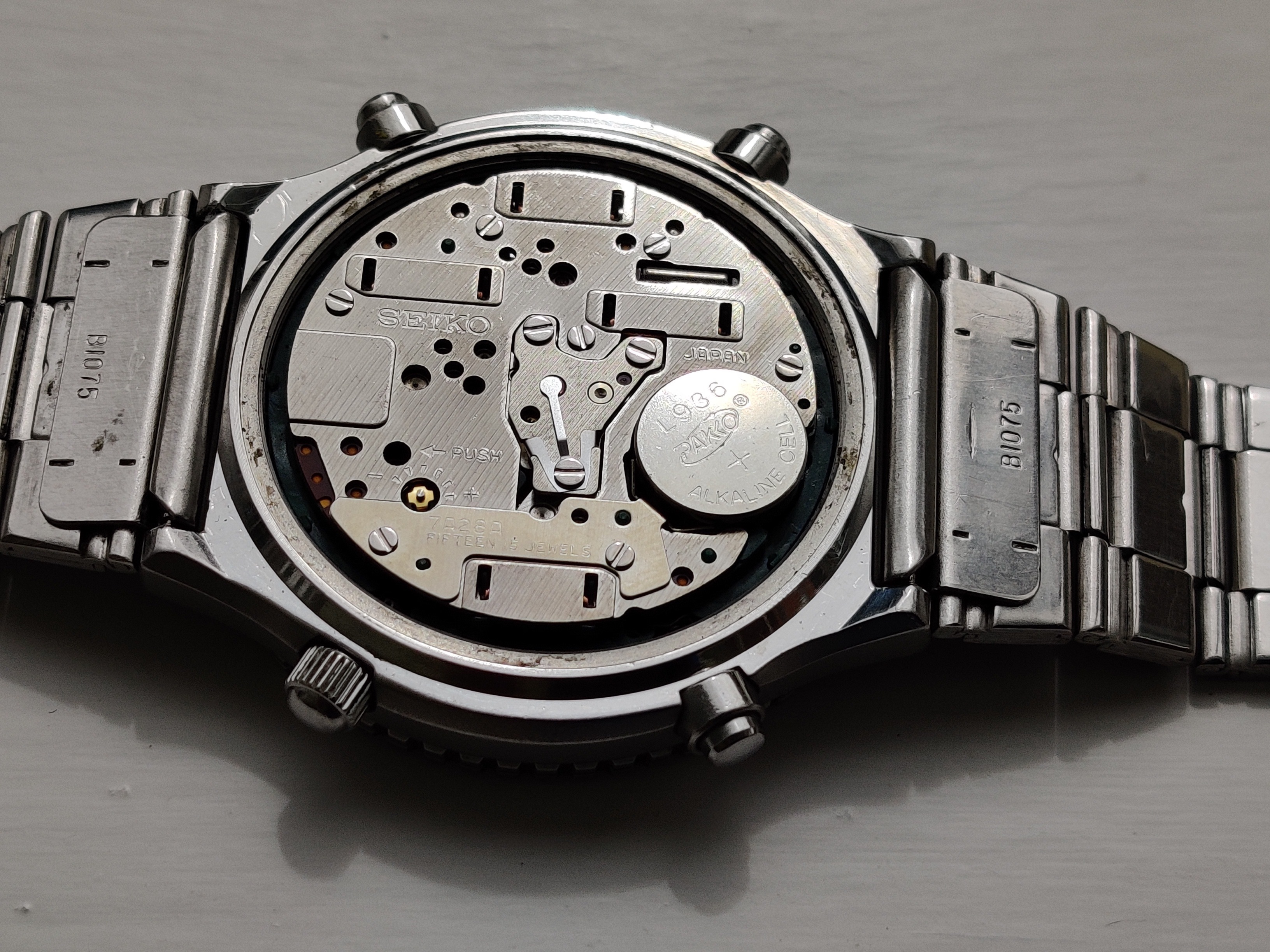 The 7a28 / 7a38 movements were proper things, too – no plastic parts, 15 jewels, you could regulate their timekeeping and the whole thing can be disassembled, cleaned and re-lubricated.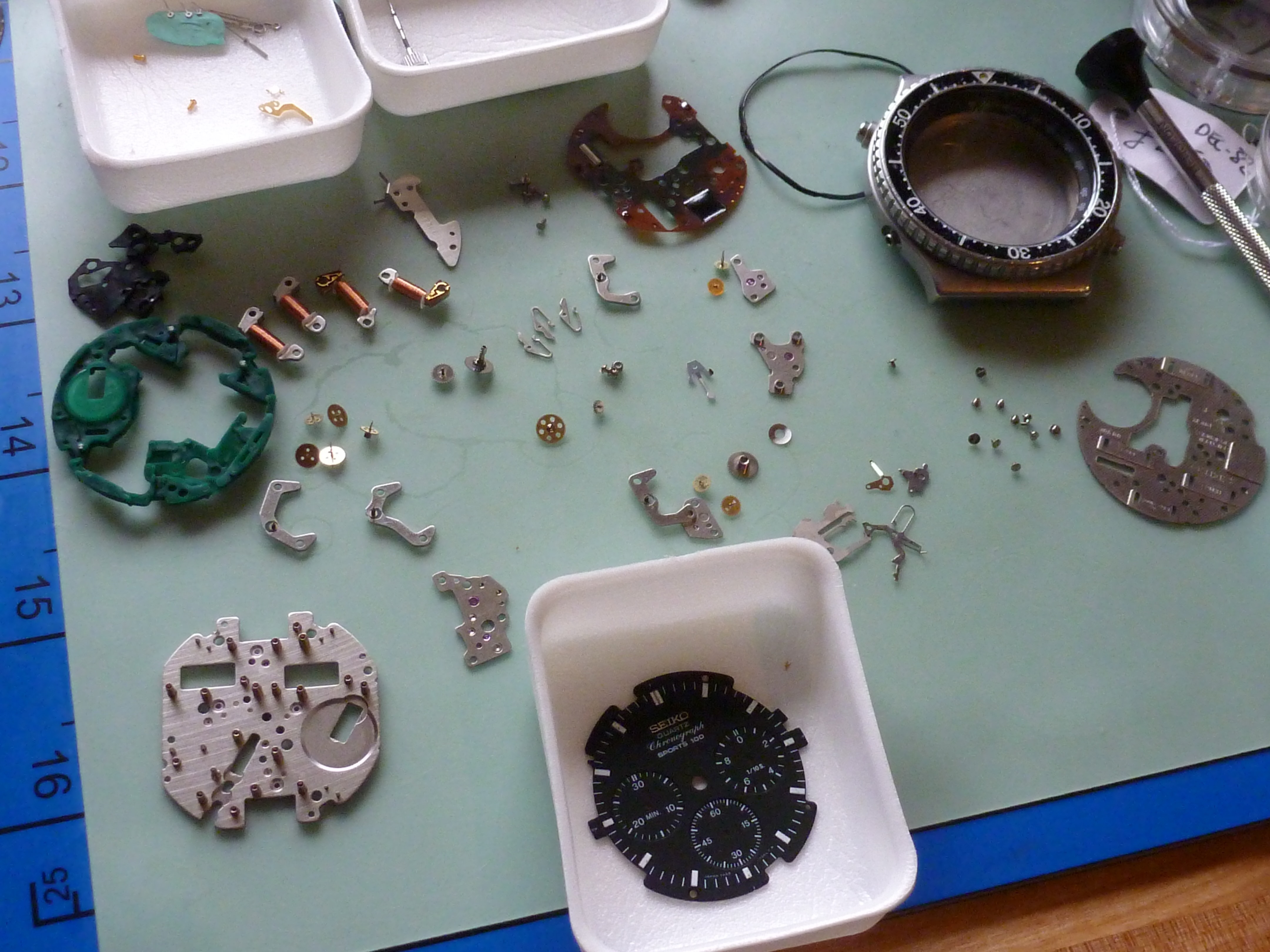 The Japanese Seiko catalogue from 1983 – V2 p38 – shows a selection of bizarre looking things designed by Giugiaro (and featured on the wrist of Sigourney Weaver's character in 1986's Aliens – in fact, the SAY068 shown below is known as the "Ripley", and a modern recreation was released in 2015)…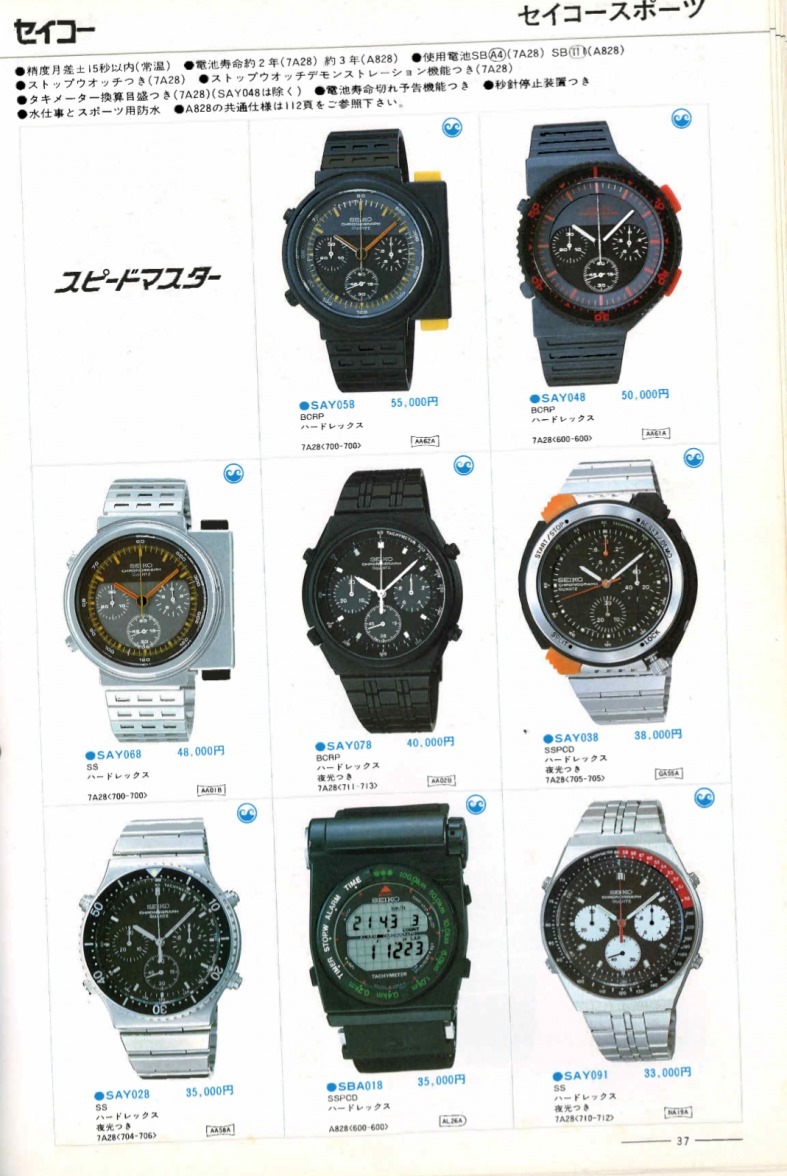 Seiko sold these watches as "Speedmasters" (that's the translation of the text headline to the left of the SAY058). Not sure if Omega even noticed at the time, or maybe they didn't care.
Some JDM examples even had the name on the clasp – it was aimed at young motorbike riders, apparently…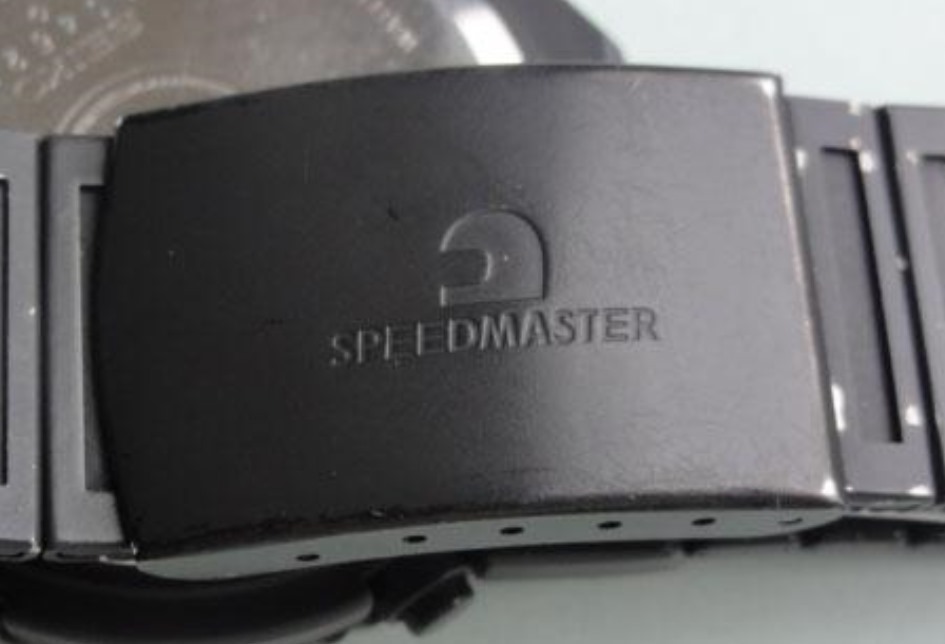 … while non-JDM ones typically have additional text like SPORTS 100, MIN and 1/10s markings on the dial, and simply Seiko SQ on the bracelet clasp. Many earlier JDM mechanical Seikos were co-branded as Speed-Timer, usually on the dial, though none of the 7a28s seem to have it written up front.​
Another 7a28 watch was also worn by Roger Moore in A View to a Kill, and for the fans of the truly obscure, was featured in They Might Be Giants' video for "Older" (this bit).
Back to the present
I managed to acquire another one, this time from November '83. It was another impulse buy at auction, thinking that I might combine the best bits of that one with the bits of the one above, as the bezel on the top one is a little beaten up but it has been serviced, and the hands on the new one might be nicer than the first…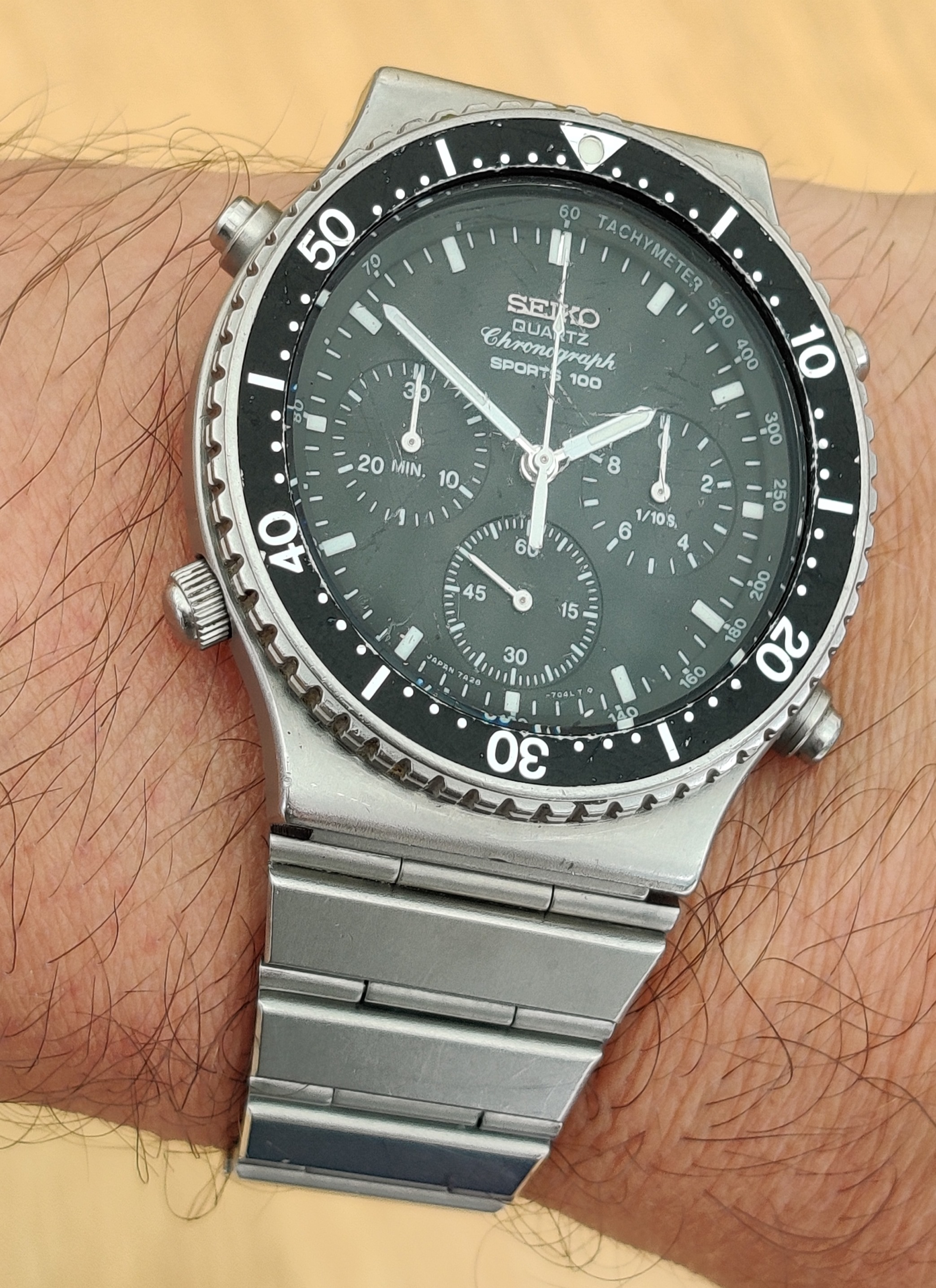 Sure enough, this new one is a little nicer in places but in the end I decided to leave it in one piece. It's still got the original crystal, which is a bit scuffed but doesn't harm the watch too much.
Case size is 40mm excl pushers & crown, so it's notably larger than many of its 7a28 and 7a38 cousins (the 7a38 being a later model that added day & date readout to the 3 o'clock subdial).
Here it is in comparison (L-R) with an Omega Speedmaster 145.022-71, the 7a28-7040, a white-faced 7a38-7190 from 1986 and an issued 7a28-7120 aka RAF Gen 1, from Gulf-war-era Jan 1990.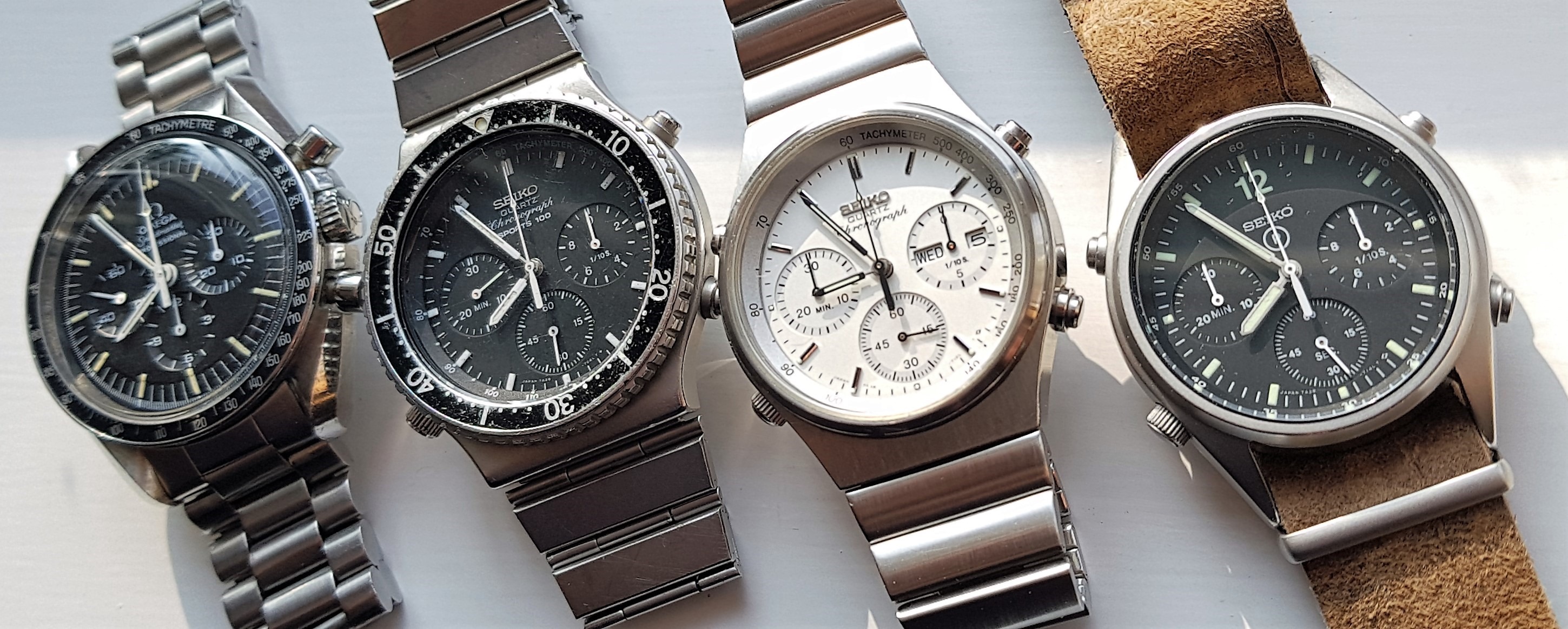 If you're interested in reading more about the 7a28 family, check out the really excellent Collectors Guide on The Springbar.