The Chrono-matic story continues.
I saw this watch on a watch trading forum which has its software rooted in the 1990s and despite having supposed rules about what is and isn't allowed, is not officially policed – so scammers and thieves abound.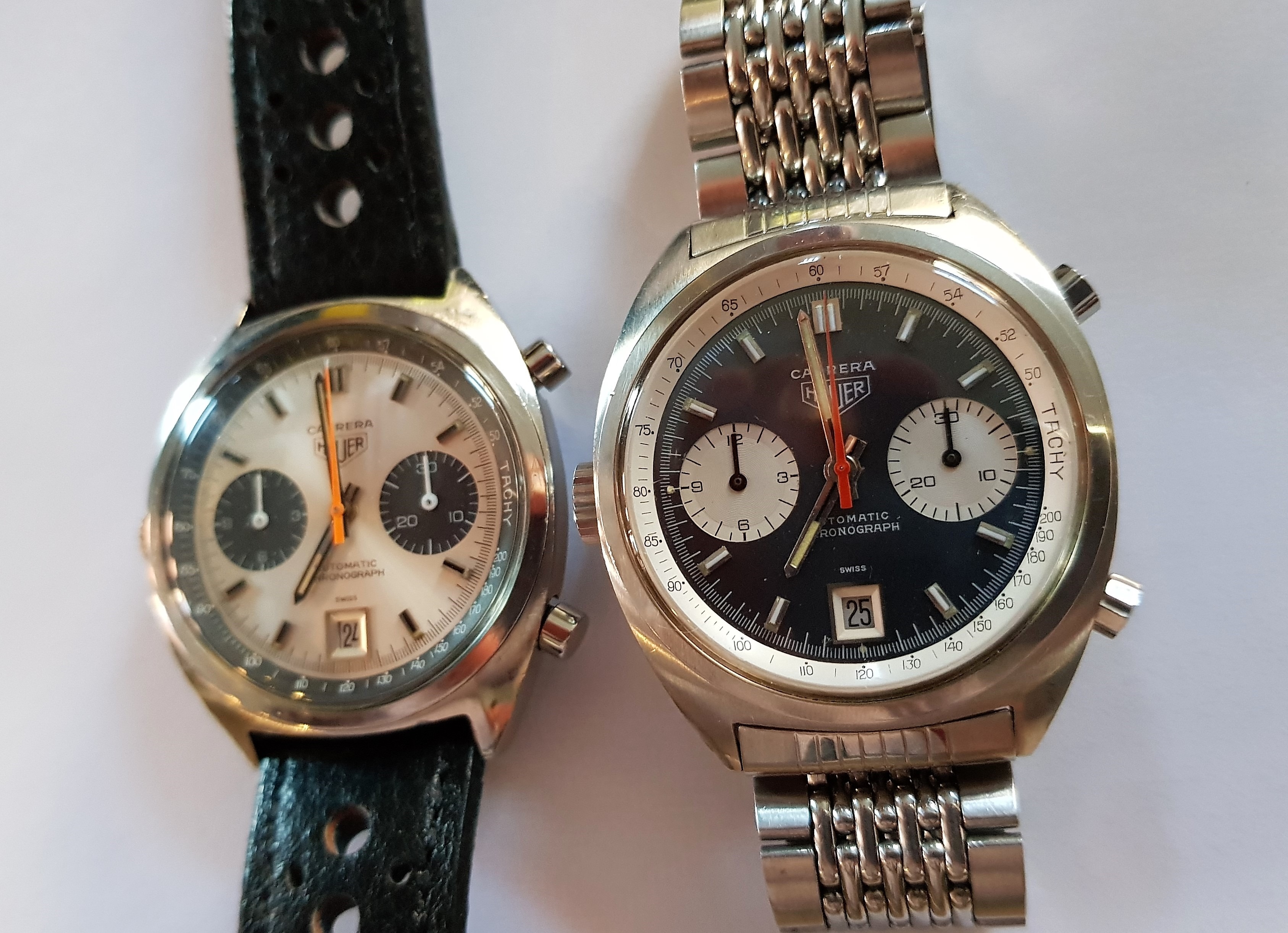 After a good deal of due diligence, I bought it because I'd intended to switch the bracelet from the dark-faced ("N") to the silver ("S") 1153 Carrera, as discussed previously. The bracelet is a "Gay Frères BoR", aka Beads-of-Rice, and is valuable in its own right – in good condition and with the end-links, it's worth north of £1000.

Gay Frères made bracelets for all sorts – Heuer, Zenith, Patek Philippe etc, before being acquired by Rolex in 1998, in a move to hoover up former suppliers so they could do everything in-house.
The bracelet dates to February 1969, so fits with the expected age of the watch and is supposedly original to it.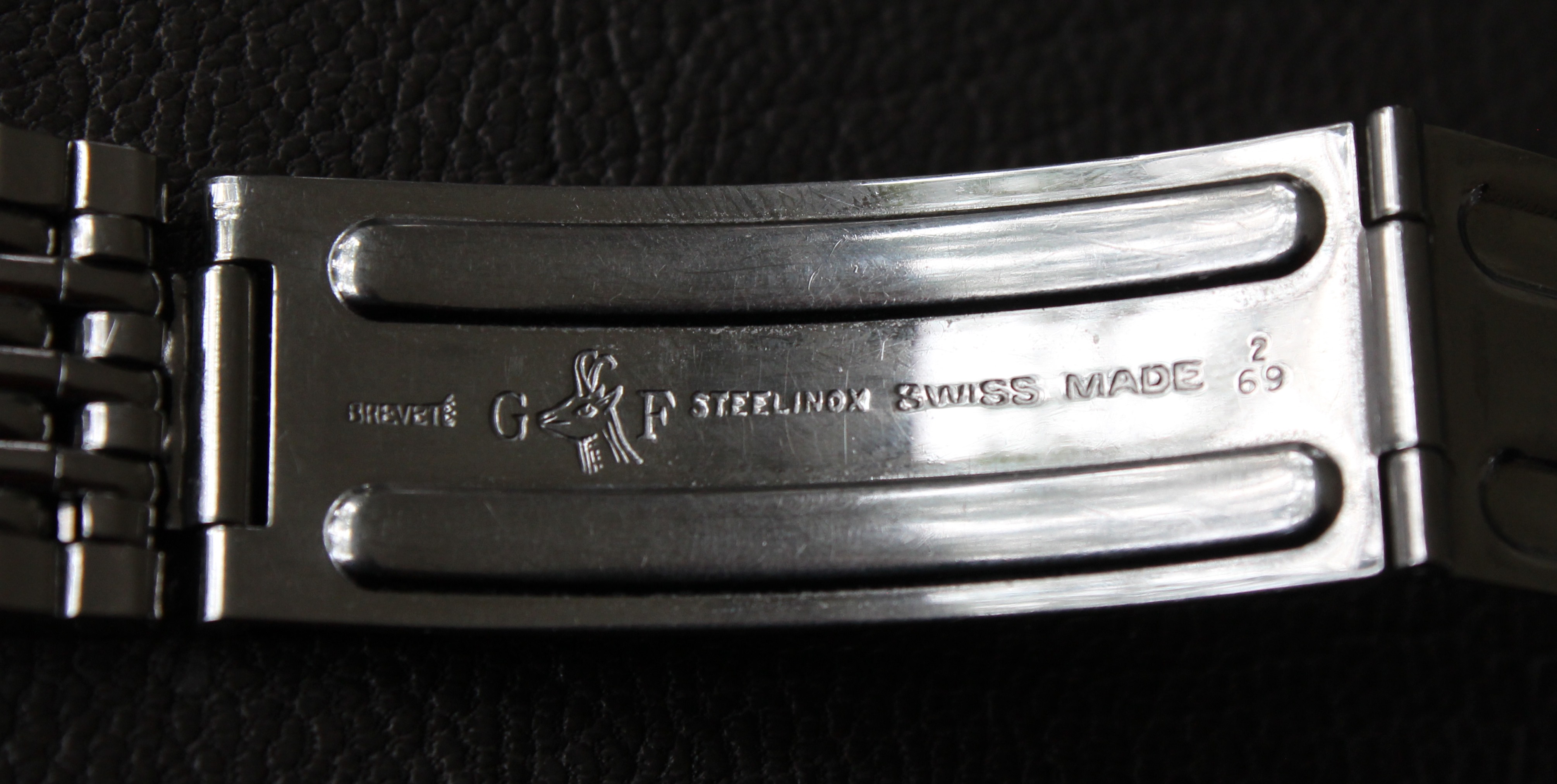 But after I got the watch, I couldn't separate it from the bracelet – and quickly decided that I preferred the dark dial. It supposedly started life as a charcoal/black colour (hence the "N" for "Noir" in the reference number):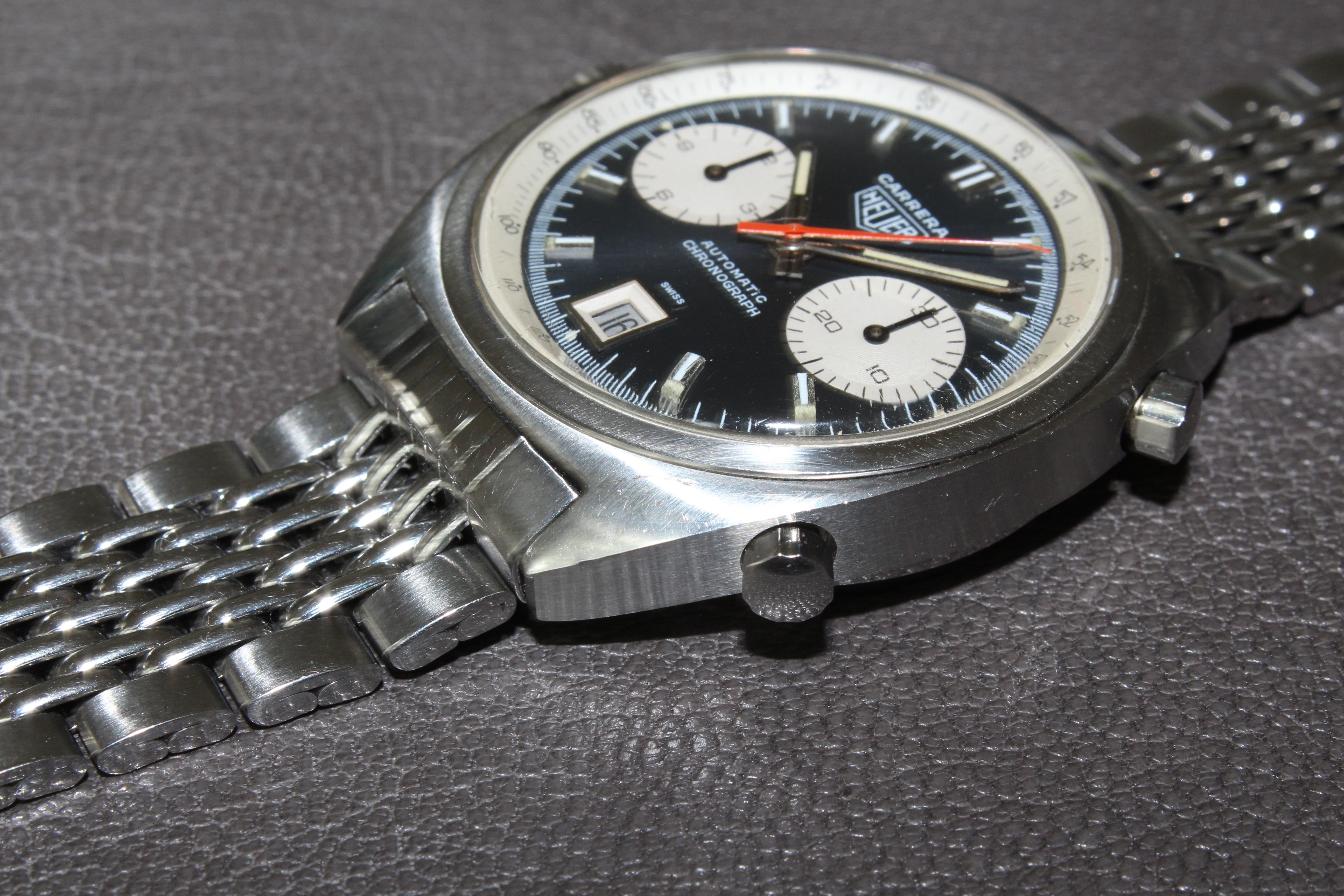 … but in some light, it is definitely a beautiful blue, and the white subdials and bezel have taken on a creamy colour. The hands look to have been re-lumed in the past, and don't quite match (they're a bit too green).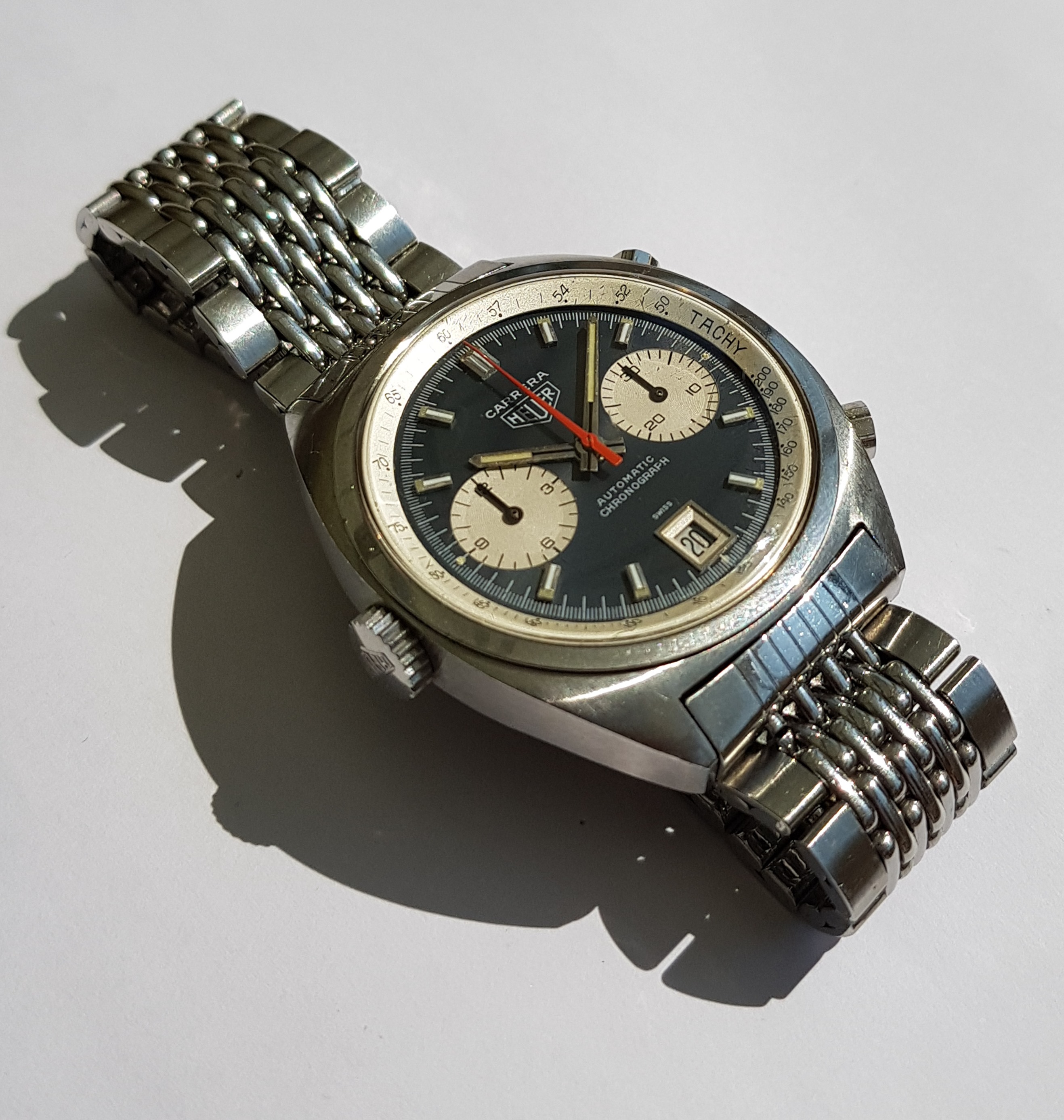 As expected with an early watch, it's got the first-execution Cal11 movement.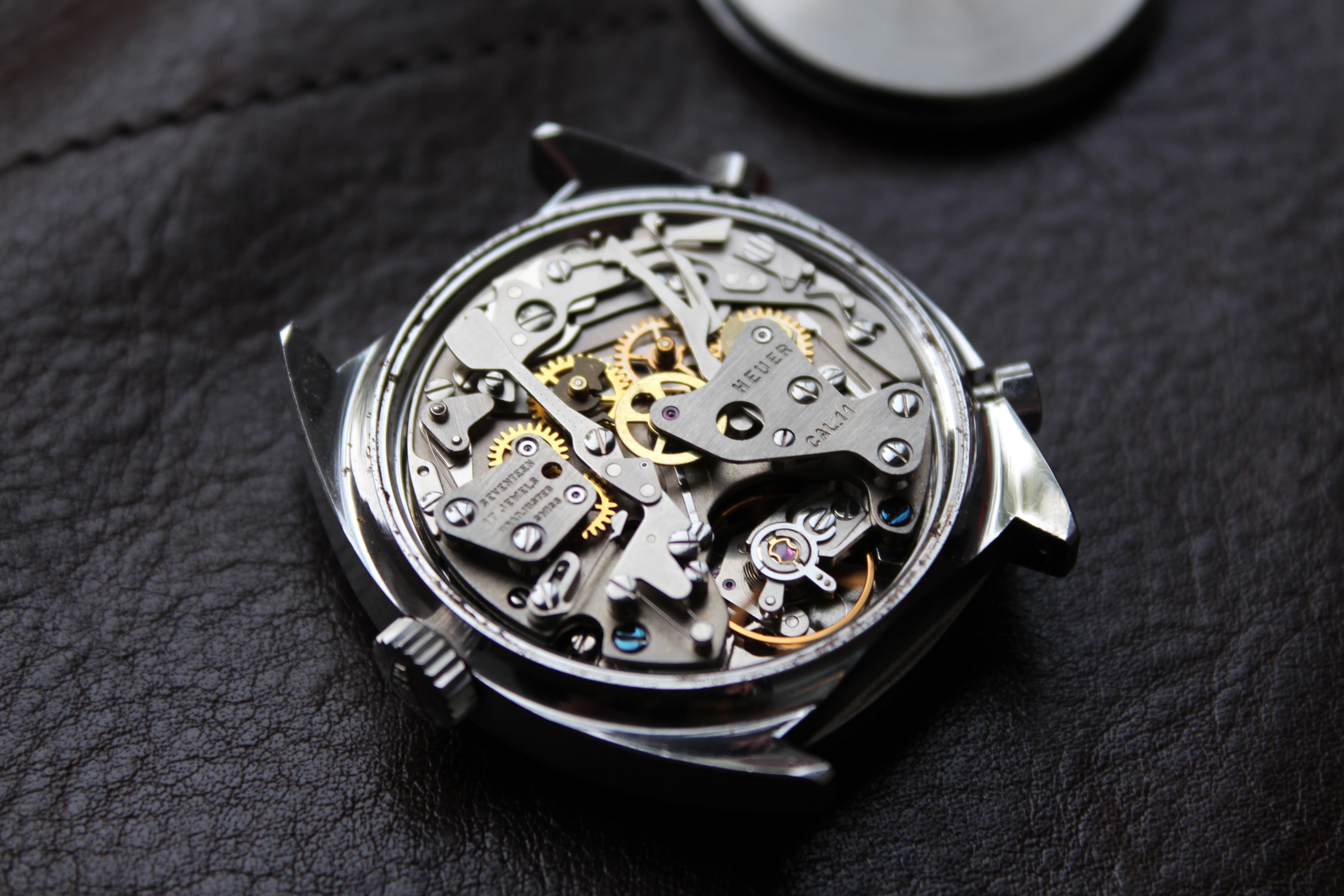 The serial number is in the range 1477nn, so it's only a couple of hundred later than the 1153N which sold for nearly £30K at the "Heuer Parade" auction in November 2017. That one is in spectacular condition and is probably unique, though…(Heuer put Chronomatic on the dial for a few months, before selling the name to Breitling – and they had a long association with Abercrombie and Fitch, so this is thought to be the only one with both marks on the dial…)