Tastes change over time, of that we can be certain. Sometimes fashion, maybe even just prejudice that is overcome – there are surely times when you totally dislike something that later you agree to tolerate, maybe learn to appreciate or even decide to love.
I don't like dive watches. I'm not a diver, I don't need a huge bezel that rotates to tell me how long I've been underwater, I don't need to read large luminous hands in 50m of murky water and since I have relatively thin wrists, I think the great big dive watches won't suit me.
And yet, I present a holy trinity of Seiko dive watches that have wormed their way into my collection. And I'd never even go swimming with any of them, much less diving…
The First Seiko "Dive" watch – SilverWave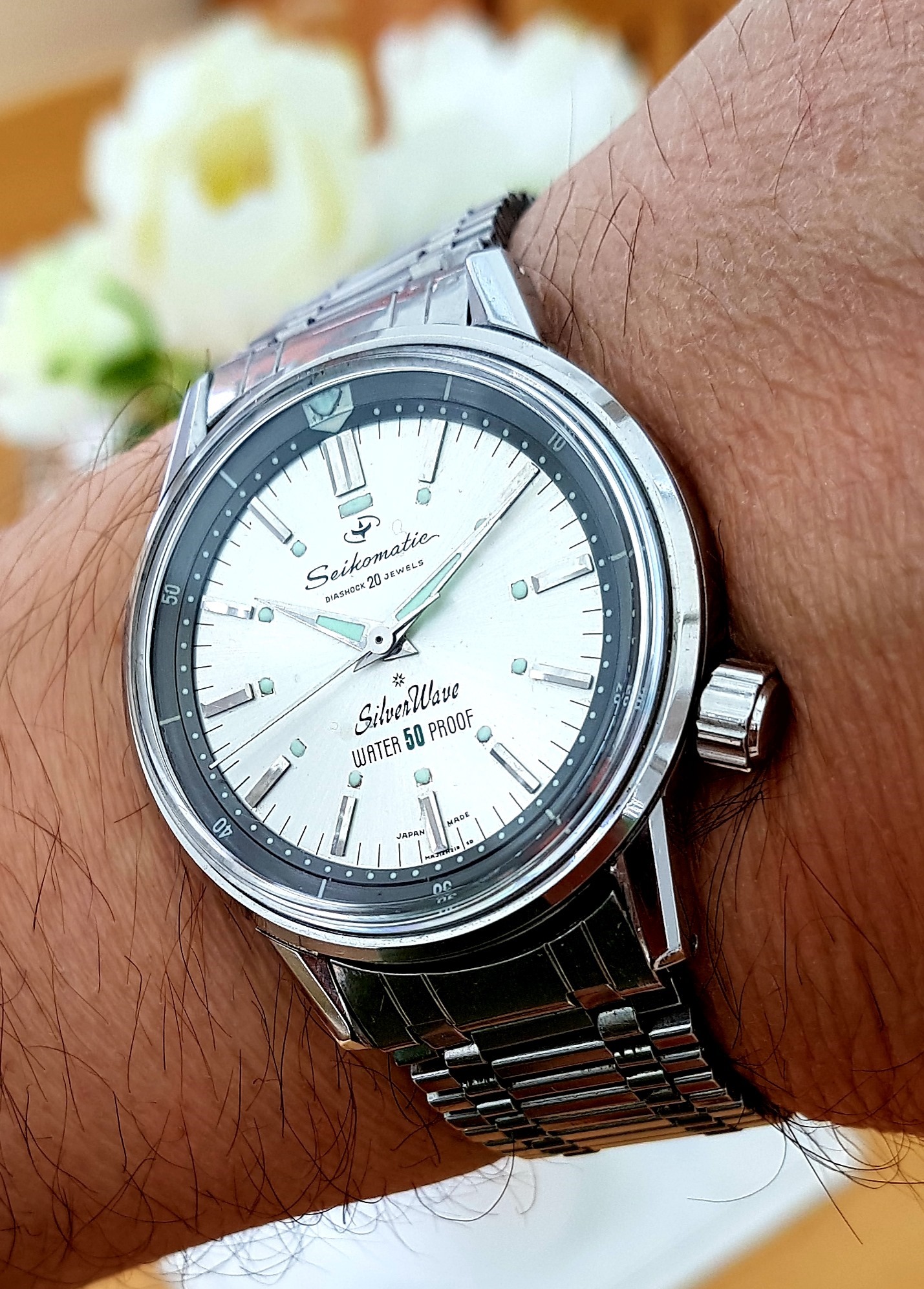 First up is a Seikomatic SilverWave 50M, reference J12082. Well, it's not really a dive watch per se as it's only waterproof to 50M, but when this range came out back in 1961, it was Seiko's first go at making and selling a watch to divers. It was the first one to have a rotating inner bezel, it was the first use of the "Tsunami" logo which now adorns the most serious of Seiko's modern dive watches.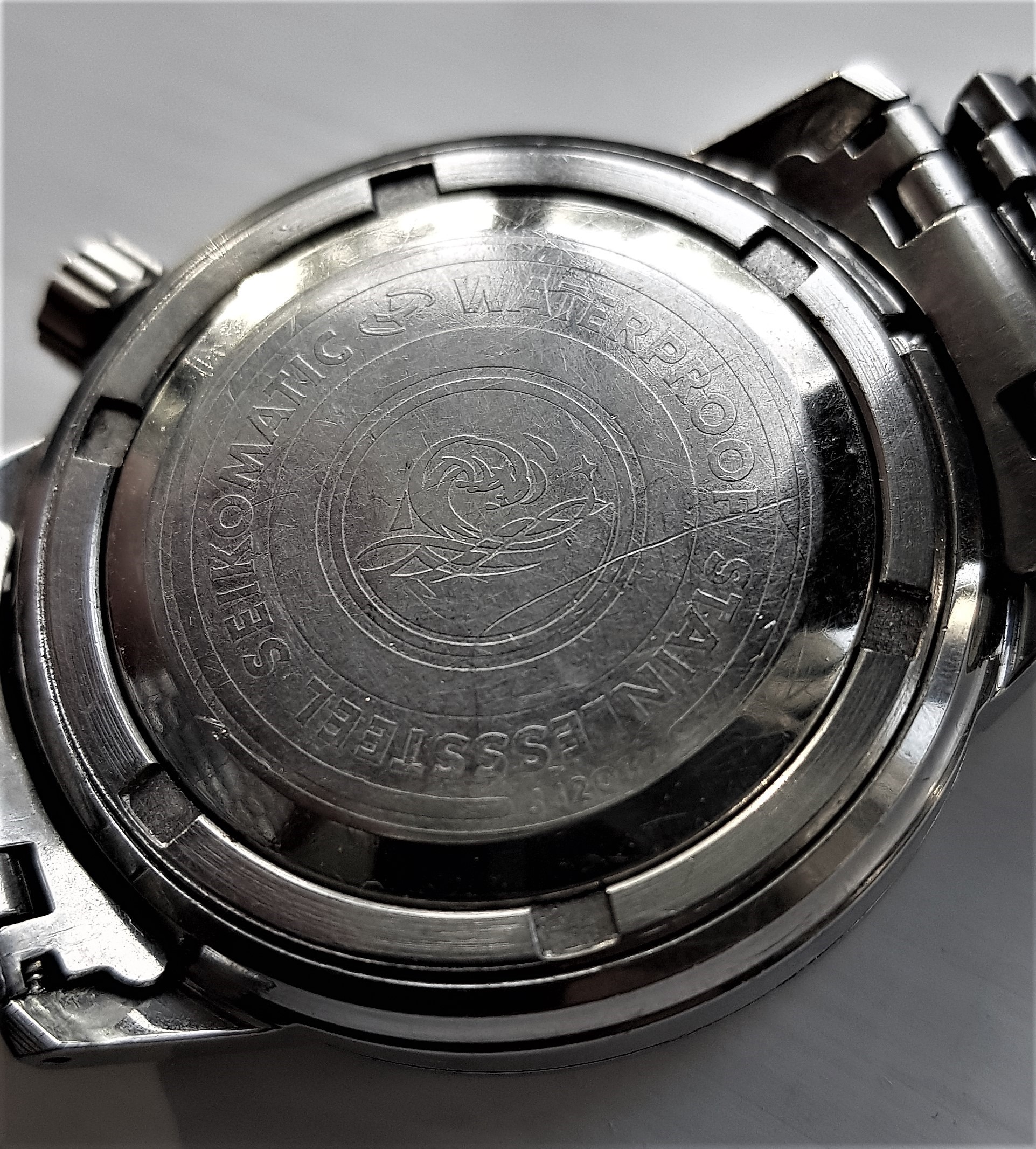 The 50 meters waterproofing was achieved through a fairly unusual sealing arrangement – there's a lug on the case back that fits to a slot on the watch, sandwiching a rubber gasket, then a screw-down outer retaining ring keeps everything tight. This arrangement makes sense to a degree – the outer ring applies tension to the case back and that compresses the rubber seal straight down rather than the twisting motion that normally happens when a screw-back case with its own seal is tightened.
As the serial number on the inside of the case back denotes, this particular watch is from January 1963.
There are some great resources covering the SilverWave 50M (made from 1961-64) and cheaper 30M (64-66), on The Springbar and Fratello.
Japan's first 150M dive watch
If the SilverWave was the warm  up act, then the real deal arrived in 1964 with the 6217-8000 then -8001, aka "62MAS". It was the first Japanese "Professional" dive watch, and is seen by collectors as the daddy when it comes to Seiko divers.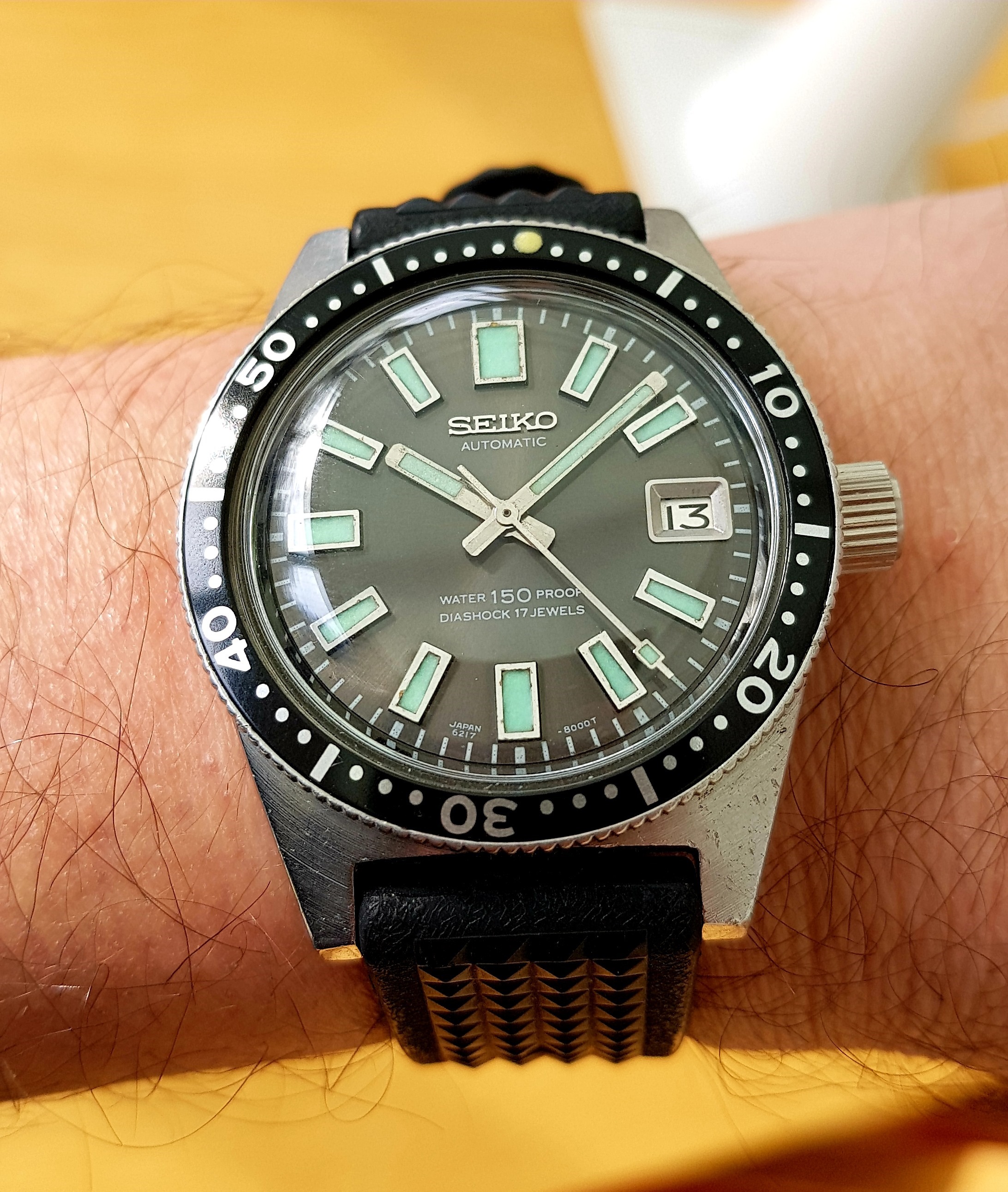 This particular watch is from April 1967, and is a 6217-8001 aka "big crown" (the rarer, 8000 had a small crown – see a comparison here). At the time, Seiko had two competing factories – Daini and Suwa – yet for a while made the 62MAS in both; the Daini one being rarer and showing a more yellowy-coloured lume rather than the green lume on most. I think this particular watch may have been relumed previously, and it certainly has an aftermarket ("Yobokies") bezel insert.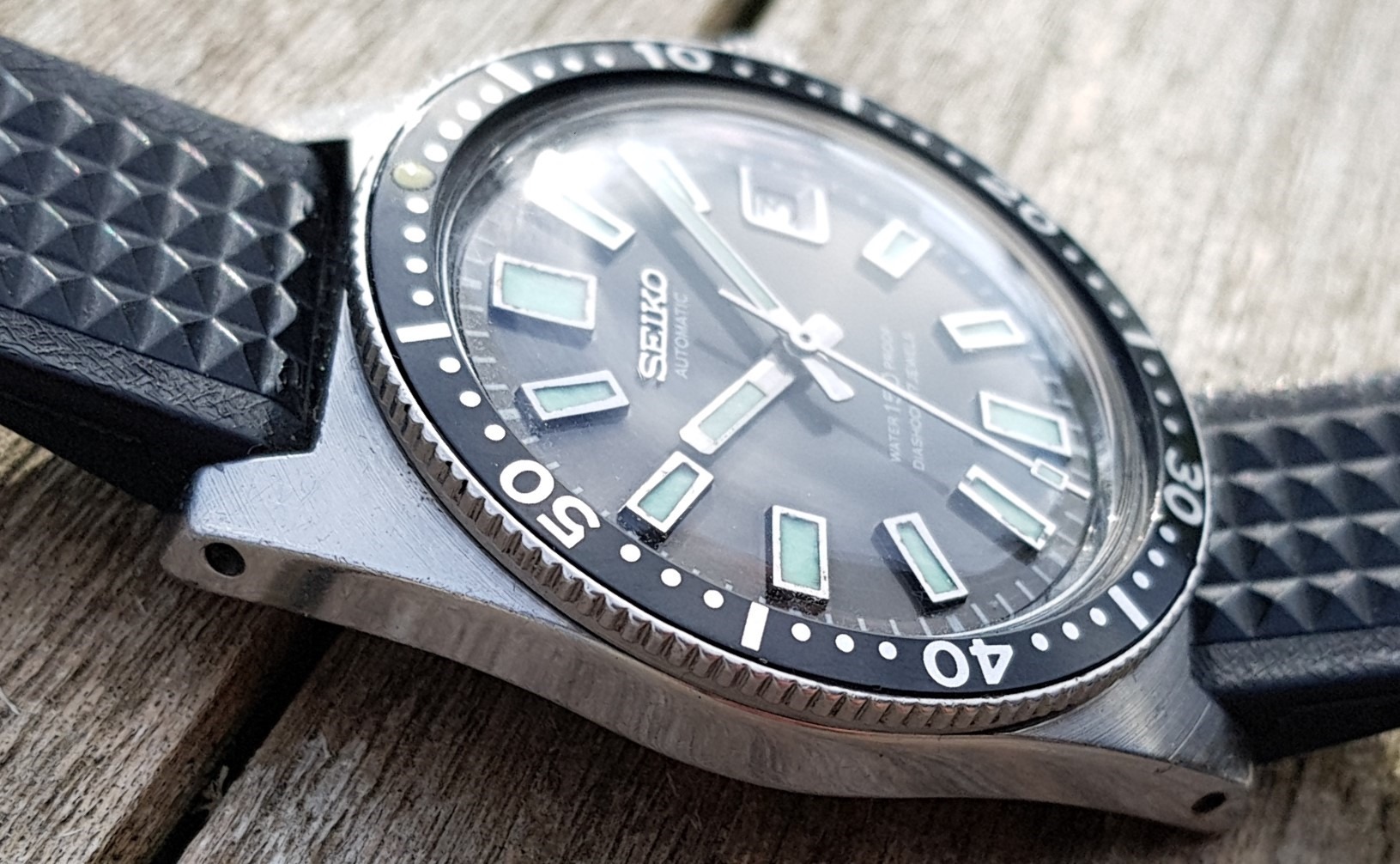 The 62MAS is almost the perfect "skin diver" size – pioneered by the likes of Longines in 1957 – it's 37mm in diameter and wears well on the wrist, due to the slightly curving case shape.
Seiko brought out a modern recreation/re-edition at Baselworld 2017, known as the SLA017 – see how it compares to the original, here. It costs quite a hill of beans, though – you could get a really nice original for getting on for half of what the reissue runs to.
There's a detailed collector's guide on the 62MAS, here.
The Vietnam Vet
And so to the last of my trinity; the follow-on from the 62MAS was what for many is the quintessential Seiko diver's watch, the 6105. This one came to me via a punt in an auction that proved to be a good bit more expensive than I bargained for – on receipt, the watch was in a poor state.
Duffed up crystal, the wrong hands, dirty, missing the "pip" on the bezel (which didn't rotate with a "click" either) and non-running. Off it went to my usual Seiko service guru, and came back looking quite splendid.
It's am August 1972 watch, a 6105-8110. The –811x series was made from 1970 to 77 or 78, saying "WATER 150M PROOF" on the dial and then switched in late 1970 to showing 150M RESIST on the dial instead.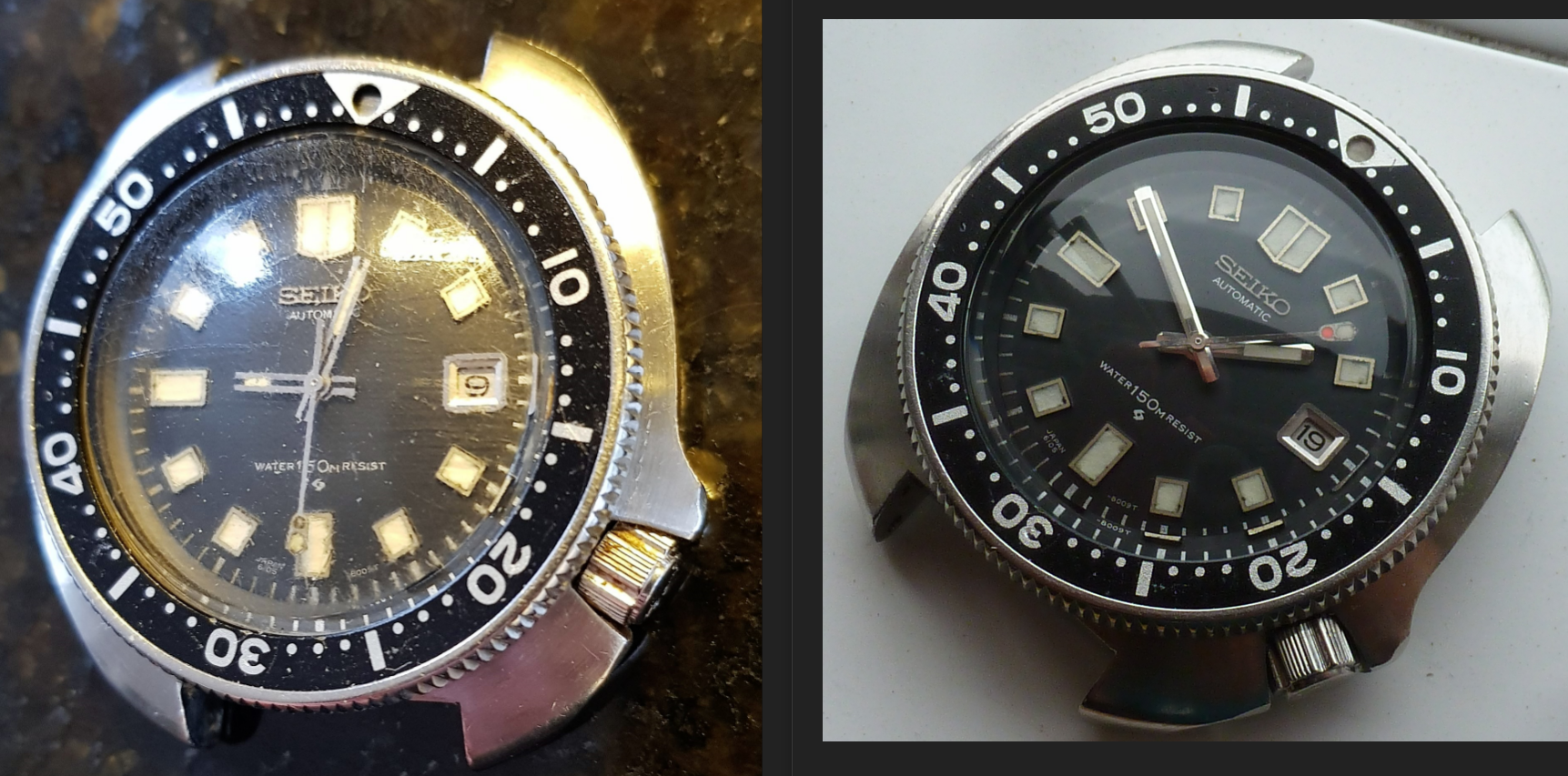 This is the kind of what whose photos don't do it justice on the wrist – it just feels *right*. I've put it on an Uncle Seiko "chocolate bar" strap.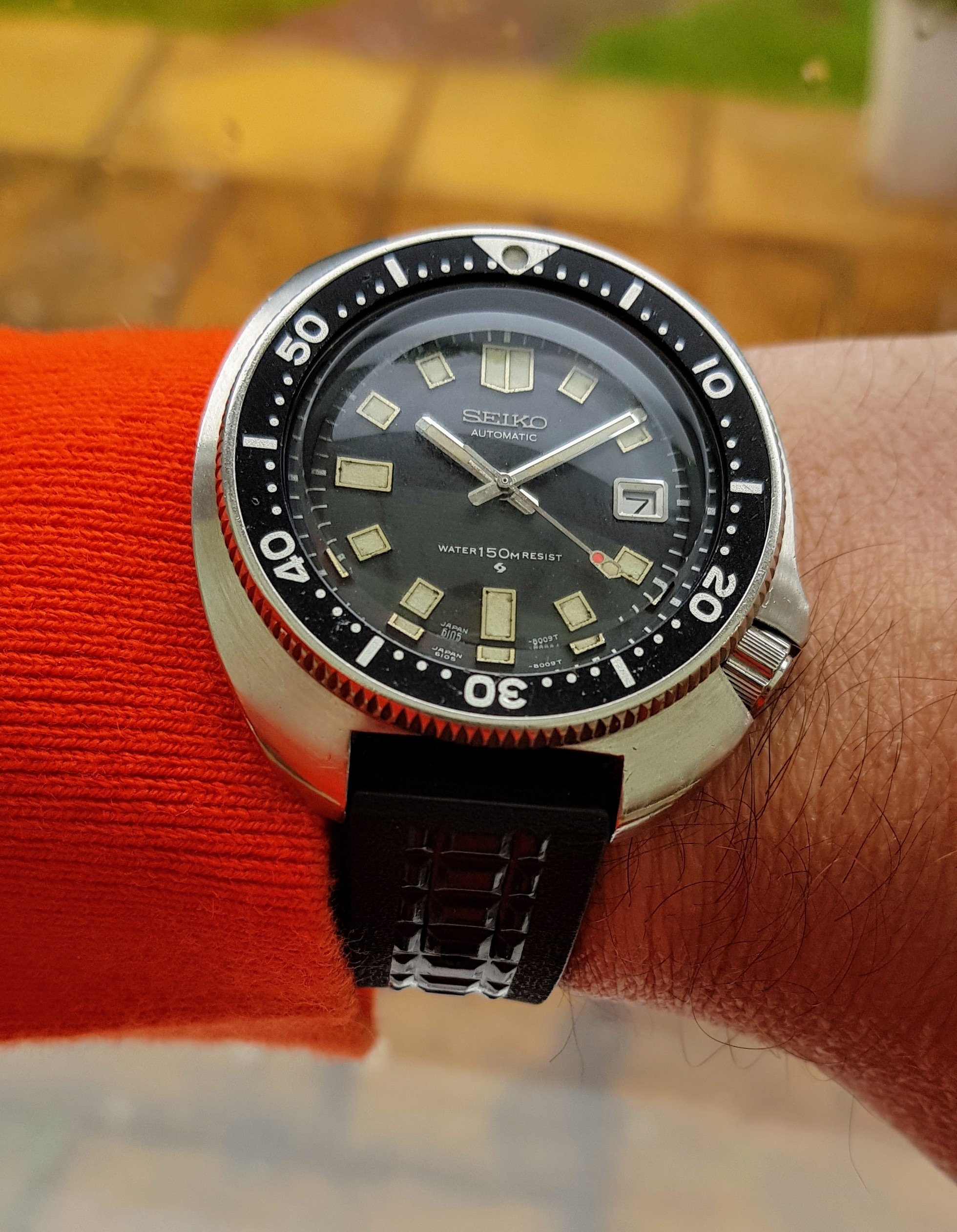 The 6105-8110 had a more prominent bulge protecting the crown, and a slightly larger case overall when compared to its 1968-70 predecessor, the 6105-8000m, and in the Seiko community, is a very well regarded watch. It's sometimes referred to as the "Captain Willard", after Martin Sheen's character is seen wearing one in Apocalypse Now, on a chocolate bar strap, too.
It was very common for soldiers in the Vietnam war era to have Seikos as they were sold through "Part Exchange" outlets, so the part in Apocalypse Now seems well researched – servicemen at the time might have been drawn to the hard wearing reputation of the Seiko dive watch.
In 2019, again at Baselworld, Seiko unveiled its latest recreation/re-edition – the SLA033. Similar to the 62MAS recreation, pricing is "optimistic" – €4,350. Here it is in direct comparison to its forefather.