As mentioned in the Watch out for Franken Watches post, the first Heuers I appreciated were smaller cased, manual-wind Carreras. At the time, I thought the larger automatics from 1969 through to the late 1970s were a bit gauche, but over the course of a few years, tastes can change and I started looking out for them instead of the early ones.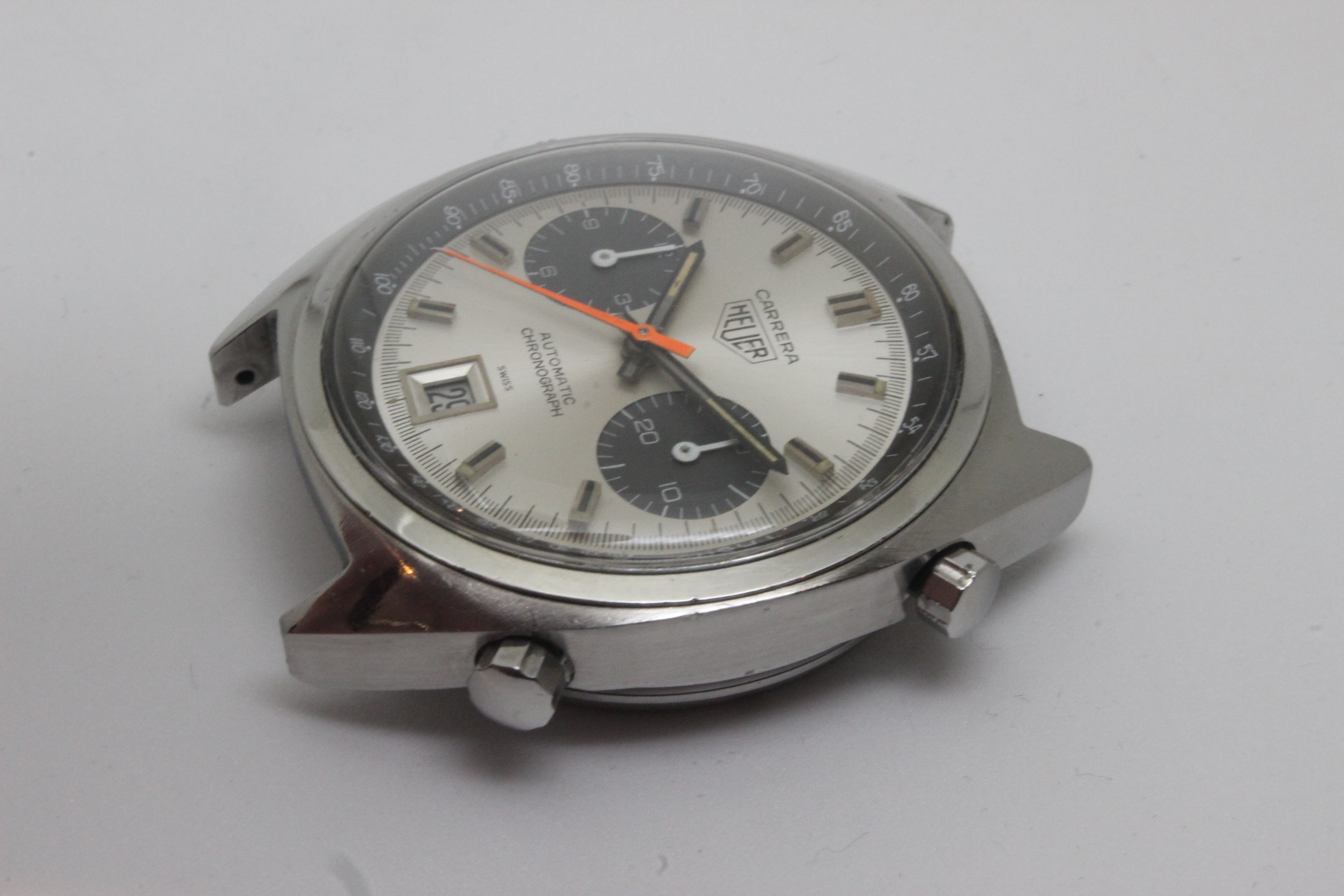 The first generation of automatic Carreras used the same "Calibre 11" movement that featured in the Monaco and Autavia watches from Heuer, themselves a major part of the "Chrono-matic" group that was in the race to build the first automatic chronograph. The case style was different from the earlier models in that the mid 1960s style was basically a round case with lugs protruding, but the late 60s/early 70s featured a "cushion" or "C-case" design where the curves of the case extend to the end of the lugs.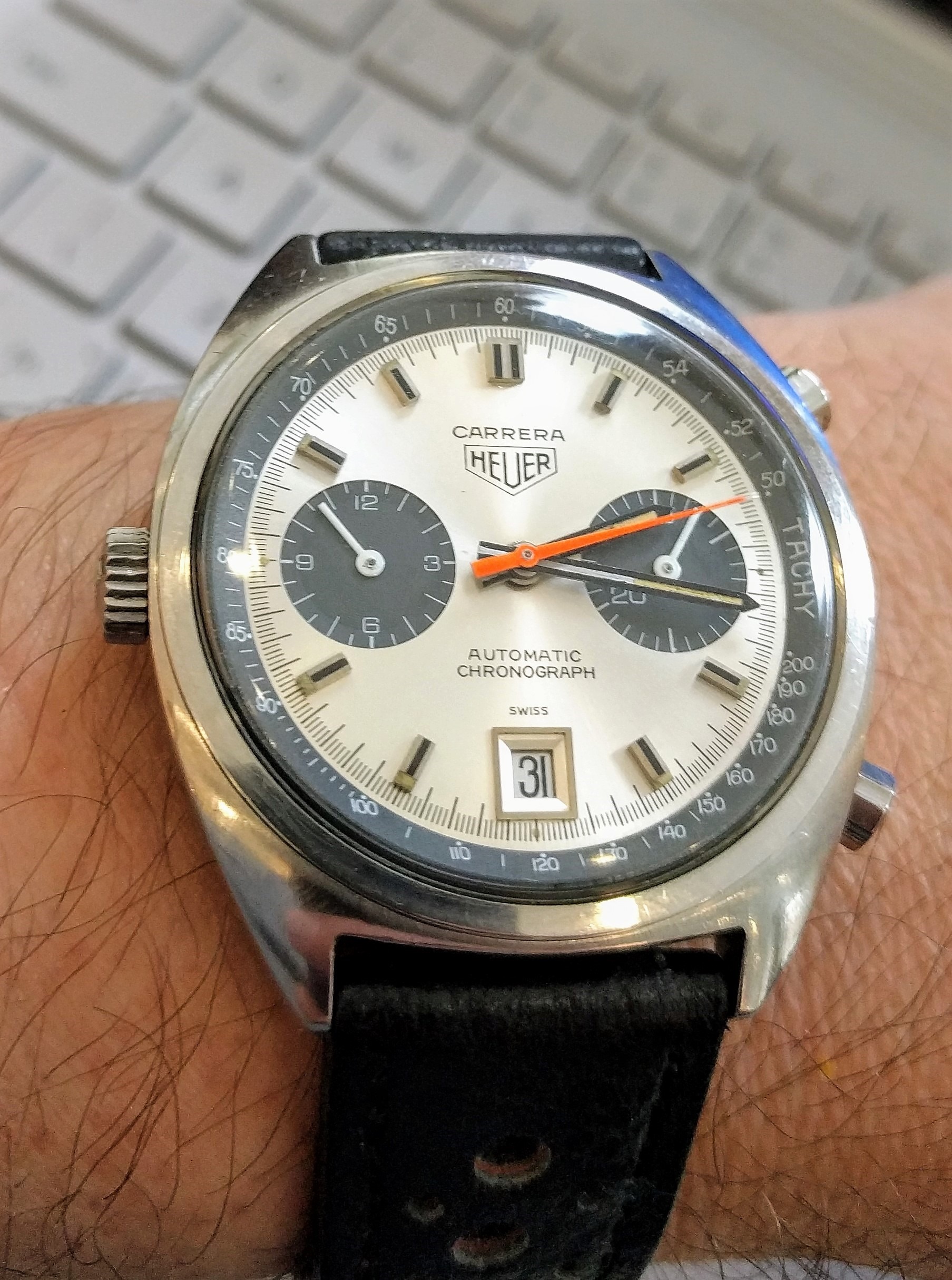 This Carrera is a 1153S, and is quite early in the life of the model so probably originated from 1970. It has 12 / 3 / 6 / 9 on the subdial at 9 o'clock (later ones had 12 / 1 / 2 / 3 etc so that subdial looked a lot busier). The tachymeter scale is also from the first generation (known in Heuer circles as "1st execution") as the word TACHY appears at 3 o'clock, and the scale starts at 200. Later models had TACHY at 1 o'clock and scale starting at 500, like most chronographs do.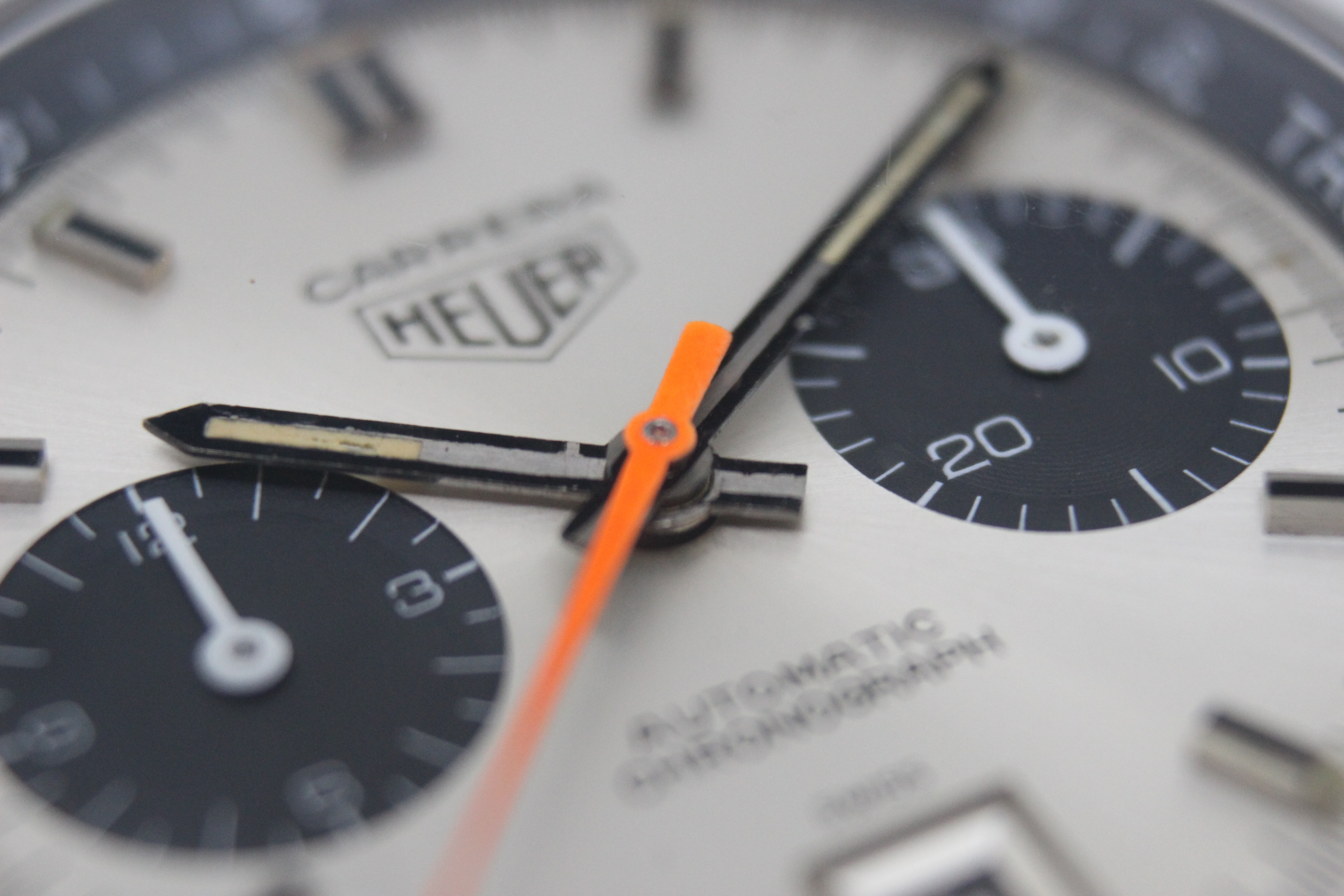 The hands on this 1153S are actually 2nd execution; it means that at some point either the original hands were replaced, or quite probably, the watch is a mixture – a 2nd execution watch with a 1st execution dial. There are numerous variants like this – Heuer just used whatever parts it had to hand, it seems.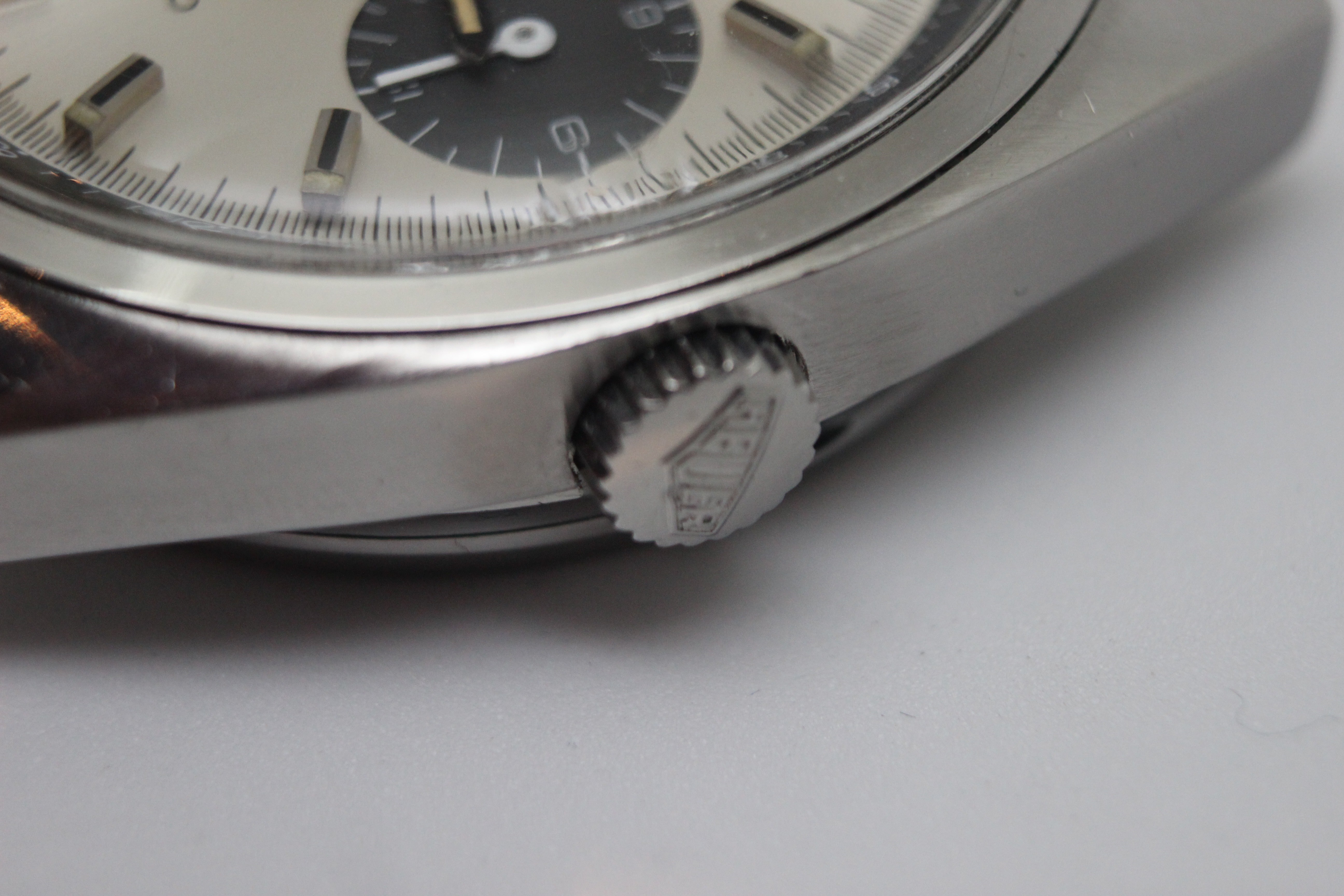 In common with all of the Chrono-matic watches, the crown is on the left side, and in this case features a Heuer "shield" logo and the two pushers on the right are round but with fluted cut-outs. The case finish was vertically brushed – this particular watch has lost some of the brushing through wear, but I don't think it's ever been polished.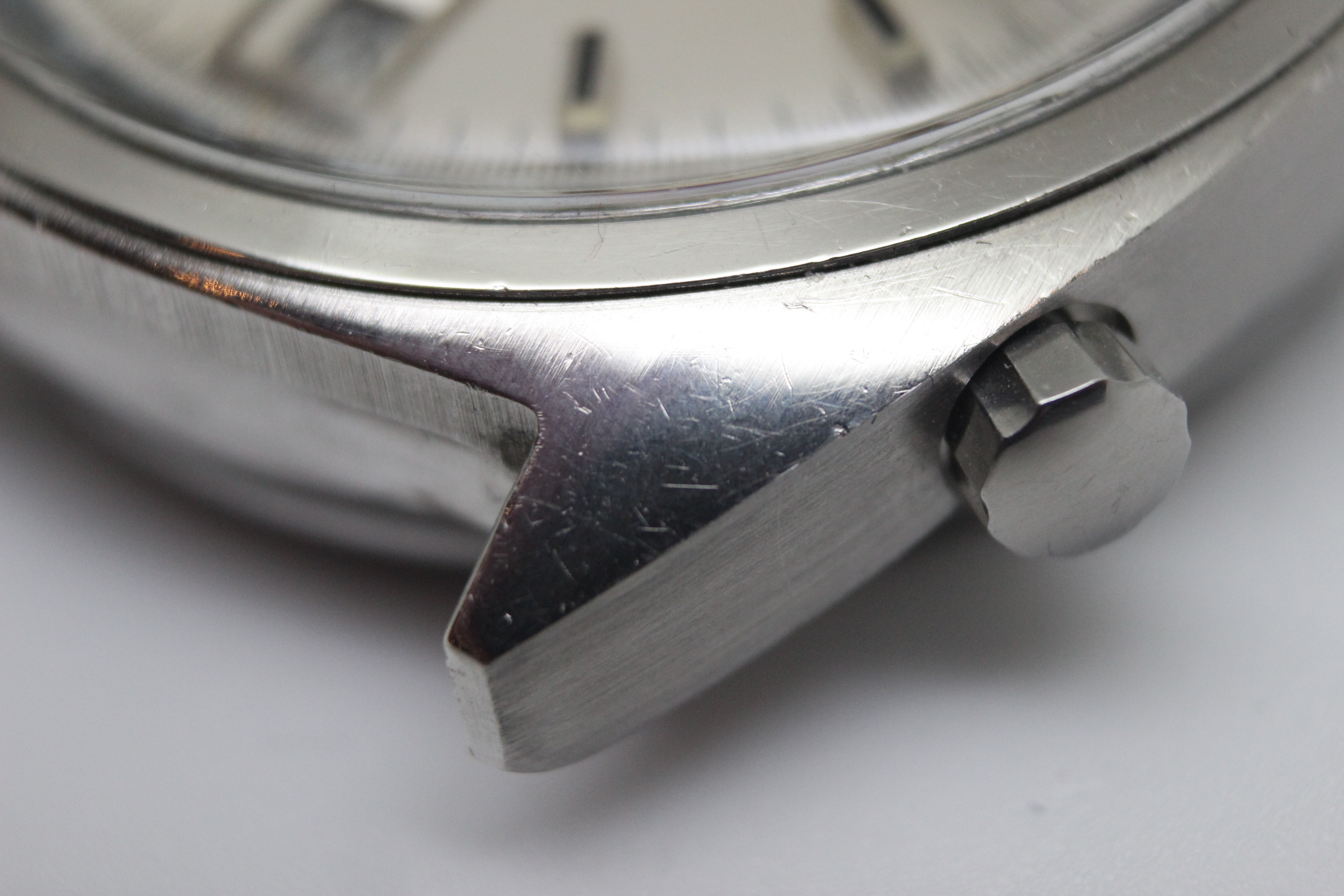 The Calibre 11 movement came in several revisions; this one is a first generation Cal 11, further underlining that it's likely a 1970 watch, as the Cal 11i would have been used from late 1970.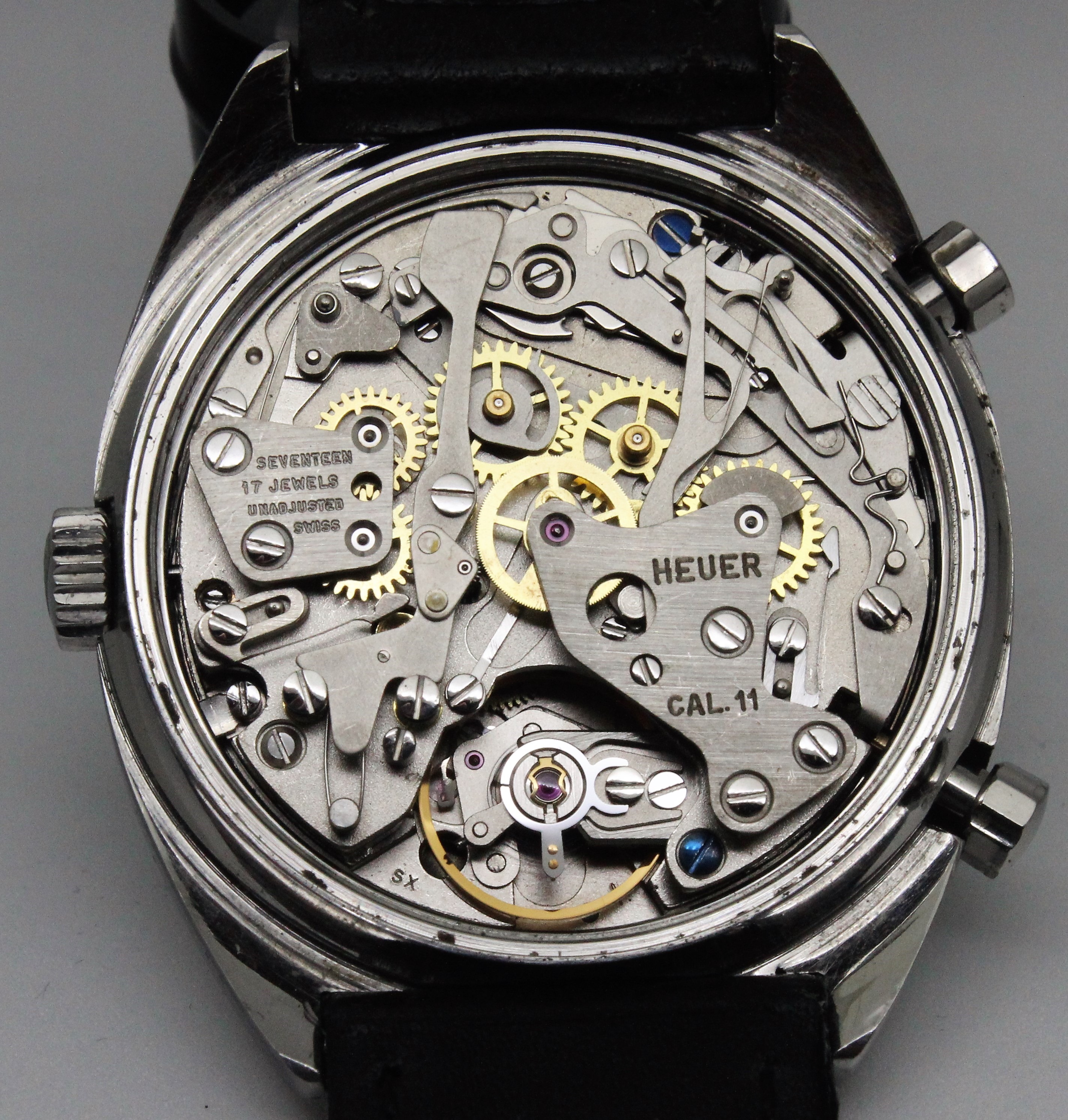 I bought this (from eBay; the usual story, badly-described, poor photos but intact) and had it serviced to keep it running well. It went onto a replica "Corfam" rally strap that suited it well, but I had a hankering to find a suitable bracelet… to be continued…