When I first started taking a shine to the Heuer Carrera, it was the original mid-60s one that I liked, manual wind with a small case (36mm) and a chronograph but no date. Examples include the 3-register, Valjoux 72 powered 2447 series or the 2-register Valjoux 92 3647.
You need to be really careful when dabbling in these, though, since there are precious few records (Heuer managed to lose them all in a fire, apparently) so it's very hard to definitively prove that a given watch is all original. The watch at the top of the post is a put-together watch with a series of features that were never seen together at the same time, as well as some questionable parts that hint to it being a fake.
Another case in point…Here's a watch that's for sale by a dealer in the Netherlands – a 3647T, looking in pretty good shape, and it's on for €7500 as of May 2019. It compares well with photographed examples in the Carrera reference book by Crosthwaite & Gavin, two of the most respected Heuer collectors.
It doesn't have T SWISS on the dial (as later ones would have), it doesn't say Heuer on the crown (which is also correct), the hands look correct and its serial number seems to fit in the right range for a watch of that age.
Look at the movement of the watch for sale,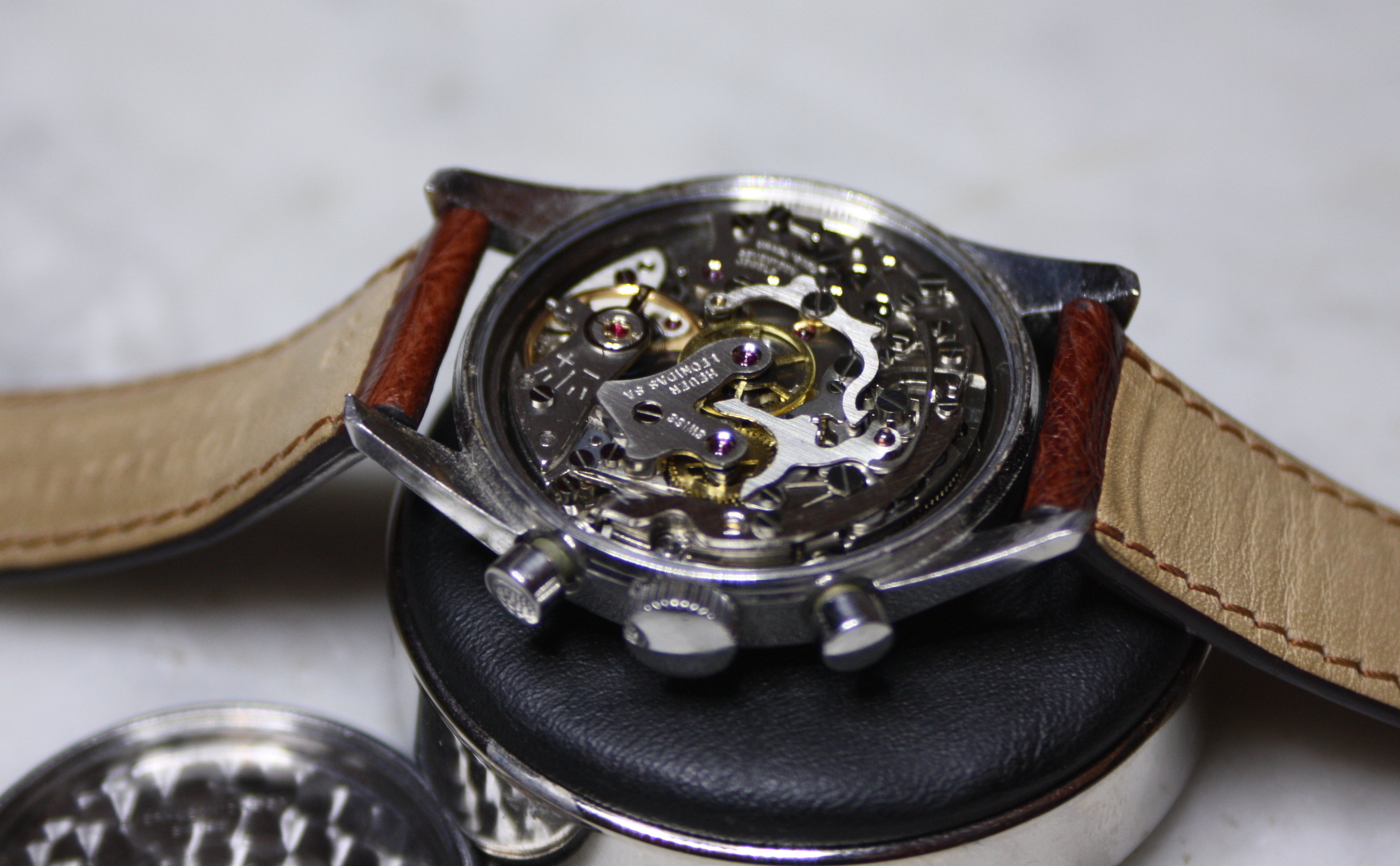 and a reference photo of the same Valjoux 92 …
or another reference pic here.
There's one little inconsistency, and that's the orientation of SWISS on the bridge… maybe a fluke? It may be nothing to worry about and the watch in question could well be as straight as a die, but it pays to question these little details as they could be a tell tale of other nefarious goings on.
Definitely Fakey
What about this, from a vendor who is widely known to sell "prepared" watches (read: Frankens), in this case asking £5200.
The movement in that one is deeply suspect – the bridge engraving looks different to other examples, and there's no UNADJUSTED SEVENTEEN JEWELS on the plate towards the top of that picture (compare to the previous two photos) . It's almost certainly a Valjoux 92 that's been harvested from another watch brand and made to look like a Heuer one, and dishonestly so.
The same vendor is on eBay, and has similarly iffy pieces – look at the 1st generation 2447, with Valjoux 72, here.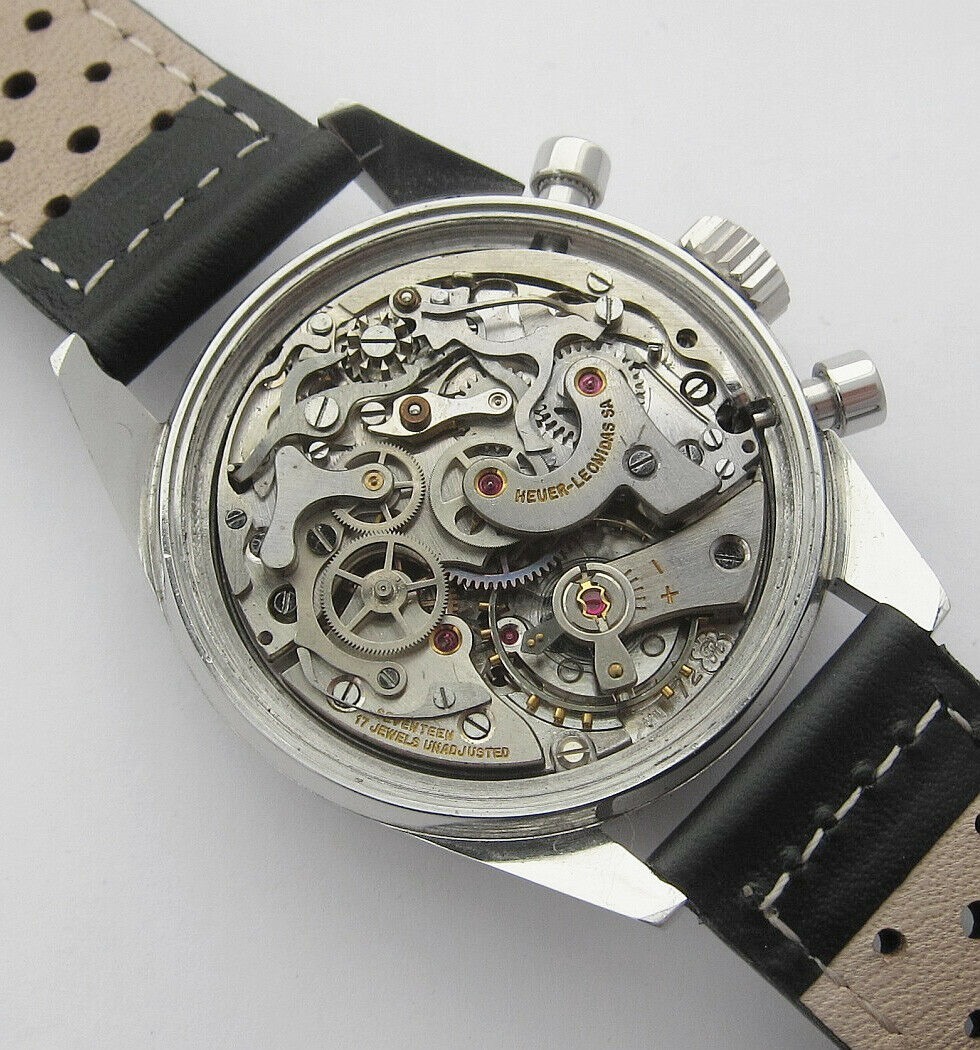 At first glance, the movement could be OK – it wears the number 72, it is inscribed with the "unadjusted…" text… but the HEUER-LEONIDAS SA on the bridge has a different radius than the curve of the piece itself, whereas a genuine one looks more correct…
Even more modest watches can be a minefield, too – most of the Seiko 6139-600x, a favourite of mine,  you'll find on eBay, are not all they purport to be. Take this one for example – another eBayer who regularly sells dodgy, mucked-about-with stuff.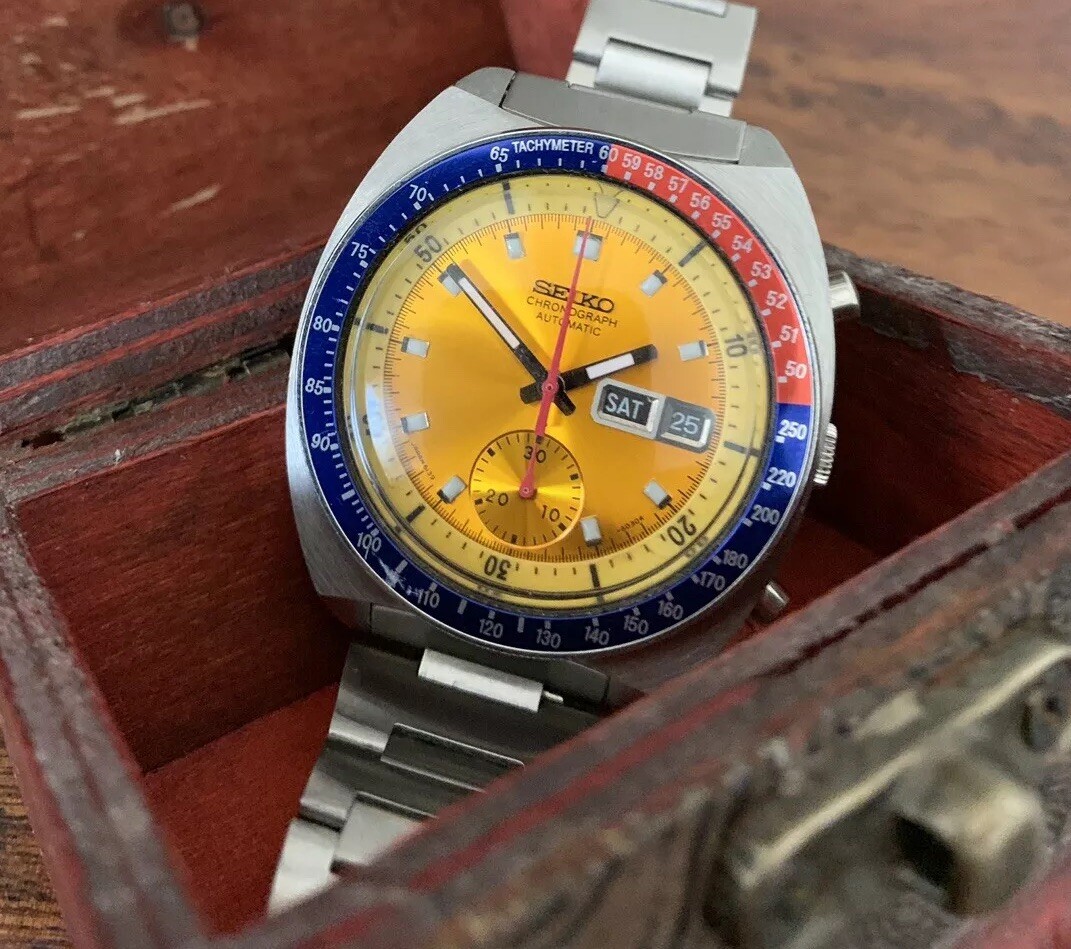 The dial doesn't show the usual signs of being a replacement after-market one, but the spidey sense says it's not kosher. The watch has the wrong hands, an aftermarket bezel and an aftermarket bracelet… none of which are pointed out by the vendor. Steer well away and consult an expert before buying this kind of keich.