Every since I got my first World Time, I've been hankering after getting a correct bracelet for it. For whatever reason, I tend to prefer watches with steel bracelets vs straps, and if the bracelet is the "correct" or even original one that came with the watch, so much the better. Sadly. a lot the Seikos from the mid/late 1960s have lost their bracelets over time.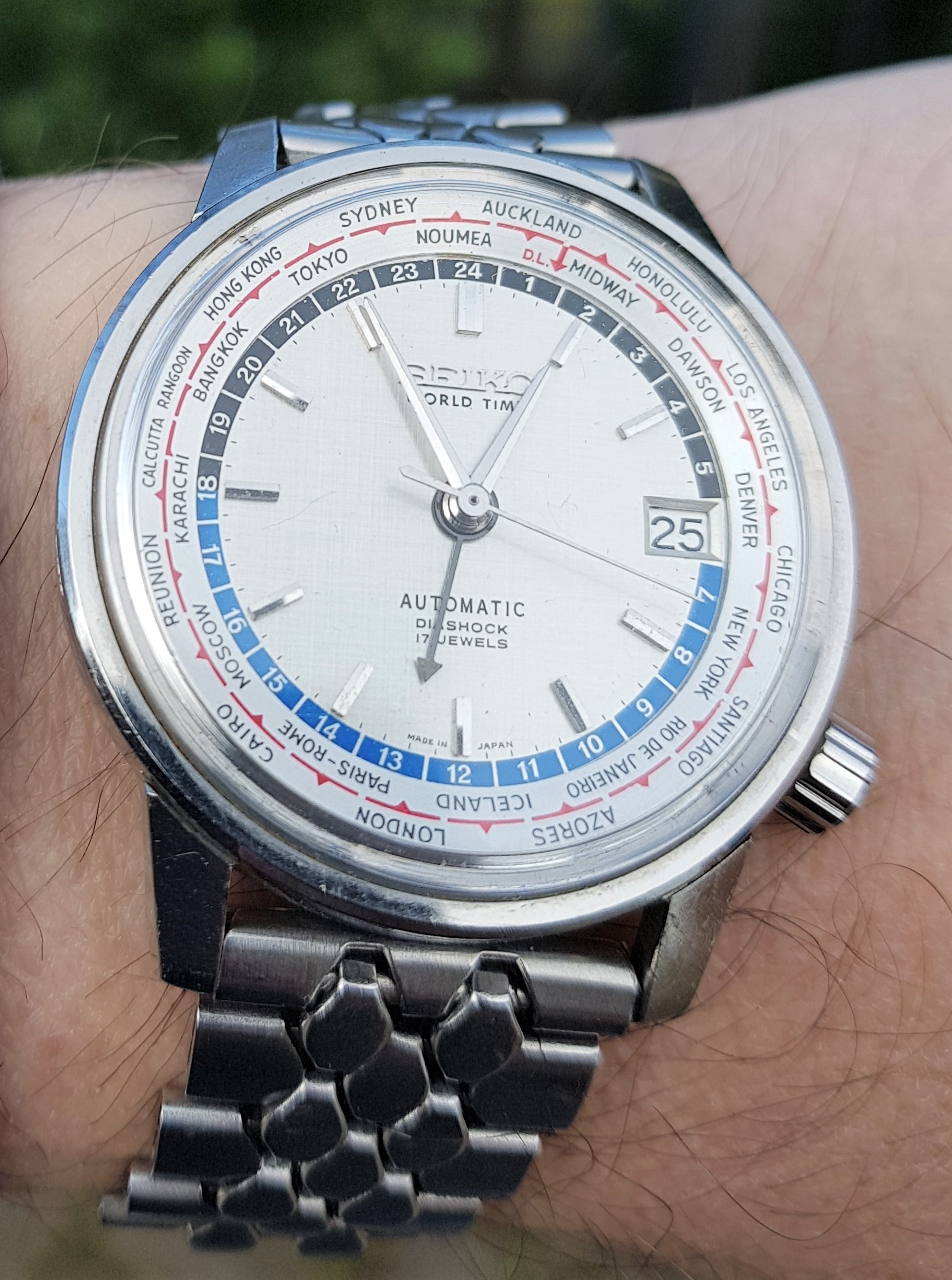 The "snake skin" / "mini coffin link" / "diamond back" bracelet I put on this one a couple of years ago suits it pretty well, as it's got that late 60s/early 70s vibe going on. I've always been a bit annoyed about how the end links fit, though – a straight bar when the bracelet meets a curved case does jar a bit, even though that's how most leather straps look…
I ended up buying a new Seiko bracelet (a B1375S) which fits the watch really well and looks the part reasonably, though it's got a kind of satin finish which doesn't quite match the shiny case.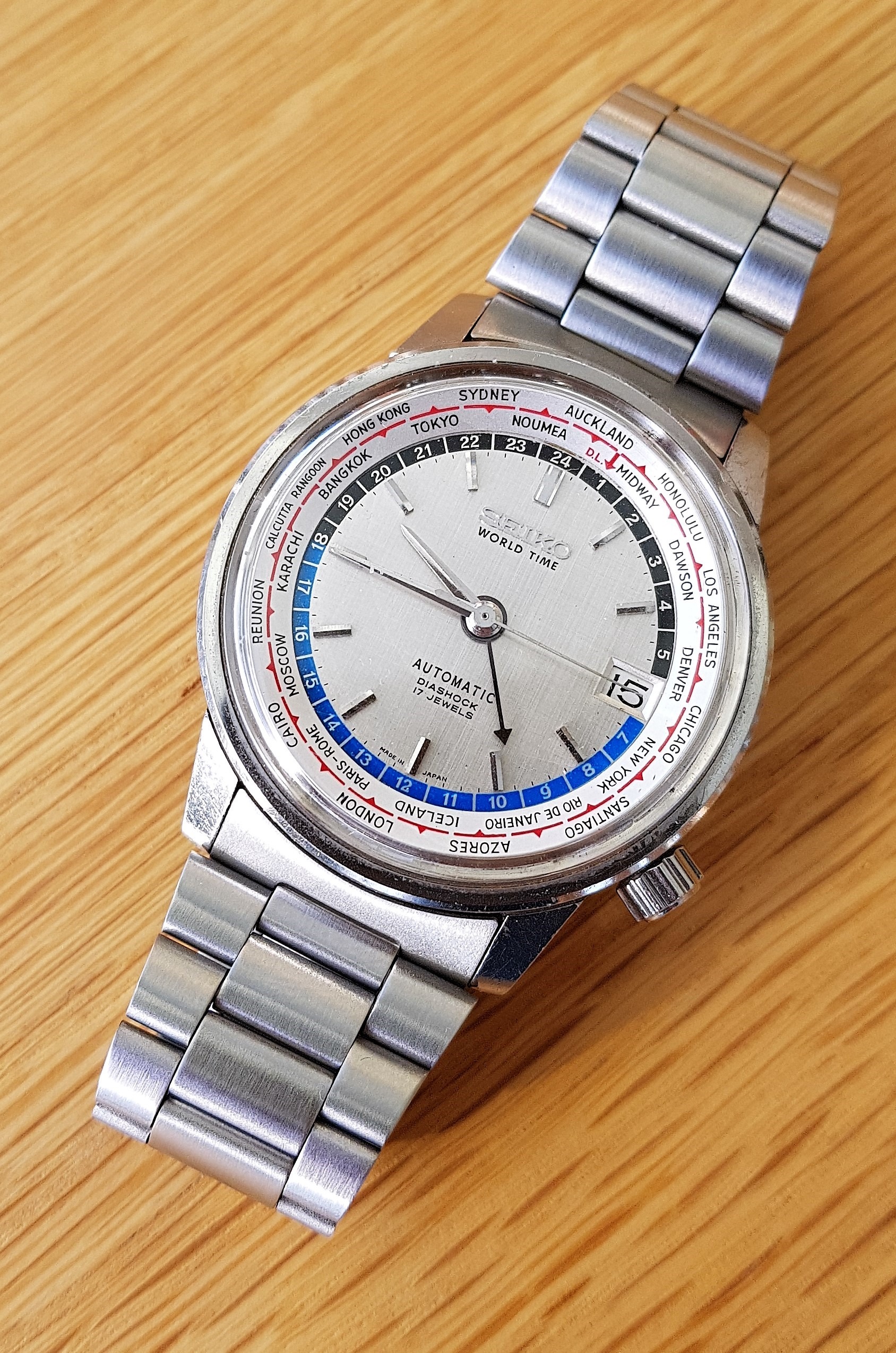 Fortunately, I managed to find a much better solution when raking through a box of junk at a watch fair; the vendor had a Seiko 7005-8062 watch case & bracelet with no movement or dial inside. That particular reference is often cannibalised for parts so it's no great surprise to find someone was getting shot of the case and band.
How much? He wanted £30, I offered £15 and got a shake of the head. Later on, I went back and gave him £20 for it…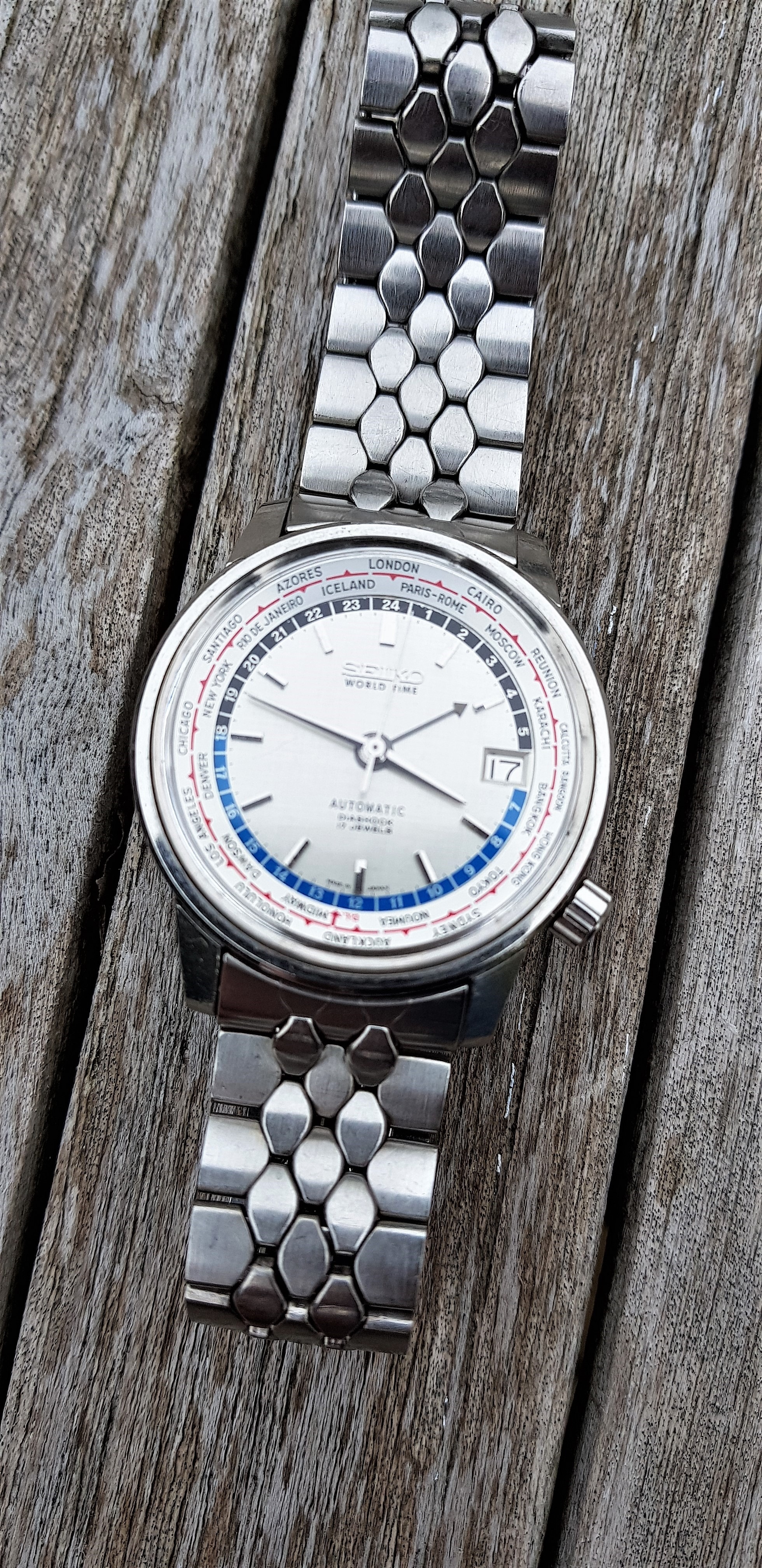 The bracelet was a little beaten up (similar to this one) but a bit of surgery and a good clean has it turned up looking very nice.
But not as nice as what arrived in the post a few days later…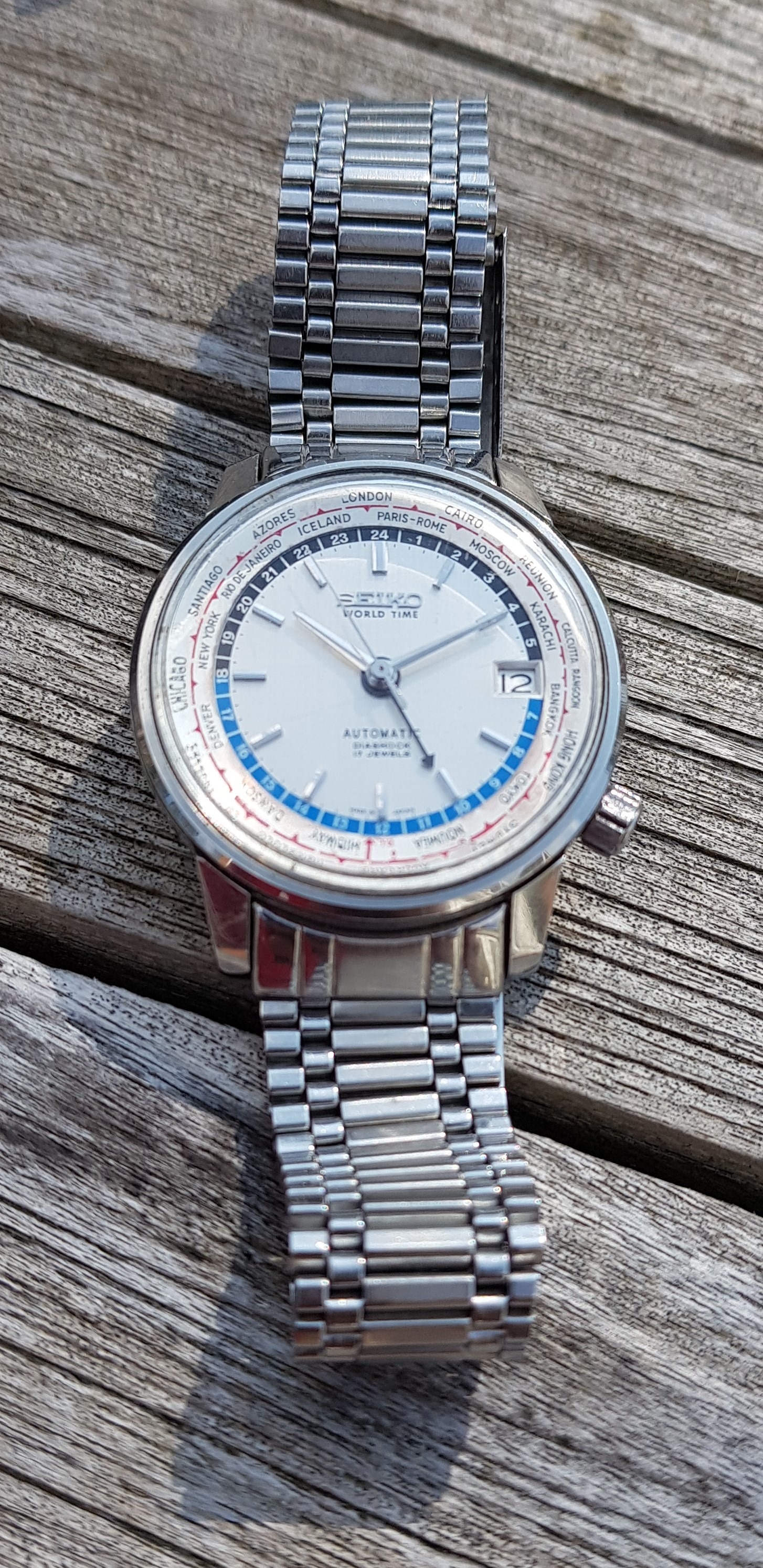 Another World Time 6217-7000, this one from 1964, as generally found (since they were there to celebrate the Tokyo Olympics of that year – I wonder what Seiko will do for 2020?)
The original bracelet it comes on is very rare these days; in years of looking for one, I've never seen a bracelet on its own for sale, and I've only seen a handful of watches wearing that bracelet hit the market. They tend to go for comparatively big money, especially on the Japanese auction sites.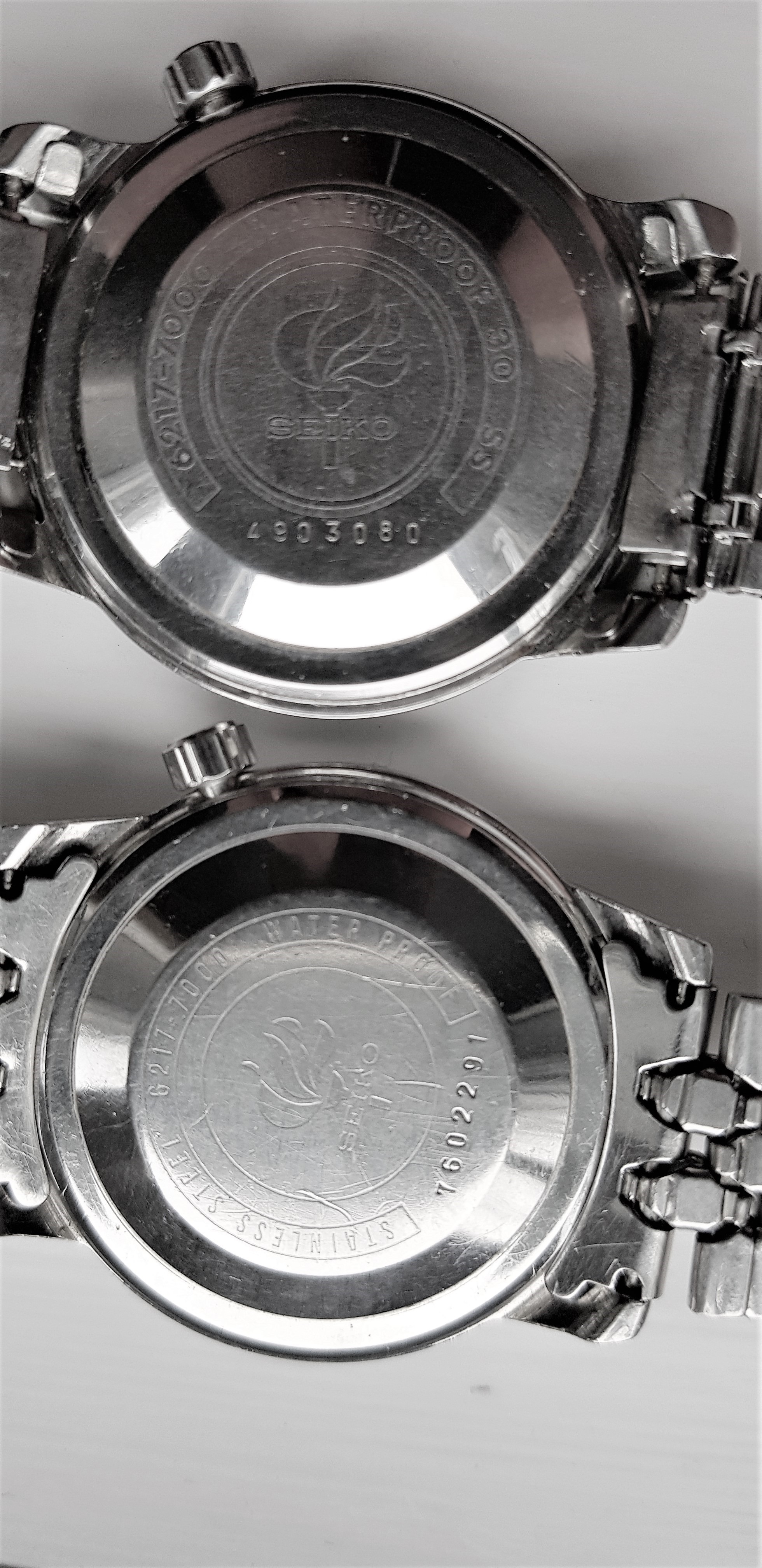 Comparing the two case backs of the anomalous June '67 watch (the lower of the two in the photo above) and the September '64, one shows another notable difference – the earlier watches had a different stamped style case back rather than an engraved design as was on the '67.
There is a further differentiation in that the really early World Times (they were initially produced from March 64 to December 64) had an etched case back that is now rare to find in decent condition as it had a tendency to rub off more easily…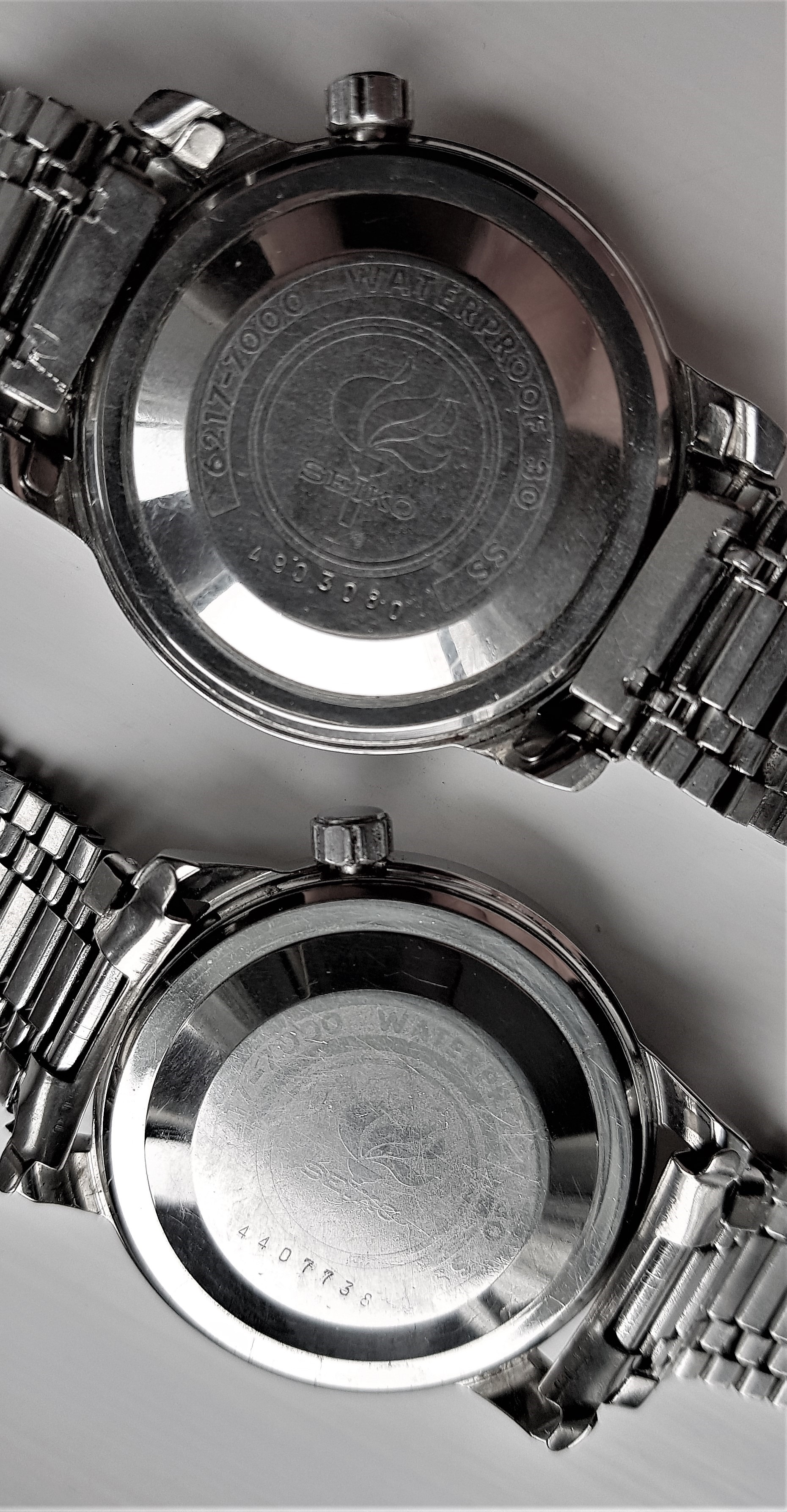 Stamped case back from Sept 64 above, etched from April 64 below. More on the lower of these two watches to follow…
There's more on the World Time history here.