A long time ago, I covered a previous Seiko Bell-Matic – an early 1970s watch with a mechanical alarm.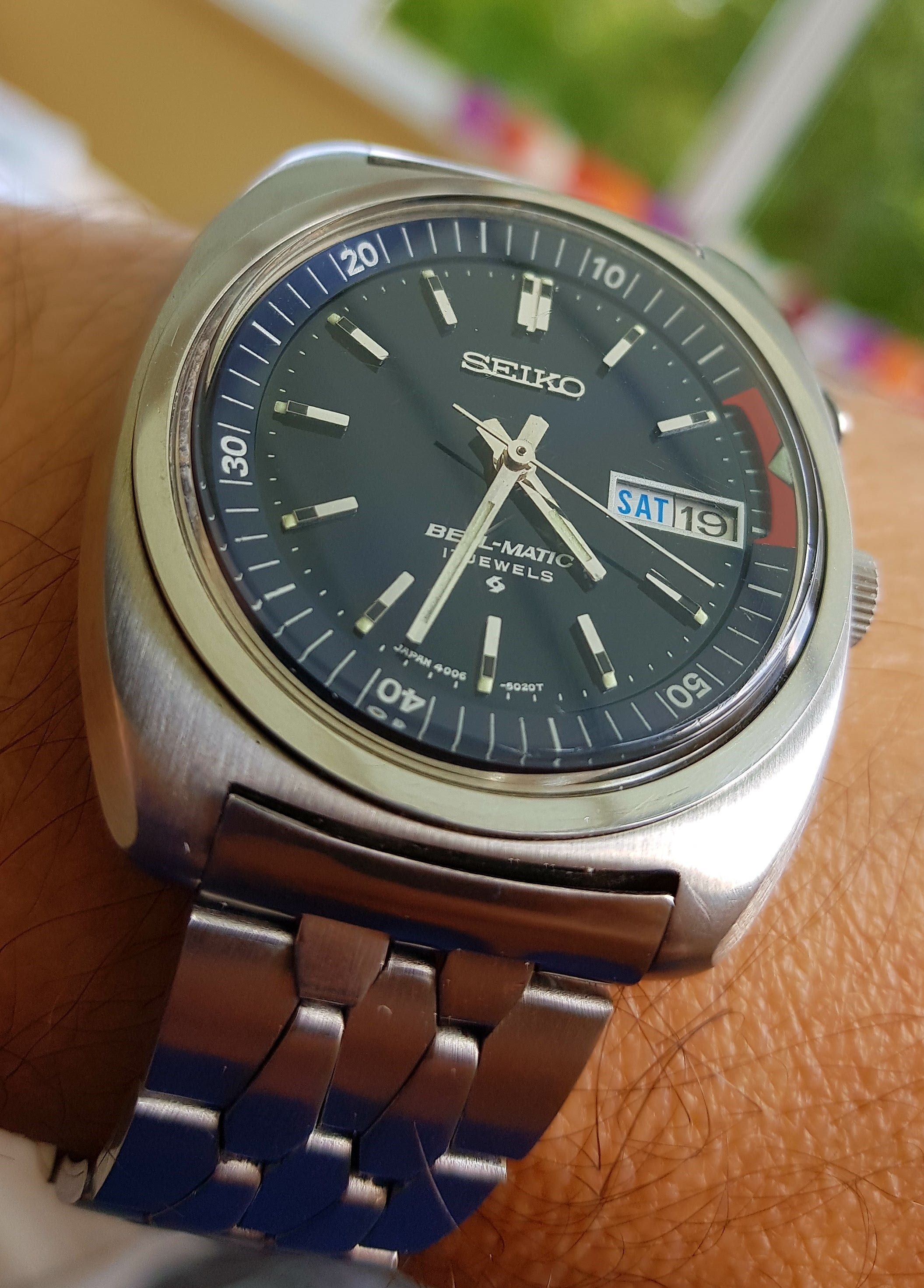 That watch now rests with a Sean, a fellow in the USA whose other half bought it for him as a graduation present. A lucky chap. Great taste, too.
I managed to acquire another similar watch, with a grey face, that wasn't in quite as good nick but not very far off. It came from eBay, and a less-good watch was later bought & then sold to harvest the "coffin link" bracelet that now adorns this one. Here it is with its blue, departed, cousin: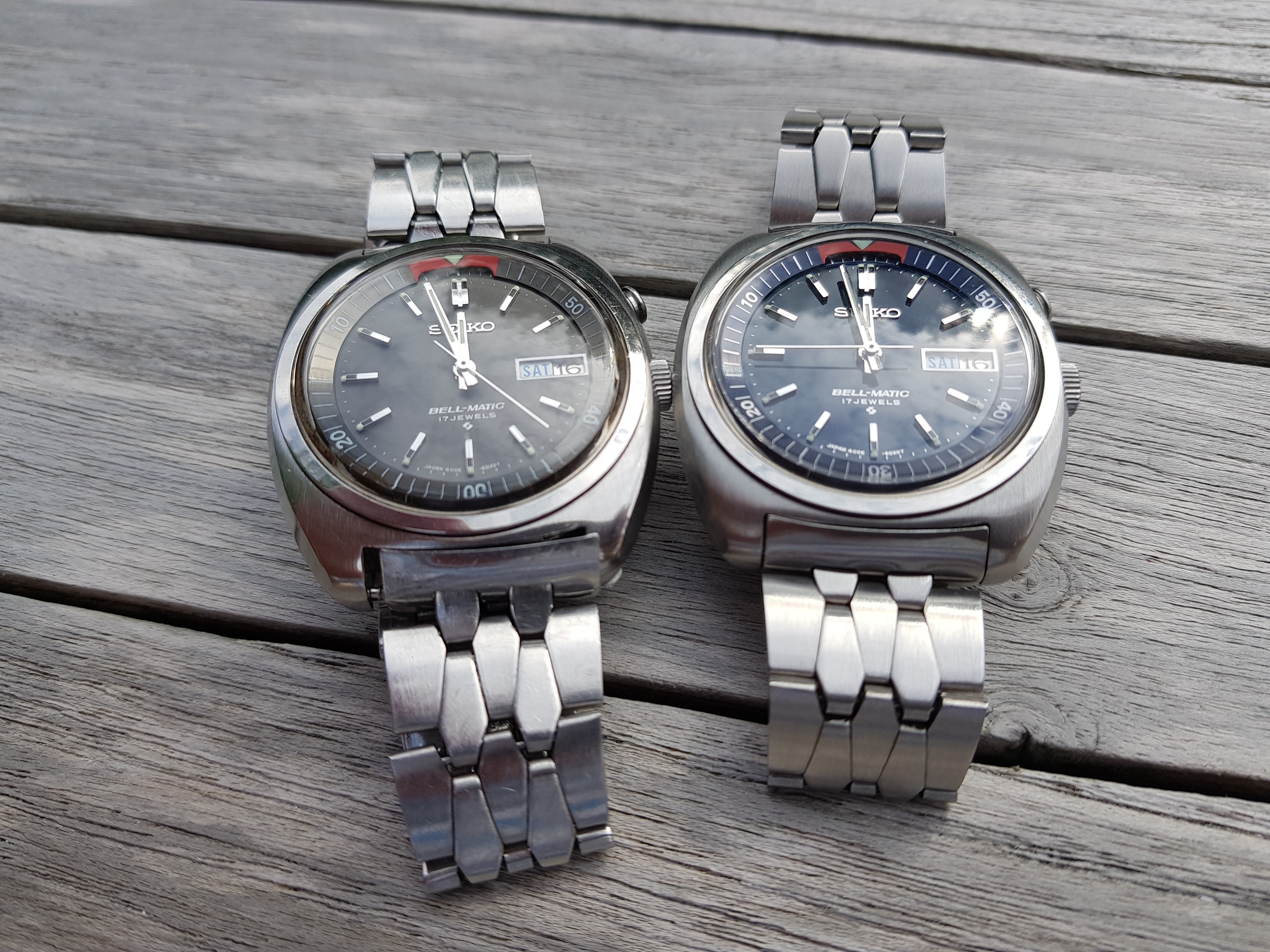 They're both reference 4006-6031 – the blue one is from October '72 while the grey one is from April of the same year.
Seiko did a load of other case styles for Bell-Matics, too – most had 17-jewel movements but the odd rare one with 27 jewels shows up, alongside some with 21J. The Jewel count is basically a way of a watch maker to brag how well they've manufactured the movement; it tells you that this thing will last for a long time since the jewels are what stops metal rubbing against metal inside the beating heart of a ticking watch.
Seiko even did a brand called Business Bell, only for a few months, in an attempt to sell to higher end buyers. Clearly it didn't work well.
But the Bell-Matic range ran from 1966 until 1978, and there were all kinds of case styles and dial colours.
Here is one that Malcolm bought – a November 1974 4006-6040 – at a watch show, with me nodding on as to say it looks like a good 'un.
Sadly, it proved to be in need of a service shortly afterwards… as you'd expect from a 40+ year old mechanical thing that might have lain still for 20 years, and had all its oil dry up. It ran fine – for a while, then stopped.
The problem with complicated mechanical things is, it can take a fair bit of time and skill to disassemble, clean, oil and reassemble them – so the cost of servicing can be a lot more than the watch is actually "worth" or at least what it cost in the first place. Watch cost maybe £150, service more like £200.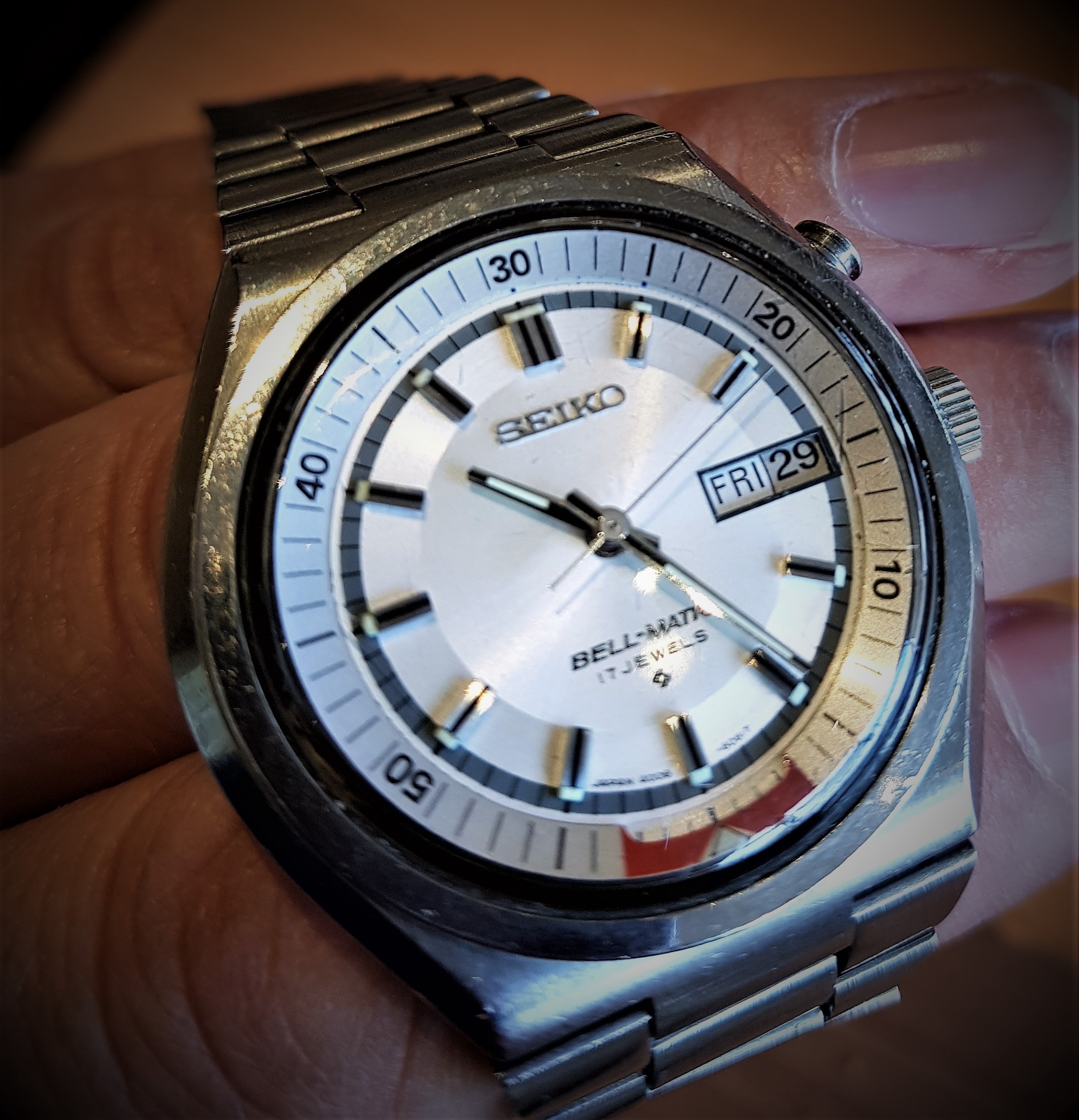 This next one arrived to me as part of a punt at an auction, that proved to be similarly expensive – why the hell did Seiko produce such similar but still distinctly different watches at the same time?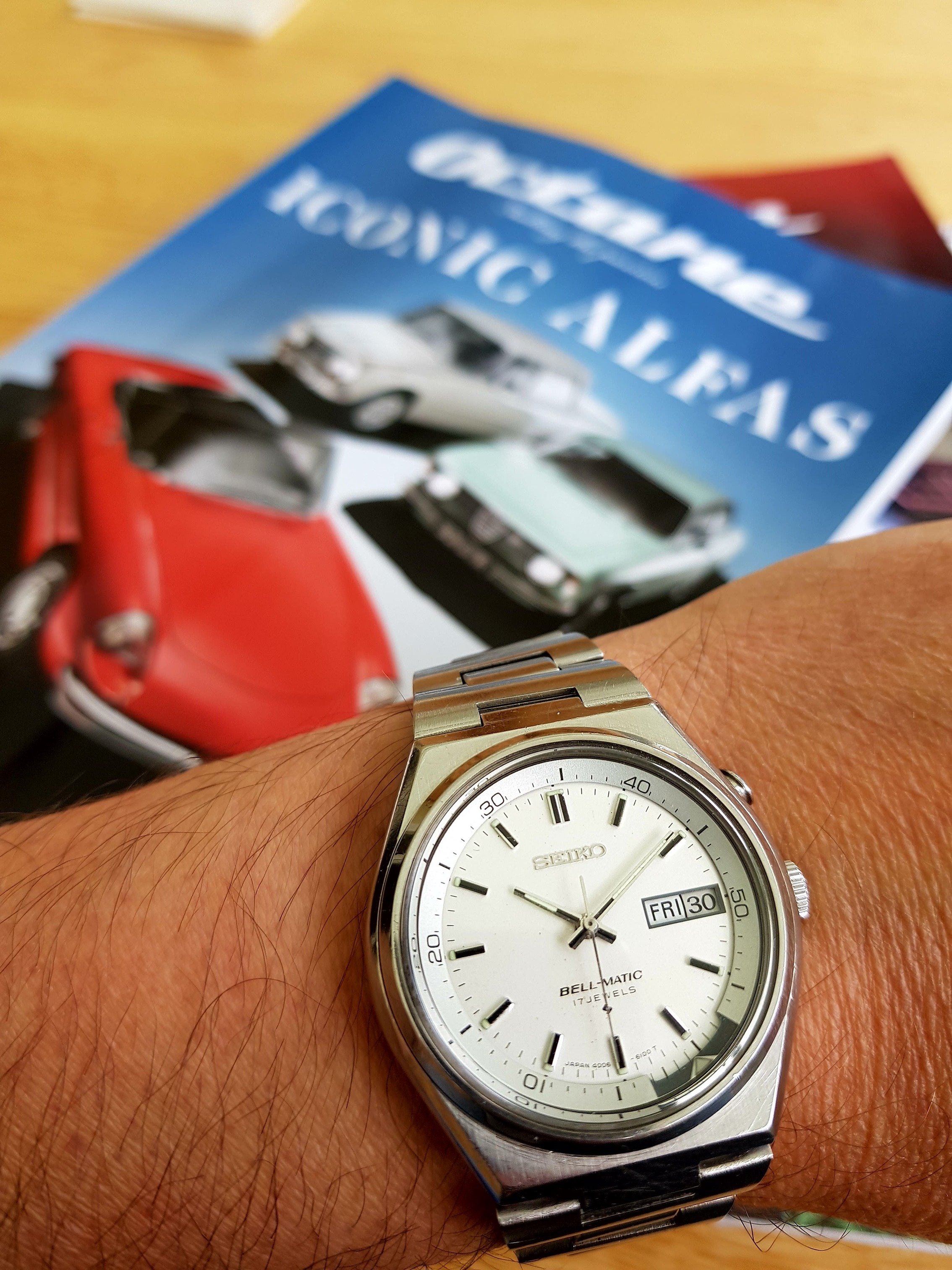 It's a July 1977 4006-6080, was completely DOA, and took a couple of hundred ££ to bring it up to scratch, though it looks the part now. Ho hum,
Finally, at least for now, is a beautiful deep-blue from September 1977, and like Malcolm's above, is a 4006-6040. It was listed by the auctioneer as "alarm not working" but that means they just didn't know how to work it; it runs and rings just fine, though who knows what horrors await at what might be its first ever service…
In the meantime, it's a lovely thing. Ring a ding ding.